Did you know that the average person forms an opinion of a website within 0.05 seconds? The appearance of your website is pivotal for online success. Which is why you should find the best WordPress themes for small business.
Not all themes are created equal, and the wrong layout for your organization could reduce how effective it is. Those who do not feel engaged by your site will go to your competitors to find what they need.
As the Internet is so laden with competition, you need to do what you can to stand out. At least in a way that will keep customers coming back for more.
How the Best WordPress Themes for Business Drive Traffic
Think of your website as the online persona of your business. It needs to be clean, easy to move through and rich with what the customer is looking for. Its design is as vital as that of your brick-and-mortar location.
Search Engine Optimization
Until people stop using sites like Google to find what they're looking for, search engine optimization will always be a thing. And because most businesses are putting in an effort for SEO, you simply cannot really succeed online without it.
Some of the best WordPress business themes are developed with this in mind. Although you'll still have to do your part with a good content marketing strategy, most theme developers will update the layout to keep with current SEO practices.
Still, there's nothing wrong with having good SEO plugins, such as using Yoast.
Flexibility for Social Media Engagement
Social media is an integral part of everyday life. From communicating with loved ones in other countries to simply following your favorite celebrity, social media is everywhere.
Think about it…there are more than three billion people actively using social media. In reality, that's nearly half the population of Earth.
The best WordPress business themes will have social elements integrated. This gives people a chance to follow your brand on their preferred network, whether it's Facebook or Twitter.
Mobile Friendliness
A mobile-friendly design is an important facet for online success. Regardless of your business niche, people are going to view your content from multiple devices.
Roughly 52.2% of all website traffic is generated from mobile devices in 2018. In theory, not having a mobile-friendly layout could alienate more than half of your online customer base. This is because non-mobile websites are far more difficult to use.
And since the chances are excellent that a competing website will be mobile-friendly, customers will leave your site for one that is easier.
Clean Appearance
First impressions are vastly important on the Internet. You want visitors to stop looking and use your company over the competition. Having a clean appearance helps the customer find what he or she is looking for.
Many of the best WordPress themes for a small business website are just that: easy to use from the front end.
The design of the site is only part of keeping a clean appearance, however. You also need to focus on several key factors for keeping content easier to absorb such as:
Keeping ad banners to a minimum. You don't want to distract from your content.
Don't overuse images. Don't get me wrong, images are important. But they can also slow down the website and create distractions if used too often.
Don't overuse visual plugins. One of the features of WordPress is being able to add plugins galore for specific purposes. Too many of these, though, can be a hindrance more than a benefit.
So, what are some of the best WordPress themes for small businesses to use? Here are some of the best platforms I've found online. While some are free, don't underestimate how effective a premium theme can be for engaging online consumers.
1. Divi
Divi is more than just a theme for WordPress. It's essentially a fully customizable experience. Powered by a visual page builder, it's no wonder why Divi is among the best small business themes and tools.
In real-time, you can design the perfect layout without knowing a single line of code. You have access to more than 40 different content elements, pre-designed theme layouts and an extensive editing system.
2. ElitePress
ElitePress is among some of the free layouts you can install from the WordPress theme management feature. Its flexibility makes it ideal for everything from blogs to freelance professional websites.
It comes with social elements for the top menu bar and a three-column footer section. If you want to pay for the premium version, you'll also get access to even more customizable options.
3. Enigma
Enigma is among some of the more popular on WordPress. Its free version is accessible through the theme management area of WordPress and is actively used by more than 20,000 owners.
The functionality of Enigma makes it great for WooCommerce while delivering various functions such as a carousel slider and an optimized layout. You can even add your Flikr portfolio should you have images you wish to share.
4. X
The X theme is built with parallax background support, inline editing system, user role management and extensive customizable options. This is probably one of the better themes when it comes to team management and multi-user support.
Because it comes with various modules for building a business website, you don't have to spend as much time digging to find certain plugins. For instance, the WooCommerce Checkout Editor tool comes with the theme.
5. Hestia Pro
Hestia Pro is an excellent theme for small business startups. It's ready for language translations, optimized for speed and comes with a variety of video tutorials.
For those who are building an online store with WordPress, Hestia Pro is designed to create an attractive layout. You can use this theme with WooCommerce and other page builders such as Elementor or SiteOrigin.
6. StartRight Pro
The key element behind StartRight Pro is its speed. It's designed to perform well whether the visitor is using a desktop or mobile device. The light-weight construction makes it a great addition for those looking to immediately deliver content.
One thing that stands out most to me is the price. For an elegant and customizable premium theme, it's more affordable than many of the others in this list. This is aside from its customizable options which help create a unique appearance.
7. TheCore
In TheCore, you get access to more than 25 different template styles in one theme. This helps you focus on which is the more ideal for the business before you begin customizing the layout.
The system comes with an advanced visual builder to help you design the site as well as including color schemes and multiple sliders. It's responsive, Retina technology ready and comes with various animations to make a more interactive website.
8. Parallax One Plus
Parallax One Plus is probably one of the most engaging themes I've come across. Not only does it support parallax for scrolling, but even moving the mouse pointer across the site shifts the background.
Its single-page design gives Parallax One a nice flow for business elements while including lazy loading elements for improved site speed. You'll also get content blocks galore, intuitive gallery design and a variety of shortcodes for plugin integration.
9. Naturelle
Naturelle is an attractive theme which incorporates parallax scrolling for visual appeal. It's a simple and responsive layout that focuses on keeping the site sleek and responsive.
The options panel in WordPress Customizer gives you a variety of settings to adjust so you can give it a completely different style and appearance. It's an excellent option for those who want a one-page layout for the business.
10. Bramble
If you want a feature-rich layout, consider using Bramble. Not only is it geared for good eCommerce support, it also presents elements such as portfolios in an elegant appearance.
You can create customized slideshows, add video backgrounds and focuses on Google Fonts, which vastly improves the site's typography. This isn't to mention how it's designed around using the Page Builder plugin from SiteOrigin.
11. ColorMag
ColorMag is one of the best WordPress themes for startups. It comes with a variety of features in the Customizer giving users a full range of control over the layout.
It comes with a built-in image slider, social media links and a professional appearance for showing off content on the homepage. The free version works great, but the premium theme adds far more overall functionality.
12. Venture
The Venture theme provides a homepage perfect for widget use, support for WooCommerce and a built-in portfolio system. This makes it a great tool for almost any kind of business.
As it comes with things like a team widget and testimonials, you won't have to worry about finding plugins for those specific needs. It also comes with demo content so you can see what your site will look like before actually going live.
13. Root Pro
AccessPress makes a lot of elegant and attractive themes, and Root Pro is designed to deliver a sense of professionalism. While it does have a free version available, the true nature of the theme is opened when you buy the premium layout.
This includes multiple color schemes, header layouts, background control, breadcrumbs and many other features. You can set up a portfolio, blog and include sliders to really spruce up the website.
14. Metro Magazine
Metro Magazine has a free version that gives your site a professional look and feel. It's great for those who are centering on text-based content and want a magazine-style layout.
It comes with custom widgets, author bios, advertisement settings and more. You can also accentuate the layout with custom CSS support.
15. Rocked Pro
Rocked Pro has a clean appearance while providing the most important information about the business. Its mobile-friendly design delivers a good experience whether people are shopping from computers or smartphones.
Rocked has a sticky top menu bar, image carousel, sliders, page templates and several built-in widgets you can customize. It also comes with excellent integration with the WooCommerce plugin.
16. H-Code
H-Code is a multipurpose theme that comes with more than 50 different layout styles to choose from. This helps you create that perfect look and feel for the small business. From marketing agencies to product landing pages, this theme can do it all.
One of the key features of H-Code is that it has hundreds of design elements and shortcodes to accentuate the website. This greatly reduces the need for plugins to accomplish specific tasks.
17. Di Business
Di Business is another which has a lot of child themes available from WordPress.org. It's a stable system many people use and features things like typography options, social integration, WooCommerce support and various widgets and sidebar elements.
Its overall multipurpose design allows it to easily fit almost any small business model. This is in addition to anything certain child themes provide when you use them.
18. Impressive Business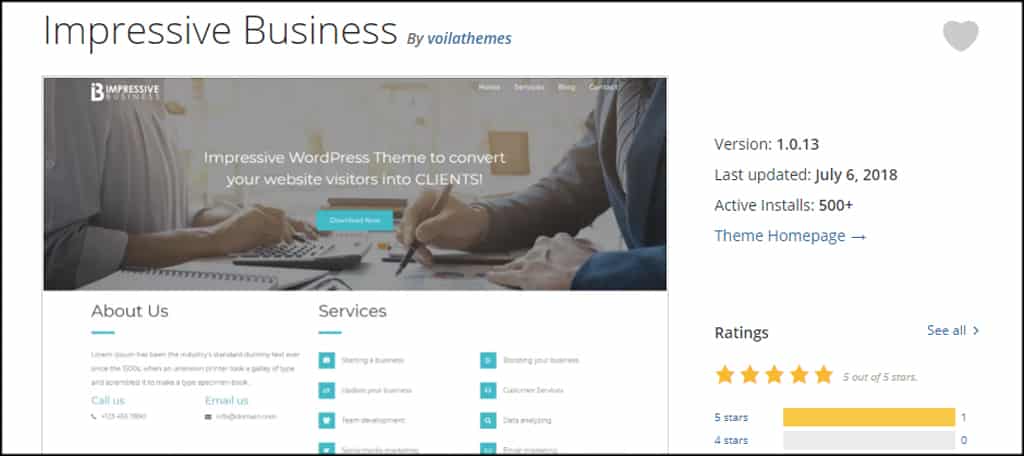 Impressive Business features a wide range of customizable options to help you create a unique slice of digital real estate. It provides all the sections and designs needed for the startup business to begin engaging the customer.
The theme works best with the SiteOrigin Page Builder plugin while using drag-and-drop elements to give you the feeling of design control. It's a newer theme on this list with various sidebars and is light-weight for speed and functionality.
19. Alante
Alante is a free theme that delivers a professional appearance for various needs. It comes with a responsive layout and various options ready for customization as well as a full-width image slider.
It's a simple layout that provides everything you'll need whether you're building just a basic website or want to do something more extensive. However, you'll have more access to options if you buy the premium version instead.
20. Business Idea
Although Business Idea is probably one of the newest themes in this list, it's still worth mentioning. The layout has just what you'd expect from a simple company layout complete with Mailchimp and newsletter integration for email subscriptions.
Business Idea is compatible with WooCommerce as well as various page builder plugins available in WordPress. It's sleek and ready for search engine optimization.
21. Zerif Pro
Zerif Pro is another business-minded theme from ThemeIsle. It has a wide range of options such as built-in customizable elements and support for some of the most popular page builder plugins.
Some of the highlights behind Zerif include how it manages menu and sub-menu items, customizing backgrounds and additional options in the WordPress Customizer.
22. LawyeriaX
LawyeriaX is a clean and responsive theme which originally focuses on creating a good layout for legal services. However, its flexibility allows it to be used for virtually any kind of small business.
The theme is built with a homepage image slider, multiple widget blocks for various purposes and live editing. You can see how your site is coming along while you design in real-time.
23. Business Epic
For those looking for a clean and free small business theme, Business Epic may be something to look into. It provides a simple and professional layout that works for most situations.
It has several sections for editing, front page elements, favicon control, logo upload, various widgets and social buttons. It's everything a startup needs to get a website up and ready for visitors.
24. Business World
Business World is a feature rich theme that delivers a wide selection of customizable options. Even in the free version, you get access to more than 30 pre-installed fonts, image sliders, and up to six customizable built-in layouts.
In the premium versions, you also get front page contact forms, page templates and various color customizations. And the best part is the premium version is probably one of the cheapest you'll find on the Internet.
25. Freesia Empire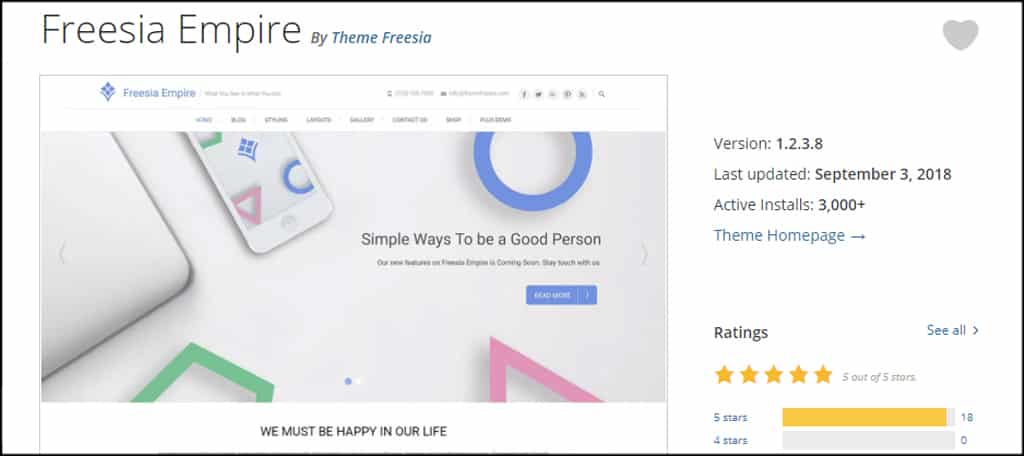 Freesia Empire is another free theme available through WordPress. It's a multipurpose theme that is easily customized to fit a variety of business types. You'll also find quite a few attractive child themes available for it through WordPress.
This theme has a host of customizable options as well as flexible widgets and sidebar elements. It comes with contact, gallery and corporate templates to help you get started.
It's All in the Layout
You literally have fractions of a second to impress a visitor. Find the best small business WordPress themes that will help drive your success. Many people will judge the business by its appearance.
Make sure yours is something that impresses the masses.