Finances are something you have to take seriously no matter what part of life you are at. If you have been lucky enough to get out of the pandemic relatively unscathed, then you are one of the fortunate ones. Now, more than ever, is a great time to look into some personal finance services that are available.
What Are Personal Finance Services?
Personal finance is the individual or family financial management performance in regards to sticking with a budget. The idea is to save money over time, while at the same time spending money on certain resources that are needed and allotting a certain amount for each living expense.
Future life events and various financial risks are also taken into account.
The above can be done on your own, or you can choose to use a personal finance service that will provide you with home budget software and more tools to help you follow a plan.
There are all sorts of personal finance services available. They come in the form of software programs, apps, and even companies that offer face-to-face instruction.
What to Consider When Looking at Different Personal Finance Services
There are several things you want to considerer when you start the process of looking at the best personal finance services available.
What types of budget tools and budget programs will each service offer? Are they affordable and fair with their pricing tiers? Do they provide excellent customer service and other options for troubleshooting?
All of these are important things to consider.
It is also a good idea for a family or individual to consider the range of other banking and product options that may or may not be available through these different personal finance services and apps. Some of these to consider include:
Checking Accounts
Savings Accounts
Credit Cards
Loans
Stocks
Bonds
Mutual Funds
Life Insurance
health Insurance
Disability Insurance
Income Tax Management
Available Retirement Plans
You can see that having access to any number of budget plans along with the available tools will allow you to construct a much more viable plan for you and your family in the long run.
All of these things considered, let's take a look at some of the best personal finance software that is available today.
Best Personal Finance Services
There are a number of excellent personal finance services and apps online. The key when you are trying to make a decision is to know where to start. Every service on the list below is a solid service and will give you a lot of different budgeting tool options and financial services.
Hopefully, this gives you a great place to start looking, as these are all ones that you can dive into and compare.
1. YNAB
YNAB also knows as "You Need a Budget," has a primary goal of helping you create a budget that will help you to stop spending money where you shouldn't be. They want to make sure you don't have to live paycheck to paycheck, and they give you all the tools needed to do this.
The service is quick and easy to install, supports almost all transactions and downloads from every bank, and allows you to easily configure the program whether it's for personal or business use.
If you find that you have gotten off track while using YNAB, the program helps you get back on track by showing you what went wrong and what to do to fix it. Sticking to a budget is not easy, but YNAB makes the process and journey smoother.
Benefits
Free trial
Easy to install
Personal and business use
In-app prompts for budgeting
Color-coded questions to curb spending
Flexible
Clear user reports
Excellent tutorials section
Pricing
Monthly Plan: $11.99/month
Annual Plan: $84.00/year
2. Quicken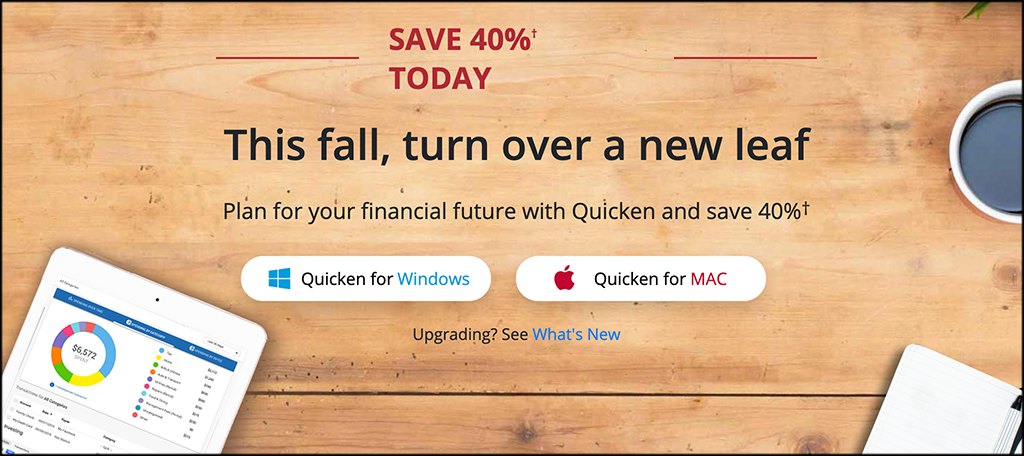 Quicken is another one of the best personal finance services available out there today. Actually, chances are you have either already heard of or used them in the past. They are extremely popular and have a long-established reputation with their desktop functions.
However, they have recently extended functionality and they have an available app that works great on mobile devices.
Quicken offers quite a few really good financial reporting tools that you can use to get your finances in a better place. Need to create a budget? Need to take care of some bills? Or maybe you are interested in some new investments?
Whatever it may be, Quicken has you covered.
View bills, pay bills, and see what you have leftover quickly and easily. Quicken also shines when it comes to potential investment opportunities. You will be able to track all savings, investment portfolios, and 401k and pension plans.
This gives you a clear idea of exactly what you have.
If you are looking for something that helps you build a budget, but also goes several steps further by providing banking and investment reporting into a dashboard, then this is definitely worth checking out.
Benefits
Solid and fair pricing
Easy to install
Secure online backup
Desktop and mobile
Desktop, app, and website sync
Track investments with scheduled reports
Transaction tracking
Excellent customer support
Pricing
Starter: $35.99/year
Deluxe: $31.19/year
Premier: $46.79/year
3. Banktree
Coming in third on our list of the best personal finance services in Banktree. While this software may not have the prettiest interface to look at, there is no denying that it is powerful and useful.
Where Banktree shines is the ability to offer balances in multiple currencies rather than rounding them off into a single total.
The software is also perfect for keeping track of literally everything. It gives you the ability to scan receipts with its mobile app and import them later on. Even though the software is more awkward than some of the others on this list, it does produce amazing reports which you can break down by time, or by the payee.
They also gave a 30-day free trial. You can use this time to get used to the layout of the software and see if it is right for you. Definitely give Banktree a look. What they lack in sophistication they make up for with features.
Benefits
30-day free trial
Supports multiple currencies
Very neat reports
Desktop and mobile
Scan receipts
Track finances easily
Pricing
Desktop Personal Finance Software: $40.00/year
Desktop Personal Finance Software: $6.00/year per additional PC
4. Money Dashboard
Money Dashboard is an app-based personal finance management tool that is smooth, clean, professional, easy to use, and free! It is perhaps one of the best personal finance services available, and that says a lot considering you don't have to pay anything to use it.
Track all your spending, make a budget, read easy to understand and beautiful pie charts and see exactly how much money you have available across all of your accounts. Money Dashboard offers both an iOS and Android app so anyone can access it quickly and easily.
The interface is smooth, easy to use and understand, and gives you a ton of tools right at your fingertips.
Last but not least, just because it is free does not mean it isn't secure. Money Dashboard has bank-level security and is a "read-only" application.
Benefits
Budgeting
Track spending
Smooth and professional app
Manage bills and subscription
Excellent security
Free to use
Pricing
5. Moneydance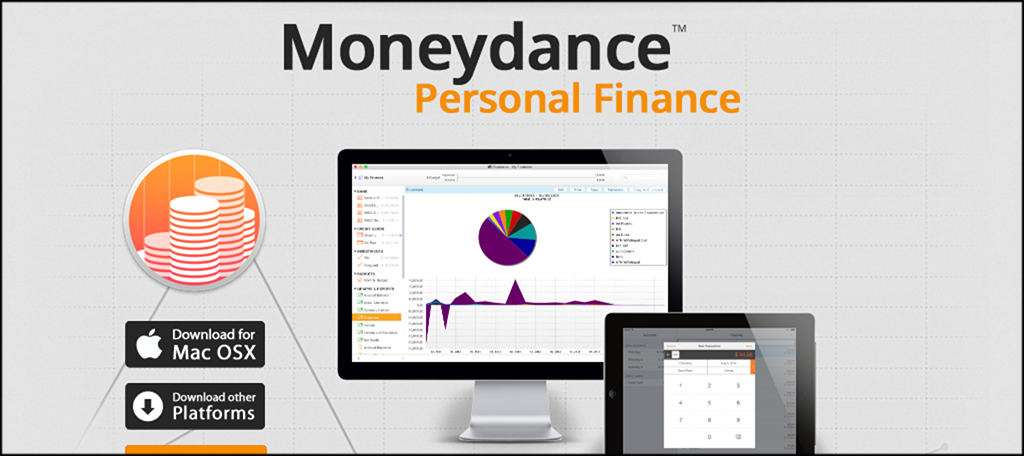 Rounding out our list of best personal finance services is Moneydance. Originally built for Mac users, Moneydance has since expanded to Windows and Linux and provides a unique and easy to use one-window interface.
Open the window and you get an "all in one place" view of your finances, upcoming bills, recent expenses, and much more. You can easily click on any item and see all the changes that have been made.
The product provides very strong reporting features. If you are an old-school money person, then you will really enjoy the layout, as it resembles balancing and managing a checkbook.
There is no free trial of the product, but they do offer a 90-day money-back guarantee. So essentially you have three months to use it and see if you like it.
Benefits
Strong reporting features
90-day money-back guarantee
Transaction logging
Single window interface
Ability to run on multiple desktops
Track all bills and expenses
Pricing
One-time purchase: $49.99
Personal Finance Strategies
Managing your personal finances properly can be a tricky thing, especially if you are unsure where your money should be going and when it should be going there. Remember, you aren't the only one who struggles with managing money.
Even the people who are great at it use solid personal finance services to make sure they are getting the most out of every aspect.
Oftentimes, it helps if you are able to devise a plan of strategy for your finances. There are several different types of plans out there. However, I like to narrow all the possibilities down to 10 main steps you can take toward a better financial future.
Create a Budget
Having a budget is one of the most important things you can do when it comes to gaining control of your finances. All of the personal-finance services listed above can help you with this.
Create an Emergency Fund
Always pay yourself first. You can do this by putting money in an emergency fund. This fun can be accessed in the event of a money emergency.
Limit Debt
Yes, easier said than done sometimes. However, with discipline and other strategies, you can definitely limit the amount of debt you take on.
Use Credit Cards Wisely
Remember, most credit cards will try to real you in with cashback and points offers. Even if they look attractive, you should still use credit cards wisely. The interest rate can really creep up on you, even when it is low.
Keep Track of Your Credit Score
You don't need to have a perfect credit score to live a good life. However, it is a smart idea to keep track of your score and make sure nothing pops on it that isn't expected.
Consider Family
What does your family need? What might they need in the future? Always consider your family when it comes to building and protecting your finances.
Pay Off Student Loans
Yes, these need to be paid off. You went to school, you are obligated to pay them. Do your best to work with your loan carrier and get a plan in place to try and pay them off. Also, student loan interest is tax-deductible.
Plan and Save for Retirement
It is very important to plan and save for the later years of your life. Have a retirement plan in place. Make sure you have the right amount of money to live when you decide to retire and enjoy life.
Maximize Tax Breaks
Search high and low for any and all tax breaks you can find. If you need to hire a tax professional, then do it. Maximize all tax breaks to their fullest in order to drive down any payments you may have to make.
Keep a Fun Category
In other words, give yourself a break. Allow for fun purchases. Take vacations or get a new tv. It is important you allow yourself some breaks and fun.
Final Thoughts
All of the personal-finance services above offer some different things, as well as some of the same. They all deliver a very important financial and budget tool that most consumers not only benefit from but need.
All of the services listed above are excellent. They will all give you every tool you need to get your basic budgeting and money in order. From there, the one you choose will be based on personal taste, as well as looking for exact tools you may need.
Whichever one you decide to go with, you can be sure that all of the personal-finance services listed above are top-notch services.
I hope this article was helpful. Use the list above as a starting point on your journey toward a better financial future. Good luck and happy hunting!