Portfolios are excellent tools to show off your work, and building one has never been easier in WordPress. It is home to a variety of portfolio plugins that can help you build a portfolio in minutes. In most cases, you upload your content and pick a layout, it's that simple.
Today, I will be covering the best portfolio plugins to use in 2023.
Why Build A Portfolio?
A portfolio is a collection of your professional work and acts as a resume for a variety of jobs. Having one is a requirement in many fields today, and the internet has changed how they are made.
In the past, they were assembled within a book of sorts to show off to employers. But today, it just takes a Google search to find them. That's why many freelance workers have a dedicated website containing their portfolios.
To do this, you need specific tools, enter portfolio plugins.
In most cases, a portfolio plugin is really a gallery plugin with a different name. After all, you just need to show off your work in an attractive format. These plugins allow you to customize the layout (grid, masonry, etc.), number of rows & columns, and many other visual tools.
For professionals hoping to use this to bring in customers, it needs to look good. There is no shortage of talented artists available online and they all have a portfolio tool. Yours needs to stand out from the crowd, so build a terrific one.
Make Sure to Get Permission
Just a quick note before we get started. It's important to remember that once you create an image for a customer, you might not have permission to display it on a website. While you might be the original creator, you don't own it anymore.
This is why it is highly recommended to create some sample work for display purposes. The content you create during college is a great option if it is applicable to the field.
The Best Portfolio Plugins
1. WP Portfolio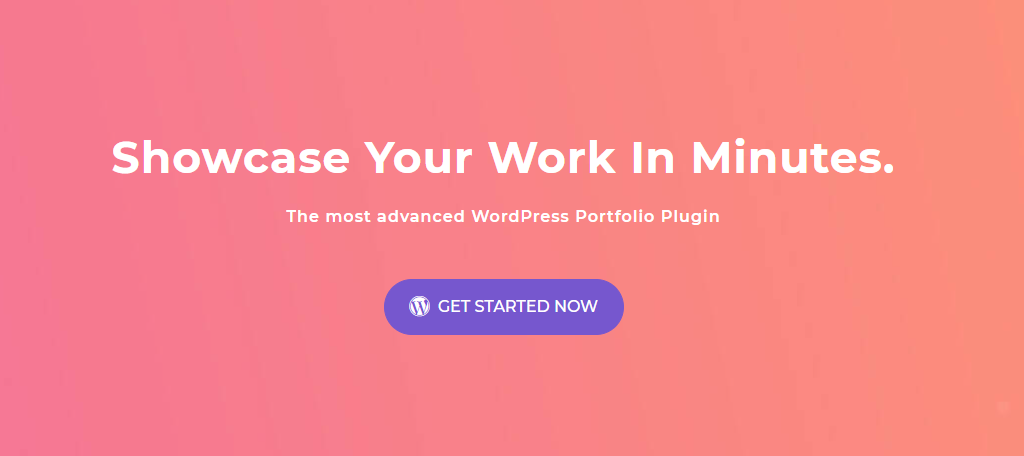 The WP Portfolio plugin may just be the best-dedicated portfolio plugin in WordPress. It specializes in helping users create any type of portfolio (image, video, or even website) very fast and efficiently.
To say it's a comprehensive portfolio solution is an understatement.
It is important to point out that this is a premium tool. But due to its feature offering, it's well worth the cost. It also comes from the same development team behind the Astra theme, which is one of the best available.
The biggest benefit of this plugin is that it provides multiple templates for you to get started. Thus, you really just need to add your own content to the templates and your portfolio is ready to go. It is fast and straightforward to use.
2. Post Grid, Image Gallery & Portfolio for Elementor
You might be using Elementor to create custom pages in WordPress, and you don't have to stop there. With the Post Grid, Image Gallery & Portfolio for Elementor plugin, you can add full Elementor portfolio plugin functionality.
This is just one of many add-ons for Elementor that you can take advantage of.
This plugin adds a series of widgets that you can use within the Elementor editor to add galleries for your portfolio. As with everything within Elementor, you can utilize drag and drop to customize the image placement.
This really helps add a new dimension to constructing a portfolio that a lot of dedicated gallery plugins lack. You can even filter your portfolios by category, which can help clients find specific work faster. This is great if you offer a ton of services.
3. Portfolio Gallery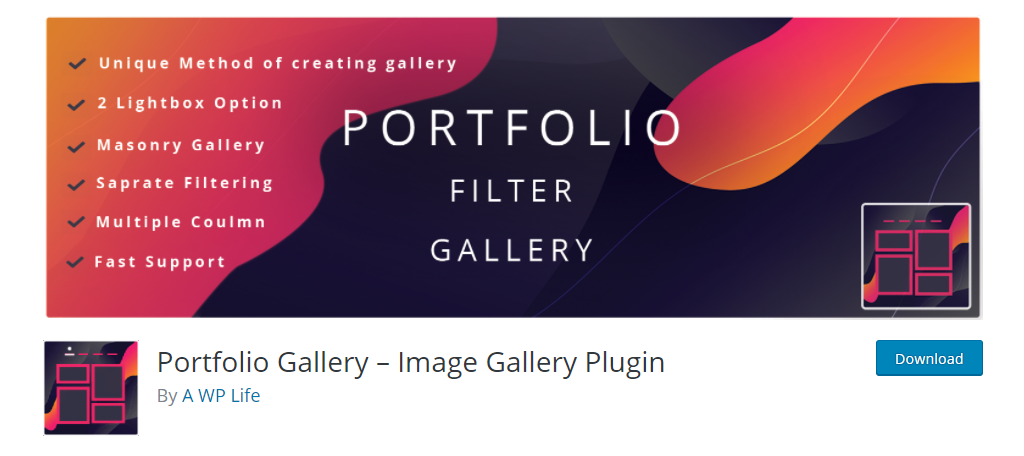 Portfolio Gallery is one of the best free portfolio tools available in WordPress. It does everything you need while providing a ton of customization, and it's fully responsive, so everything you build is mobile-friendly.
While the free version will work for most, there is also a Pro version with even more customization options.
One of the most important features is the lightbox. This allows visitors to click on an image and only view it within a gallery. This lets them see the finer details of each individual project in the portfolio and is pretty stylish.
This WordPress gallery also uses masonry to take the plugin a step further. For those unaware, masonry is a grid layout where the height of the images can be different, which can make it more attractive than a fixed grid layout.
Pinterest uses a masonry grid layout, for example.
4. Envira Gallery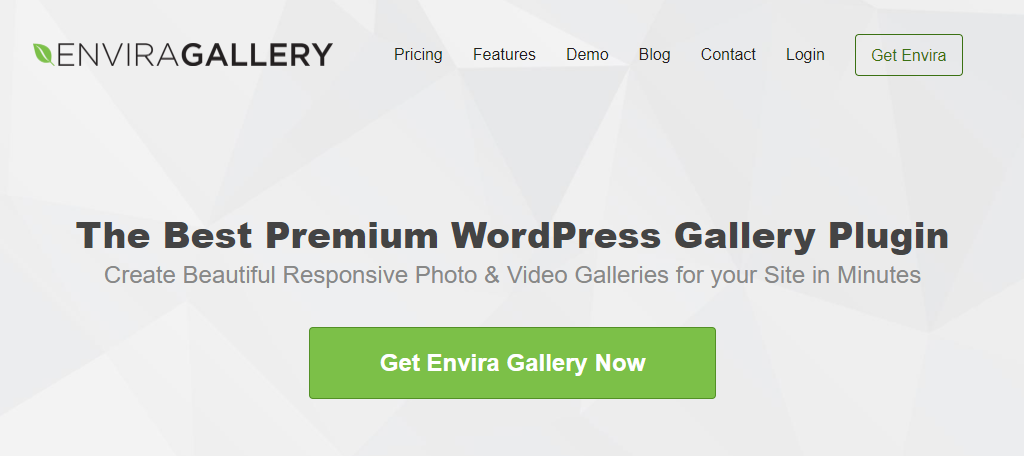 Envira Gallery is considered to be, by many, the best gallery plugin available in WordPress. This tool has a "lite" version that offers a lot of flexibility. Though, the premium plugin may be worth buying if you're serious about a portfolio.
In fact, it has more customization options than just about every plugin on this list.
Envira Gallery makes it easy to create portfolios with their Album feature. These are essentially specialized galleries to help users find what they need. This makes it easy to sort through your content and provide customers with the appropriate work samples.
For instance, you can have an album full of logo designs and another one dedicated to photography. You can even have ones that are dedicated to a different artist if you work with a partner or recommend other artists.
5. NextGEN Gallery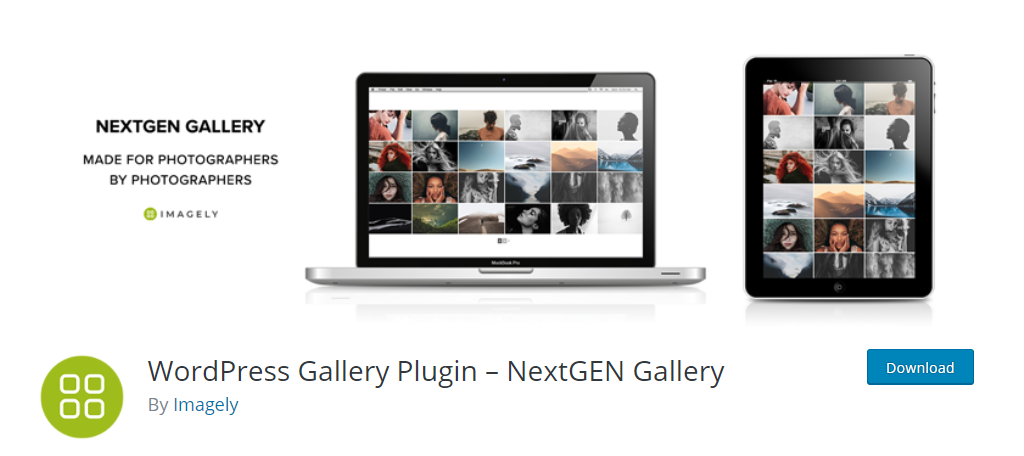 NextGEN Gallery is an amazing free gallery plugin that is widely popular with over 700,000 active installs. And as its description goes, it's a photography plugin built by photographers, so you can expect a lot of details that are absent in other tools.
As you might expect from such a popular plugin, it's rich in features.
In the free version of the plugin, you have three choices: thumbnails, slideshows, and image browser galleries. The premium version adds far more customization options and other features like eCommerce support and lightboxes.
Most importantly, you get access to their support team, which can be a huge benefit for beginners.
This plugin can actually integrate with WooCommerce to allow you to accept commission payments through PayPal and Stripe. Each platform has its own transaction fees, so be aware.
6. Grid Kit Portfolio Gallery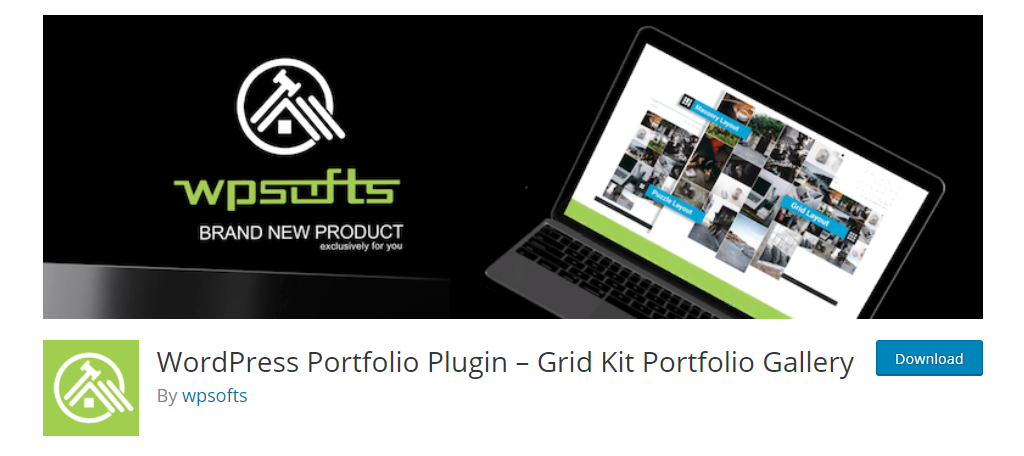 Grid Kit Portfolio Gallery is a terrific choice for developers who want to create their own layouts for a portfolio. It offers plenty of standard features and this tool is completely free to start, with a premium upgrade available.
And fear not; all of the layouts you use or create are fully responsive.
You name it and this plugin does it. Carousels, sliders, galleries for images and videos, and so much more…it really covers all the bases. And the best part is that it comes with a variety of pre-built layouts.
This dramatically speeds up portfolio creation time.
Of course, the bread and butter of this plugin is the unique and free layout builder feature. You can create your own layout, which is ideal for a portfolio that outlines your work. In fact, you could argue that the layout is another example of your work.
7. Visual Portfolio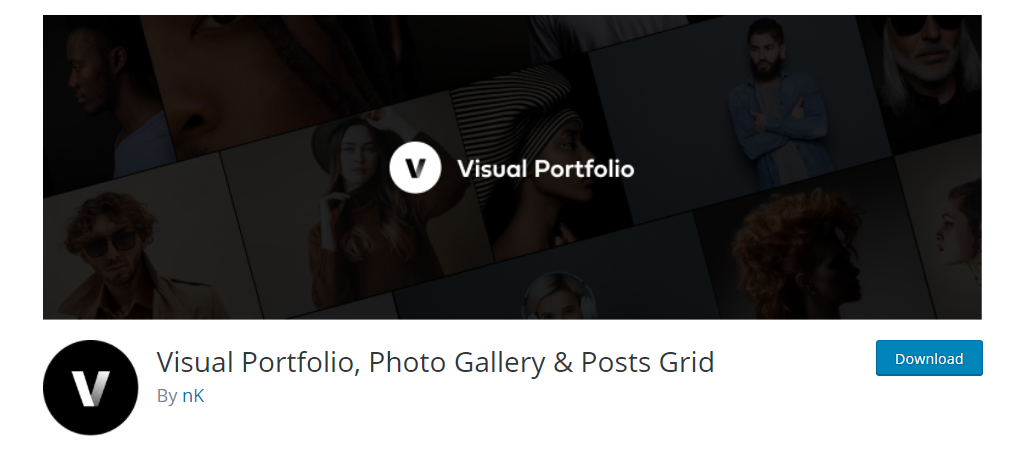 Visual Portfolio is an open-source gallery plugin for WordPress. It integrates nicely with the Gutenberg editor by adding multiple new blocks to the editor, which allows developers to add the galleries they make in less than a minute.
And for actual gallery creation, it utilizes a "What You See Is What You Get" approach (WYSIWYG).
This means what the gallery looks like during creation, is what it will look like on your live site, which can help avoid a lot of touch-ups or edits to get it looking right. It also offers a variety of features to take advantage of.
One of the main highlights is the ability to create a portfolio post type. This can help organize your portfolios and make them easier to find. Especially if you plan to have other image galleries on your website.
8. Media Grid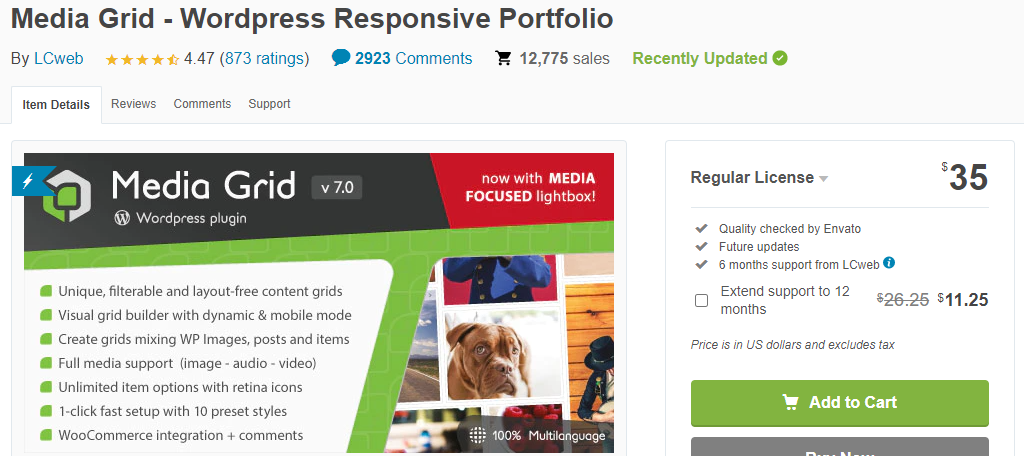 If you're looking for a reasonably priced premium plugin that's ready to go, Media Grid is a perfect choice. It starts at $35 and comes with all of the features you would expect from a premium portfolio tool.
And with the vast number of templates, it's one of the easiest portfolio plugins to get started with.
You have ten templates to choose from, and once you select one, you just need to upload your media. To display the images, you will be using shortcodes. However, the plugin provides a shortcode wizard to make it simple.
It supports multiple types of media including imagery, video, and audio. And it can even integrate with WooCommerce. There are options for allowing visitors to leave comments, but that might not be appropriate for a professional portfolio.
Optimize Your Images
It's very important to take the time and optimize all of the images you plan to upload. As I'm sure you know, media files can be very large in some cases, unless you take the necessary steps to manage them.
This matters because the file size directly affects the loading speed of your pages, and when you are displaying an entire gallery, the images need to be optimized.
On top of optimizing your images, there are other techniques that can help you, like Lazy Loading. This is a practice in which only the images viewable are loaded. Or in other words, the images at the top of the page are loaded, while the ones at the bottom are not.
Normally, both are loaded at the same time, but that doesn't make much sense since the visitor cannot see them all. This is far more optimal and works wonders for portfolios.
In fact, a lot of gallery plugins shave this feature built in to help increase page speed.
What About A Portfolio Theme?
If you're building a dedicated portfolio website, you're probably wondering about portfolio themes. Many of these themes actually come with built-in gallery tools to help you create a portfolio upon installation.
While these themes can look great and offer helpful tools, they have their downsides.
For instance, what if you don't like the built-in tools? While this isn't true for all themes, getting rid of the built-in tools can be challenging. In some cases, it's too much work. And leaving them there can lead to compatibility issues.
This is why I always recommend sticking with themes that just focus on the design aspect of your website. You can use plugins to add the functionality and change them as often as you like.
This also avoids a headache if you want to change your theme at some point down the road.
If you use the built-in tools to create a portfolio, you're now stuck with that theme unless you want to rebuild the portfolio from scratch. For many, this is like building your website for a second time.
Don't Wait Build One Today
One of the biggest mistakes beginners in this field make is waiting to build a portfolio. In reality, you should have a full portfolio by the time you graduate from college in the graphic design field. Or any artistic field for that matter.
Building one allows you to show off your skill and proficiency in the subject, which can bring customers in. It's absolutely vital in today's online-driven world.
Which portfolio plugins do you use in WordPress?