Finding small business themes in WordPress can take a lot of time.  Yet, since it will drastically impact how your website performs, it's time well spent. After all, visitors can form an opinion within 50 milliseconds (0.05 seconds). Thus, your appearance needs to capture their attention.
While there are thousands of themes to choose from in WordPress, they are not equal. And it's important to realize that themes are not purely cosmetic. Most modern themes now include custom widgets or plugins that really separate them.
Thus, it can be extremely difficult to choose a theme in 2021, but luckily for you, I have created a list of the best small business themes for your website.
What Makes A Great Theme for Small Business?
Small businesses can be very different from one another. For instance, the needs of a restaurant and a construction company are not even comparable. Thus, what makes a theme good for your small business depends entirely on the type of business you run.
Yet, there are still some universal requirements for a good theme that you should always prioritize.
First and foremost, your theme must be mobile-friendly. When looking at a theme it should say that it is responsive. This means that the theme will adapt regardless of the size of the screen. This can avoid common mistakes like buttons that are too small or slow load times on mobile devices.
Social media plays a huge role in almost every business's marketing campaign. Ensuring that your theme can easily integrate social elements and buttons is integral. If you regularly create content on social media, make sure your theme supports it.
And without a doubt, the theme needs to look good. While this is very subjective, don't be afraid to ask friends and family their thoughts on certain designs. After all, most of these themes will provide live demo sites so you can get a good feel of their capabilities.
The Best Small Business Themes in WordPress
1. Divi
Divi stands at the top of the premium theme world and for good reason. It utilizes a drag and drop layout interface, which makes it one of the most customizable themes on the market. It provides modules that you can insert into your pages to add additional options.
Due to its high customization, the theme can be used for any type of website. Thus, it is ideal for small businesses of any type.
2. ColorMag
ColorMag is one of the most popular free themes in WordPress with over 100,000 active installs. The theme is all about delivering content to visitors just like a magazine would. It's perfect for any small business that needs to deliver regular updates and information to visitors.
It also comes with a built-in image slider and social media links for extra customization options.
3. Metro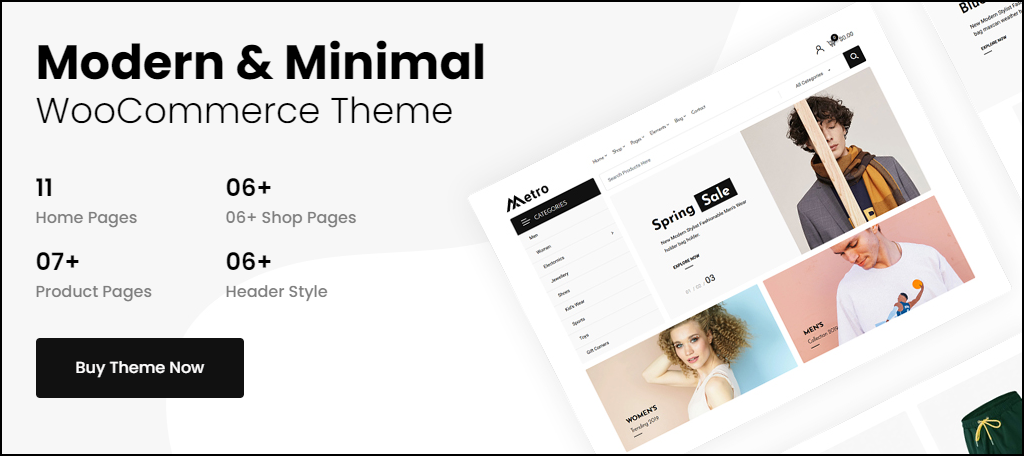 If your business will rely on eCommerce, then you need a theme that supports it. The Metro theme does exactly that with a minimalist approach. Let your products stand out on every page and entice customers to buy them. And yes, it's WooCommerce ready.
Thanks to the minimalist approach, the theme can work for any website owner who wants to run a quick online store.
4. Astra
Astra is one of, if not the best-looking free themes on the market. It also holds the illustrious title of most popular theme with over 1 million active installs. It achieved this by being extremely customizable. With it, you could create a responsive blog or online shop that looks amazing.
This theme was built with speed and SEO in mind. It's lightweight and integrates Schema.org code so search engines are sure to love your website.
5. Exponent
Exponent was designed to build business websites, thus, it is one of the best WordPress themes for small businesses. It comes with 26 pre-built demo websites that you can use as a starting point for your website. Each demo is highly customizable and can be made to fit the needs of any business.
On top of this, the theme is also multi-lingual ready, which is necessary for any business that deals with international customers.
6. Neve
Neve offers customers an excellent design and was made with small businesses, start-ups, and agencies in mind. This theme is WooCommerce ready, responsive, and optimized for SEO. And that's just the free version. The premium version touts over 80 starter sites to use as a starting point.
As a result of this, it is one of the best small business WordPress themes available.
7. Shoptimizer
Shoptimizer is WooCommerce ready and built for speed and conversions. It achieves fast speeds with its ability to automatically minify its stylesheet. As a result, your most important pages will load almost instantaneously. It also offers businesses additional options like trust badges, call me back option, and more.
If your business website will focus on eCommerce, Shoptimizer is an excellent choice.
8. OceanWP
OceanWP is another extremely popular theme with over 700,000 active installs and a near-perfect rating. It is lightweight and highly customizable. With it, you can build a blog or online shop for your business. It is highly compatible with Elementor and WooCommerce ready.
Overall, it really is one of the best free themes in WordPress for a small business.
9. Rosa 2
If you run a restaurant, you're going to need a theme catered to your business, and Rosa 2 is that theme. The theme offers special scrolling effects that allow you to show off delicious dishes to customers. Every page can be customized using a block-based page editor, which is ideal for restaurants.
And possibly most important is the Food Menu block built into the system. With it, you can enter your entire menu online in minutes.
10. Kadence
Wanna build a business website for free? If so, give the Kadence theme a try as it touts a near-perfect rating and over 50,000 active installs. Its best feature is the drag-and-drop header and footer builder. With it, you can customize these areas to fit your business's needs.
And getting started has never been easier because it offers a variety of pre-built starter templates to choose from.
11. Soledad
When it comes to the possibilities of a theme, few can match Soledad. It offers the most demo sites on the market at a staggering total of 250. With these, you will be able to create any type of website and have a solid foundation to do it from. It is also incredibly fast.
Businesses will find this theme extremely useful due to the high level of versatility it offers.
12. PopularFX
PopularFX is a free theme that sports over 80,000 active installs and an excellent rating. Like most successful themes, it offers a variety of starter templates to help out new websites. With them, you can build virtually any type of business website from scratch.
This theme is also fully compatible with Pagelayer to help speed up site creation.
13. Delicio
Delicio is an excellent choice for restaurants that want to create a gorgeous online website. With it, you can create a full menu and create a great interface for online orders. It is also fully compatible with reservation plugins that most restaurants use.
And it's built from the ground up to be responsive. Thus, mobile customers are always welcomed.
14. Marketo
Marketo is a premium eCommerce theme that specializes in multi-vendor storefronts. With it, you can build a huge storefront with a wide variety of products that boasts an excellent design and is fully responsive. There are over 11 homepage styles and over 15 different header styles to choose from.
As a result, there is no shortage of customization options.
15. Igloo
Igloo is another fantastic choice for restaurants to consider when building a website. The built-in features are its bread-and-butter, and it includes a restaurant menu management system, reservations, and even testimonials. Everything a restaurant could need is built-in.
And you can even create a fully-fledged blog for your restaurant to help give your SEO a boost.
16. Hestia
When it comes to small business themes in WordPress, Hestia should be one of the first you look at. It's free, boasts near-perfect ratings, and has over 100,000 active installs. This theme was built to support any type of small business from retail to restaurants.
It's responsive, compatible with all major plugins, and looks great. What more could you want?
17. Flatsome
Flatsome claims it is the #1 best-selling WooCommerce & business theme in the market. And its features lead me to believe it. The platform is the perfect choice for any business that wants to set up a WooCommerce shop. The drag-and-drop page builder allows you to create stunning pages in a matter of minutes.
And most importantly, the theme is fully responsive to ensure that mobile customers get the best experience.
18. Storefront
If you are looking for a free eCommerce theme, then look no further than Storefront. With over 200,000 active installs and amazing ratings, users everywhere love it.  The layout works perfectly with WooCommerce, in fact, it was created by the core developers of eCommerce platform.
Thus, you can expect everything WooCommerce related to work perfectly on Storefront.
19. Bakes And Cakes
If you run a bakery, finding a theme that matches your creativity can be challenging. Luckily, the Bakes and Cakes theme is a perfect choice. It comes with a built-in testimonials section to help you share what customers are saying. And it even supports WooCommerce.
The performance of the theme is also top-notch. It has terrific speeds and can even support multiple languages.
20. Blance
Closing out our list is Blance. It is a premium theme that sports a clean look and utilizes the minimalist design philosophy. As a result, your products can stand out and they can be used to great effect regardless of what you're selling. And of course, it fully supports WooCommerce.
It also offers a variety of customization options like 6 different homepage designs to choose from.
Your Theme Your Design
The theme of your website largely determines your design options, yet with the right amount of creativity, you can create something truly unique. And with how crowded the online environment is nowadays, you're going to need a design that's unique.
And most importantly, one that wows visitors in less than a second.
What's your favorite theme for small businesses? Did you use a premium or free theme?