Most everyone you know has a to-do list of some sort. How people are putting these lists together can differ from person to person. There are a lot of individuals that still write lists by hand. However, most people are now using a selection of task management apps to get their lists in place.
Different Types of Task Management Apps
There are actually several different task management apps available today. The higher-end ones are used across companies and businesses to manage teams and tasks on a larger scale. These would be larger task-related apps like Slack and Asana.
You also have a set of productivity apps that are particularly useful for freelancers and small businesses. These will help you get things done, as well as give you access to a suite of very useful tools.
A lot of these types of apps are also free.
In this article, I am going to talk about some of the best to-do list apps available for you to use. These apps are good for both personal and business use, as they can be used to build a task list, and then get those items done and checked off.
So where do you start looking for a good checklist app? You will find 15 of them below. However, before we talk about them, let's go over what to look for in a solid to-do-list app.
Why You Need a To-Do List App
If you are like the majority of us, then you have a million things to do and probably not a good way to figure out how to best do them. This is where having a good checklist app can come in handy.
Not surprisingly, there are several reasons why putting a to-do list together makes people much more productive in general. There are also several benefits of having them. Some of these benefits include:
Gets you better organized

Helps you keep track of life

Keeps you motivated to get things done

Helps with overall memory

Makes you feel like you have less work to do
Simply put, having a to-do list app on your mobile device or computer can definitely help you get things done.
What to Look For in a To-Do List App
There are a few different things you need to look for when searching for a to-do list app to use. Here are some points to consider highlighting and looking into.
More often than not, the first thing a user is going to look for is how the app looks and how easy it is to use. This is especially true for beginners. Task management apps need to look nice, but they also need to be fairly straightforward and easy to use.
Look for apps that have an easy to navigate interface that you can learn quickly.
After that, you want to look into what type of functionality and tools a particular checklist app has. Is it a simple notepad template that you can fill out and check off as you go? If so, your phone probably already has that function.
Look for things like the ability to separate work tasks from personal tasks. Are there app notifications when you forget to complete or check off a task? Can you set deadlines and priorities on your to-do lists? Are there built-in capabilities like tags, lists, due dates, and reminders?
All of these things are important questions to consider.
Finally, always try to look for a task management app that allows you to make your to-do list collaborative. In other words, if you want to assign tasks and sub-tasks to a team, then you have the ability to do so.
Let's take a look at 15 of the best task management apps available today. Any of these would be a great addition to your device and help you get things done.
1. Todoist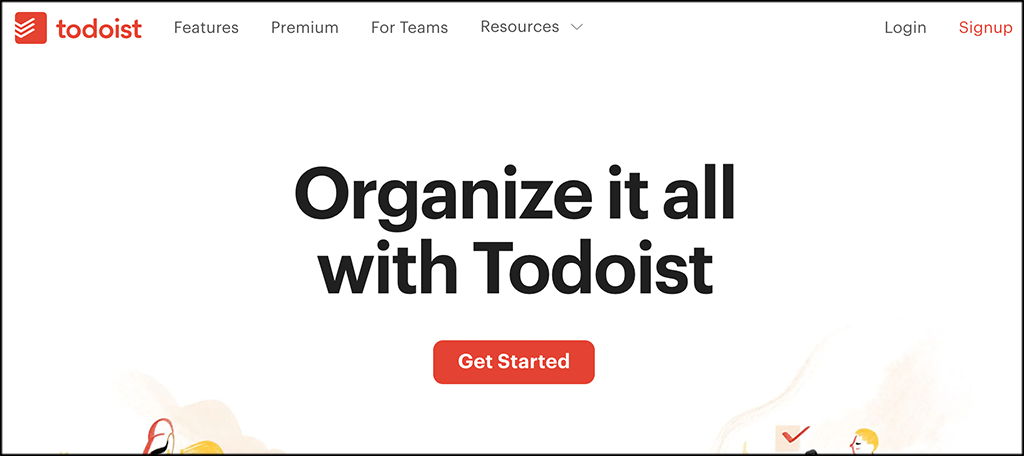 Todoist is arguable the best checklist app available right now. While there are several amazing to-do list apps listed below, Todoist has really grown over the years and has evolved into a task management app that gives you a ton of features and functionality.
This app really breaks tasks down and gives you the ability to create, organize and prioritize tasks, create subtasks and dependencies, and also create projects and sub-projects.
This is definitely a to-do list app to check out if you are wondering which one you may want to test drive.
Benefits
Create, organize, and prioritize all your tasks

Label tasks

Add due dates

Color code everything

SMS reminders

Massive library of project templates

Tons of features

Cross-platform support

Minimalist user interface
2. Microsoft To-Do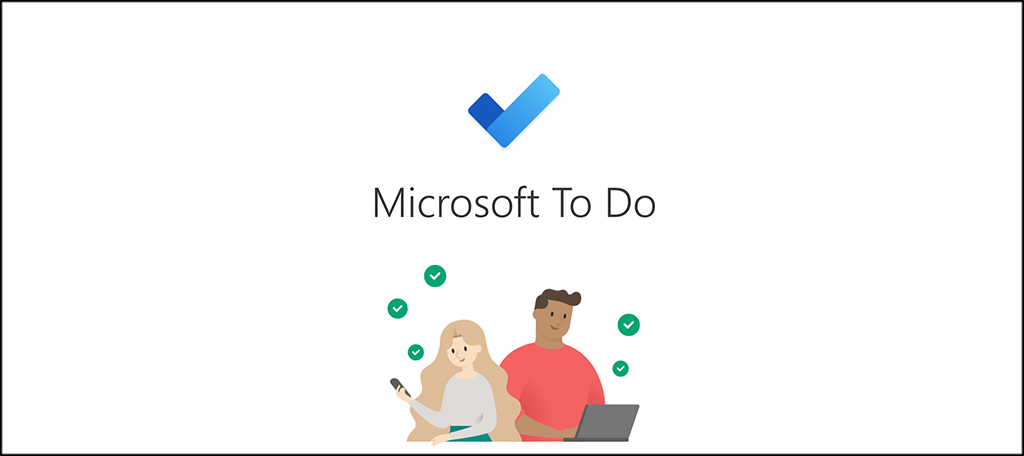 Another one of the best to-do list apps you will find out there is Microsoft To-Do. The same team that developed Wunderlist is behind this one as well, which his part of the reason it has all been integrated into one app.
If you use Office 365, the app integrates with it completely. It is also compatible with all iOS products as well. It lets you create tasks from scratch and even import tasks from other tools.
If you choose to use this to-do list app, you will have the ability to customize task list presentations with themes and colors. You can also organize and prioritize tasks, add notes, and set reminders that will help you keep all your tasks up-to-date.
Benefits
Daily task management lists

Task reminders and prioritizations

Sync all data across multiple devices

Due date tracking

List sharing

Custom task lists and color schemes

Simple user interface

Free for everyone
3. Google Tasks
Google Tasks is yet another offering from Google that can help you create to-do lists and get all your tasks done. It also comes fully integrated with other services Google offers like Gmail, Google Calendar, Drive, and more.
Almost everyone uses Google, and this is a fantastic way to make a checklist to make sure you have everything done. Since it easily integrates with all your other Google tools, you will have a hard time finding something better.
Benefits
Create and organize all to-do lists

Organize tasks

Drag and drop organizer

Integrates and configures with other Google tools

Completely free

Simple user interface

Subtasks

Clear completed tasks button
4. TickTick
Another one of the best task management apps available today is called TickTick. Capture your ideas, organize all your to-do lists, and accomplish more with this solid task manager app.
Using TickTick will give you the ability to make schedules and lists, manage time more efficiently, remind yourself about important deadlines, and overall organize your life better.
Simply put, this app helps you accomplish more and feel better about your day. This is probably something we could all use from time to time.
Benefits
Smart task management module

Share lists and assign tasks

Constant data backups

Location-based alerts

Drag and drop features

Easy user interface

Native time tracking
5. TeuxDeux
Actually pronounced "to do," TeuxDeux is a visually stunning task-based and checklist app that allows you to add tasks, and then drag and drop them at a later time anywhere into other lists.
If there isn't a task that gets completed on a certain day, then the app automatically rolls it over into the next day so you can complete it. You also have the ability to schedule recurring tasks.
Text formation and style inside TeuxDeux are beautiful and easy to look at. The functionality of the to-do list app is straightforward and you will have no trouble using it.
Benefits
User-friendly interface

Family sharing

Text formatting toolset

Recurring to-do list items

Custom lists for every need

Sync with calendar

Create tasks as links

Task switching through drag and drop
6. Any.do
Not only is Any.do  a great to-do checklist app, but it is also one of the easiest to use. It allows you to easily create simple tasks and subtasks, and then check them off one-by-one when they are all done.
One of the highlights of this app is that is has a tool called "voice entry." It allows you to enter checklist tasks using a voice tool that creates the task when you speak it into your smartphone.
This makes creating long lists and more complicated tasks quicker and easier.
Benefits
Simple interface

Voice entry functionality

Timeline task division

Colors for organizing and prioritizing

Recurring tasks

Unlimited file attachments

Customized themes
7. Trello
Trello is a long time favorite of many and a name that has been around for quite some time. Not only can it act as a project management tool, but it has a fantastic built-in to-do list function as well.
Use the integrated visual list tool to create and organize any type of list imaginable. Create stand-alone cards with checklists inside them, add images and attachments to your lists, drag and drop all your lists, and sync them together.
Trello gives you everything you need to learn better task management and make the most of your time.
Benefits
Very easy to use interface

It is free

Real-time updates

Easily add new users

Drag and drop ability

Sync lists

Add images and attachments easily
8. Habitica
Habitica is a little different than other to-do list apps. This one if for the gamer in all of us and uses that strategy to help you achieve goals and get things done. Basically, the app converts your daily lists into a role-playing game. At the end of the game, you get rewards.
While it does take the art of the to-do list to a different level, there is no denying that the idea and interface behind Habitica is fresh, unique, and fun. If you are not a big gamer, then this may not be the right choice for you.
However, if you enjoy cool little games and details to encourage you to get things done, then Habitica is perfect.
You can create your personalized character, unlock rewards, and buy armor. All this while completing your to-dos. On the other hand, if you miss your deadlines or fail to tick tasks off, your character health will deteriorate and you will use progress.
Benefits
Fun and unique

Rewards for completing tasks

Levels

Task reminders

Online chat

Task filtering

Simple and fun user interface

Free
9. Evernote
Evernote allows you to take notes and capture ideas anywhere. It also has functionality for checklist creation and to-do lists, meaning nothing will fall through the cracks or get by you.
The app allows you to plan and keep all sorts of checklist records from any device. You can also use tags, a powerful built-in search tool to find tasks, and sync everything across all your devices.
Benefits
Detailed task management features

Third-party app integrations

Local backup available on your device

Tagging and notebook features

Web clipping

Store your business cards
10. OmniFocus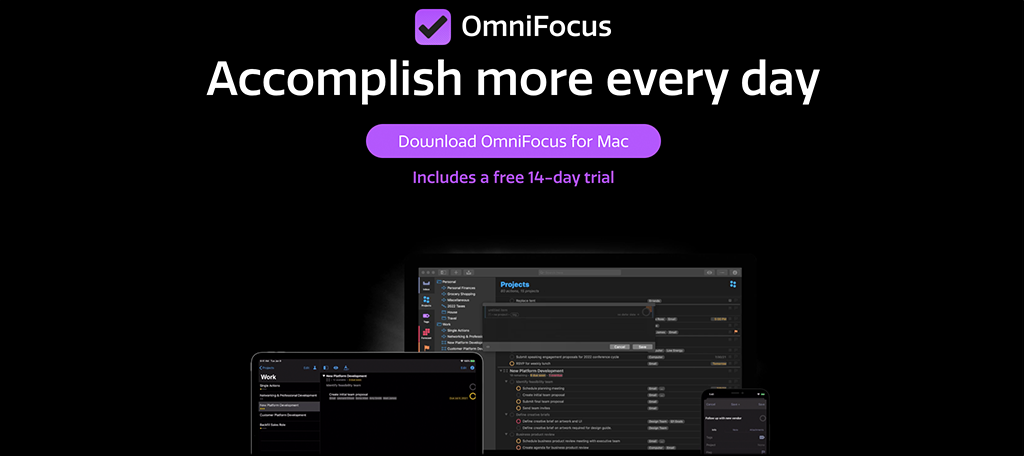 OmniFocus is actually a powerful task management tool built for professionals. It has a powerful to-do list and task management application built-in. It is so complete that you can build just about any type of list and sublist imaginable.
Features also include a light and dark mode that is available once you download the product. The app allows you to complete tasks in a workflow manner, has a beautiful interface, and comes with a dedicated toolset that will help you get things done faster.
Benefits
Beautiful user interface

Powerful features

Easy synching

Custom views

Perspectives to keep you focused

Forecasts future tasks

Calendar integration

Customized tags

Light and dark modes available
11. Remember the Milk
Remember the Milk is a very popular and simple to use online task management and to-do list system. The online app integrates into any of your devices and comes with a lot of really cool features.
You can use such sections as due dates, tags, repeat tasks, and more. You will also have the ability to attach files from Google Drive and DropBox. Setup email, text, mobile, and Twitter reminders when needed as well.
All-in-all, the Remember the Milk app is fun and easy to use.
Benefits
Clutter-free interface

Quick to-do list management

Third-party integration

Multi-platform friendly

Sync tasks from other apps

Email reminders

Text Reminders

Tags
12. WeDo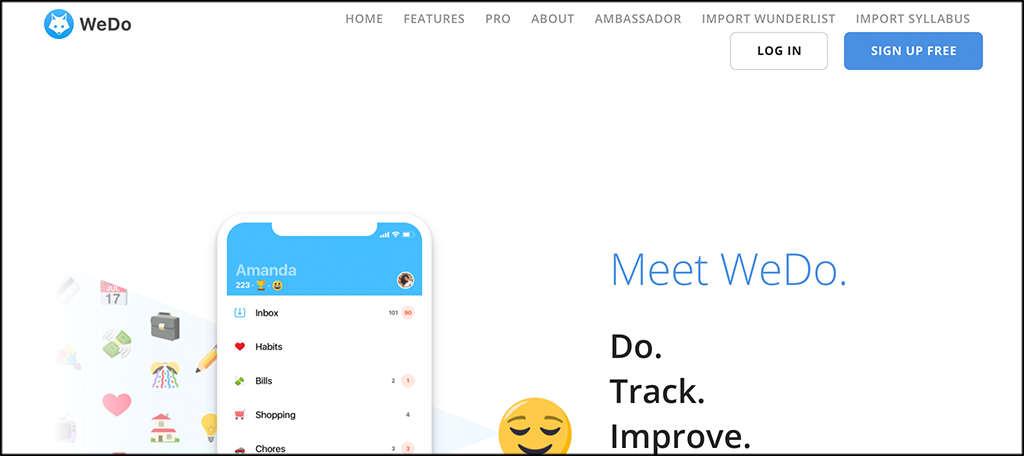 WeDo is not only a fantastic to-do list app, but it also wants to help you develop better habits. There are a ton of options inside this app for managing tasks, so no matter who you are there is probably a function for you.
You can personalize lists and themes and then share those with friends and show them personalized emojis as well. There is also a top of the line reminder and notification system built into the app.
With a multitude of task management tools and the ability to include folders and groups, WeDo may quickly become your favorite checklist app.
Benefits
Themes and emojis for personalization

Habits to create lists

Share lists with work and friends

Activity reminders

Notes to add ideas

Add files and photos

Clean and easy to use interface

Recurring tasks management
13. ToodleDo
ToodleDo is another one of the very best task management apps out there today. It acts as a very powerful tool to help you increase productivity and organize your life.
The app is a centralized platform for to-do lists, task management, and note-taking. It is a very intuitive app and comes with a lot of great built-in features. You can share your lists, store, customize, and sync everything in one place.
Toodledo is definitely worth checking out.
Benefits
Custom to-do lists

Structured outlines available

Collaboration tools

Easily syncs on all devices

Elaborate task management

Habit tracking

Free version

Cross-platform support
14. Keep and Share
Keep and Share is not only a calendar system, but is also one of the best to-do list apps out there today. It has a ton of extensive and practical features that will allow you to get things done on a whole new level.
Filter out tasks using multiple statuses, send group messages, and sync all your data. Manage and filter tasks accordingly and do so using a fantastic interface. You can write documents, add photos, and allow multiple people to access your lists. This is definitely worth checking out.
Benefits
Comments section

Easy to use interface

Filter lists accordingly

Download files

Send lists to friends

Email and text message notifications

Personalized tags

Photo identification

Assign due dates

Check tasks off directly from calendar
15. 2Do
Finishing off our list is the task management app is 2Do. It is a very powerful app that is designed to meet any list and task needs you have. Create simple to-do lists or heavy workflows, the choice is yours.
It is ideal for both personal and team use, and comes with a lot of great features and functionality. Give it a look and see what it can do for you.
Benefits
Full task editor

Group related tasks

Multi-platform syncing

Smart lists

Advanced search options

Location-based reminders

Notification center

Lock lists when needed
Final Thoughts
Creating a to-do list is one of the things that can help you tremendously when it comes to getting things done in a timely manner. Not only do all the apps above give you access to a multitude of tools to better your overall task management skills, but they also make doing so fun and interesting.
Any of the task management apps above will give you tons of options when it comes to creating lists and getting things done from day-to-day. The one you choose will be based on personal experience and need.
Now that you know where to start looking, you will be able to better handle daily tasks. Enjoy.