Many businesses had to make the transition to working from home for the first time, but many employees were not trained and ready for this shift. This meant businesses needed to provide educational material to help supplement the move.
Thus, they needed eLearning authoring tools to write them.
Today, I have assembled a list of the best eLearning authoring tools for businesses.
What Are eLearning Authoring Tools?
ELearning authoring tools are a type of content creation tool that allows users to display information in a standardized course structure. Or to put it another way, a tool that allows you to create content in a similar structure to educational institutions.
Getting new employees set up and ready to work can be an expensive process for some companies that require certain levels of proficiency.
Many of these companies try to create helpful resources for employees to utilize alongside human interactions.
However, in an at-home environment, the latter can be difficult to achieve. Therefore, many companies have redoubled their efforts to create clear and concise guides to explain daily activities in the simplest of turns.
This can include things like how to sign in to a portal to access key software, how to use specific software, company policy information, and much more. Each business will certainly create unique coursework that matches what their employees will need to know.
The Best eLearning Authoring Tools for Business in 2023
1. Elucidat
Elucidat is a cloud-based eLearning authoring solution that is perfect for teams of all sizes. It allows you to build beautiful training material in an easy-to-read manner and it's very user-friendly. You can give it a try today with their free trial.
Thus, any business can start making content immediately regardless of skill level.
One way this tool helps you get started is by providing a variety of high-quality pre-built templates. In many cases, you simply need to insert your own information and the form or document is ready to go.
It also has a robust layout designer feature. With it, experienced content creators can create beautiful and unique forms and presentations that match their business's needs.
And yes, you can easily add your company's logo and branding to all documents.
Benefits of Elucidat
Utilizes a What You See Is What You Get interface (WYSIWYG)
Can scale as your team grows and supports multiple departments
Translation options are available to aid international teams
Price of Elucidat
Elucidat does not make its pricing public. You must contact them for a quote.
2. iSpring Suite Max
Another fantastic option to consider for beginners is the iSpring Suite Max, which is really an add-on for Microsoft PowerPoint. Thus, you will need access to PowerPoint to actually use this solution.
That said, if you can use PowerPoint well, the learning curve is extremely small.
Instead, think of iSpring as a tool kit to streamline eLearning material creation within PowerPoint. With it, you can add quizzes, simulations, screen-sharing clips, embed YouTube videos, and much more.
And odds are, your business has access to PowerPoint thru Microsoft 365.
The main advantage it offers is most people's familiarity with PowerPoint. Let's face it, at some point, everyone has to make a presentation using PowerPoint. This simply adds specific options that businesses need.
It's simple but effective.
Benefits of iSpring Suite Max
Receive detailed reports about quizzes that include text-based answers students submit
Basic video editing tools are available and simple to use
Send courses to the cloud for staff to view
Price of iSpring Suite Max
iSpring Suite starts at $770 per year per user
iSpring Suite Max starts at $970 per year per user
3. Articulate Storyline 360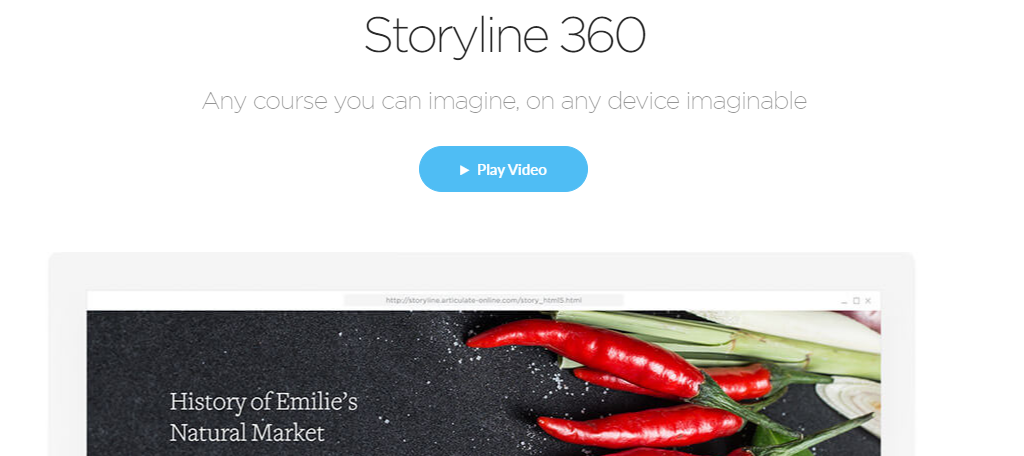 Articulate Storyline 360 is another option to consider, especially if you are a fan of using PowerPoint. However, unlike iSpring, this tool does not require access to PowerPoint and is instead a standalone product.
And because it is one of the most widely used tools in the industry, most content creators are familiar with it.
The interface of this tool is nearly identical to PowerPoint, thus those users should feel right at home. However, it has a variety of unique and powerful options at its disposal for creators to take advantage of.
Some of these include tutorials for first-time users, unique quiz elements like sliders, a huge library of images and illustrations, and even supports screen recording and allows you to embed it within presentations.
Most importantly, it is the easiest tool to pick up and use.
Benefits of Articulate Storyline 360
Over 7 million stock images are at your disposal
A 60-day trial is available and no credit card is required
You can transfer your license from one employee to another
Price of Articulate Storyline 360
Personal plans begin at $999 for one user per year
Teams plans begin at $1,299 per user per year
4. Gomo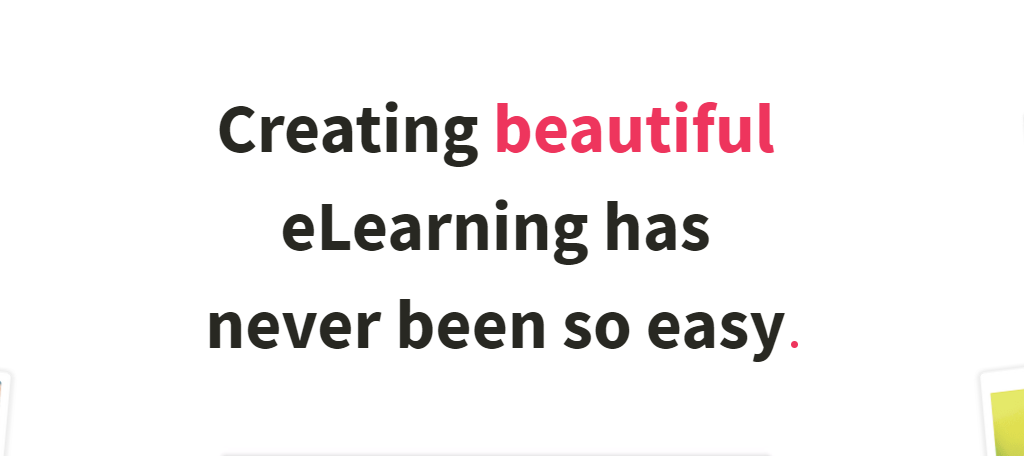 While many of these tools focus on a slide show approach to eLearning, Gomo focuses on creating web content. That means the content must be viewed online from a website or alternatively through the Gomo app.
This is ideal for companies that want to build a training website to help with the onboarding process.
This tool was built for teams. Multiple users can make edits and leave notes for each other during and after the entire creation process.
The tool provides 6 basic themes to help create stylish content, however, you can create your own. Thus, the possibilities are endless.
There are also 14 different course elements to add and 10 unique quiz elements to utilize. And most importantly, for today's users, the content can be built for devices of any size, which means staff can use their mobile devices.
Benefits of Gomo
Animation effects are available on all pages
Pop-up support is available
Allow users to access PDF files without removing them from the course
Price of Gomo
Small plans begin at $1,035 per year
Medium plans begin at $2,940 per year
Enterprise plans are available upon request
5. Adapt Learning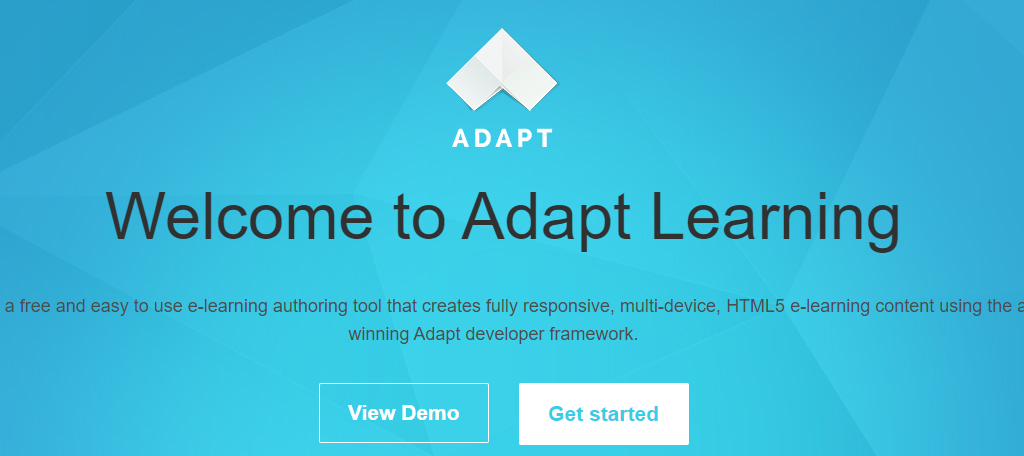 Adapt Learning is a responsive eLearning authoring tool that focuses on and excels at creating HTML5 content. What makes it unique from other options on this list is that it is open-source. Therefore, there are plenty of new features added regularly.
That said, you can rest easy knowing that only tested additions from the community are available.
There are multiple themes available for you to style your content with, or you can use the theme builder to make your own. Interestingly, the theme builder uses a block-based interface. Therefore, if you enjoy the Gutenberg editor in WordPress, you will feel right at home.
While there are paid plans available, it is worth noting that you can actually use this software for free. And if you've noticed the prices of other eLearning authoring tools on the market, you will immediately realize how big of a deal this is.
Benefits of Adapt Learning
A large community that provides a lot of helpful resources
All content your create is responsive and supports any device
You can duplicate courses to make small alterations for future courses
Price of Adapt Learning
A free version is available
Adapt Learning does not make its pricing public. Instead, you must contact them for a quote.
6. Camtasia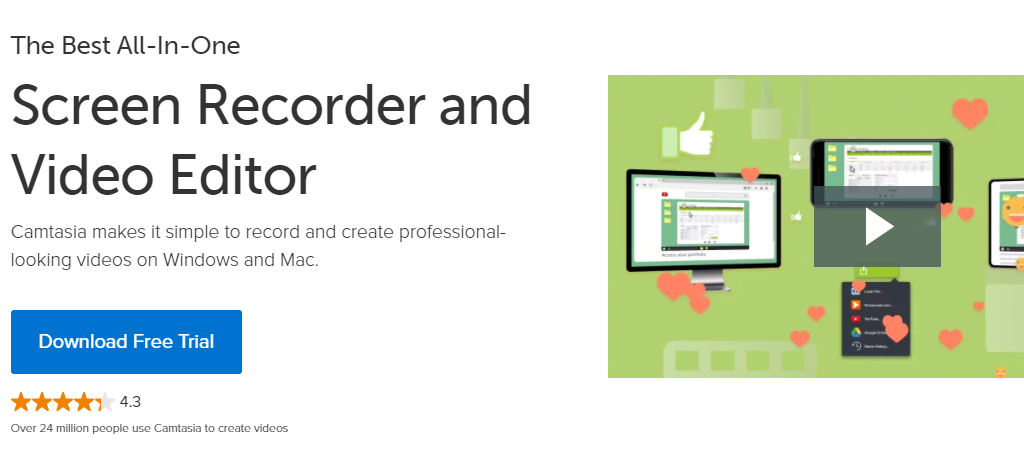 Many companies rely heavily on providing video content in training courses, and Camtasia is built exclusively for this purpose. At its core, it is a video capturing tool that really excels at recording screen footage.
This makes it ideal for creating detailed demonstration of software and processes.
However, it is worth noting that since Camtasia focuses on videos, you will need another tool to create any written content or to potentially embed the video content you create.
And this is a great choice.
Often times the video editing mechanisms are lacking in existing authoring tools. Camtasia offers a robust selection of tools and filters in a simple editor. Thus, it is simple enough for beginners to take advantage of and deep enough for veterans.
Benefits of Camtasia
The video editor utilizes a drag and drop interface to make it easy to combine clips
All updates and future version of your purchase are free
Videos can be exported in SCORM format
Price of Camtasia
An individual license is available for the one-time payment of $249.99
Business plans start at $249.99 per user
Education plans begin at $169.99 per user
Government & Non-profit plans begin at $223.99
7. Lectora Inspire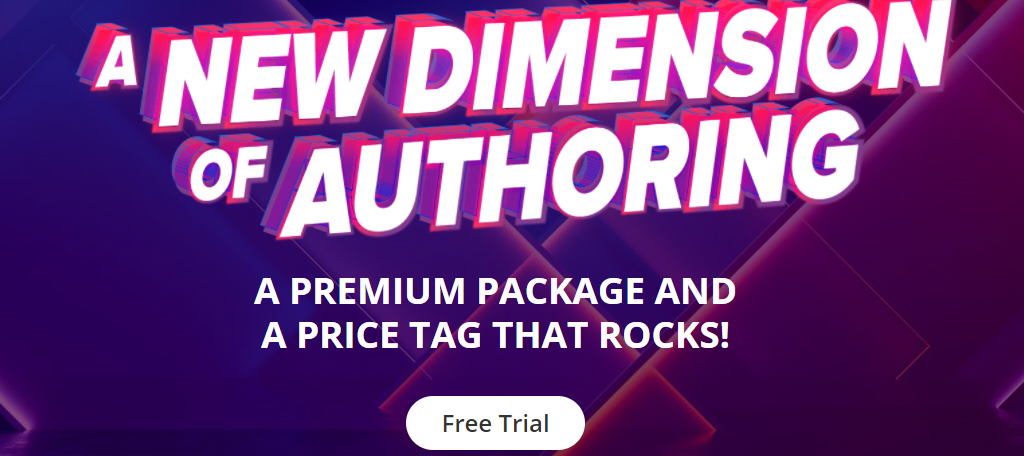 Closing out this list, but certainly not least, is the impressive Lectora Inspire. This tool has been helping businesses for years and has developed a toolset made for experienced users. So, beginners may find the learning curve a bit steep.
The content you create is web-style, which means you are going to need a website to display the materials. But let's be honest, every serious business has a website in 2023, so this is only a strength in my book.
It has a robust translation feature that allows you to duplicate content from one language to another. That said, it does have one small setback. If you need to make a change, you must change each one individually.
It offers users a great selection of graphics and images to choose from, which means your content will always be popping.
Benefits of Lectora Inspire
The error check feature can help you avoid common mistakes
You can create flash games as a learning tool
Import PowerPoint files as a base for the presentation
Price of Lectora Inspire
The Gold Suite is available for $1,299 per year
The Platinum Suite is available for $1,599 per year
Does Every Business Need eLearning Tools?
Absolutely not.
Most businesses do not require detailed eLearning solutions for their workforce. In other cases, some businesses may only need it for trivial guides and in those cases, Microsoft Word and Powerpoint will be more than sufficient.
In fact, it's a great option to consider in general, especially if you already have a business license.
Dedicated software will be easier to use and have more robust options available. But for small teams that don't need flashy or complicated guides, you can use Microsoft 365 to get the job done.
That said, the options in dedicated content authoring tools can save you a lot of time and effort.
It's also worth highlighting the fact that there are already many resources that are provided by companies on how to use specific pieces of software. Taking advantage of these guides might be a more effective solution for some businesses.
Improve Work Efficiency With eLearning Authoring Tools
Work cannot be done if employees don't know how to do it. That is why every company invests in onboarding solutions and employee training. You can help both of these processes by providing detailed and easy-to-read guides that employees can utilize.
Of course, there are other options to consider. For instance, screen sharing is a terrific tool that many IT teams have taken advantage of to help employees set up their workstations from home.
It really depends on the size of your team and the level of help employees need.
How does your business create training material for employees?