Having a business website is critical in the online world we live in. However, not only do you need to build a solid site using WordPress, but you also need the right plugins to help it run smoothly.
There are certain WordPress plugins for business websites that you need to make note of.
Are you a little stumped when it comes to figuring out what the best plugins for WordPress business sites are? There are a number of must-have plugins that every website needs.
Well, don't worry, you are in the right place. In this article, I am going to cover some of the best business plugins that WordPress has to offer.
Why WordPress For Your Business Website?
WordPress is a very impressive Content Management System (CMS) and is widely regarded as the most user-friendly platform around.
At this point in time, it is powering over 40% of the websites on the Internet and carrying a 60% market share when it comes to the top 10 million websites online.
The WordPress platform is already powerful, and customization is a huge part of its popularity as well. Right now, there are almost 60,000 plugins available, both free and paid.
These plugins act as extensions of your WordPress business website.
It can't be overstated how important the right plugins can be for overall performance. Not only do they add amazing features without having to know code, but they also enhance existing capabilities.
Furthermore, if you find the best WordPress plugins for business, they can boost site SEO, increase lead generation, and make your business website user-friendly and easy to navigate.
Here are some popular WordPress plugins for that you should definitely look into installing on your business website.
Note: Many of these plugins have both free and paid versions. Please choose the version that fits your business website best.
Best WordPress Business Plugins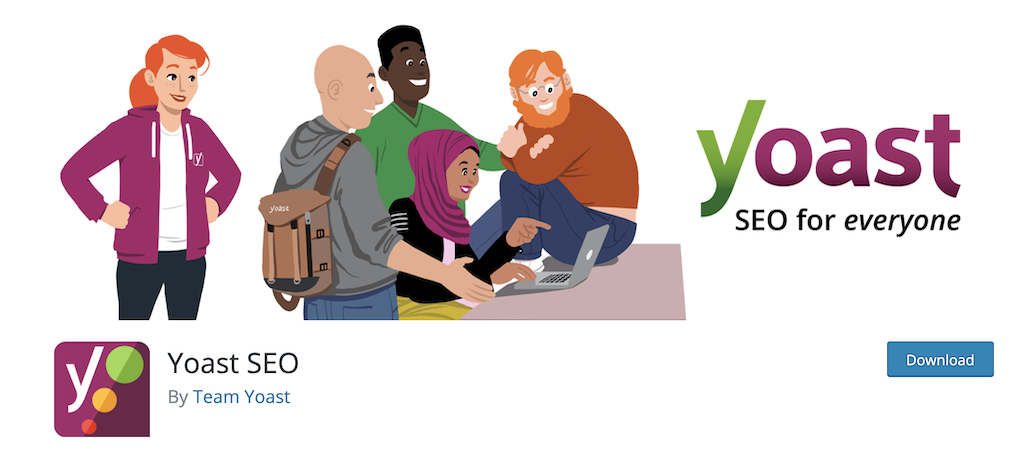 Let's start this list off by tackling arguably the most important aspect of any business website, the SEO situation. Every WordPress business website has got to have a solid SEO structure in place so that it can be found by users and indexed properly by Google.
This is where Yoast SEO comes in.
This plugin is the most popular WordPress SEO plugin in the world. Yoast gives users every tool they need to properly set up a website for search engines and indexing.
The plugin takes care of everything imaginable so you have less to worry about. From providing built-in XML sitemaps, to taking care of proper URL structure and meta tags, the Yoast SEO plugin should be at the very top of your list.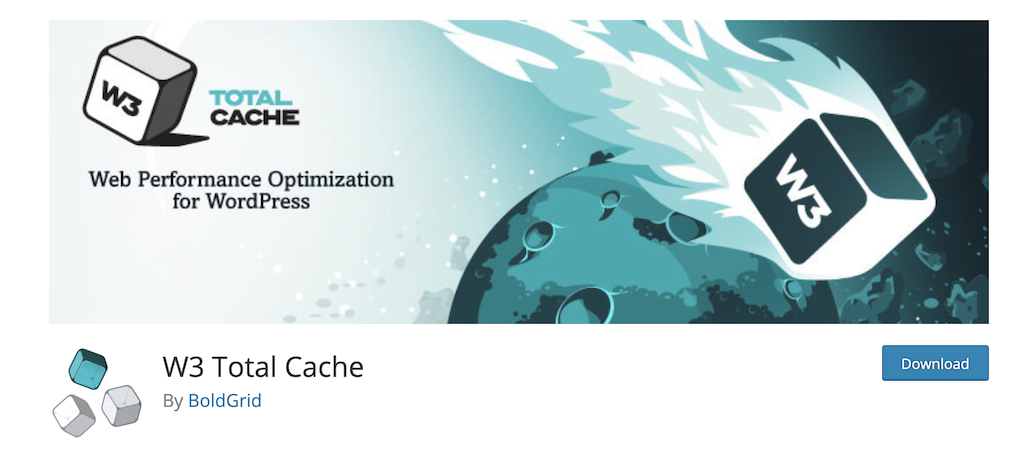 Right on the heels of SEO structure for your business website is proper caching. W3 Total Cache builds on SEO by providing increased overall website performance.
It does this by reducing load times by leveraging features like content delivery network (CDN) integration and the latest best practices.
There are a lot of good caching plugins out there to choose from. However, W3 Total Cache gets the nod here for several reasons.
For starters, the plugin provides web host agnostic Web Performance Optimization (WPO) framework for WordPress. It is the only caching plugin that provides this.
Furthermore, this is one of the most popular, if not the most popular, caching plugins for WordPress available. There is a list of features a mile long that are provided to you once you install it on your website.
From improved search engine results to faster page load times, the W3 Total Cache plugin is simply a must-have WordPress plugin for business websites.
Another really important tool for all WordPress business websites to have is Analytics. MonsterInsights provides some of the very best Analytics tools around. The plugin attaches directly to Google Analytics and provides you every stat and chart you can think of.
That's not all. You are able to manage the entire setup right from the comfort of your WordPress admin dashboard. This means no going back and forth from Google Analytics to your WordPress website.
Everything is right in front of you, easily managed, in one place.
If you want actionable reports and customized reports that eliminate fluff and allow you to better understand your traffic and marketing attempts, then MonsterInsights is a plugin you need to install on your site today.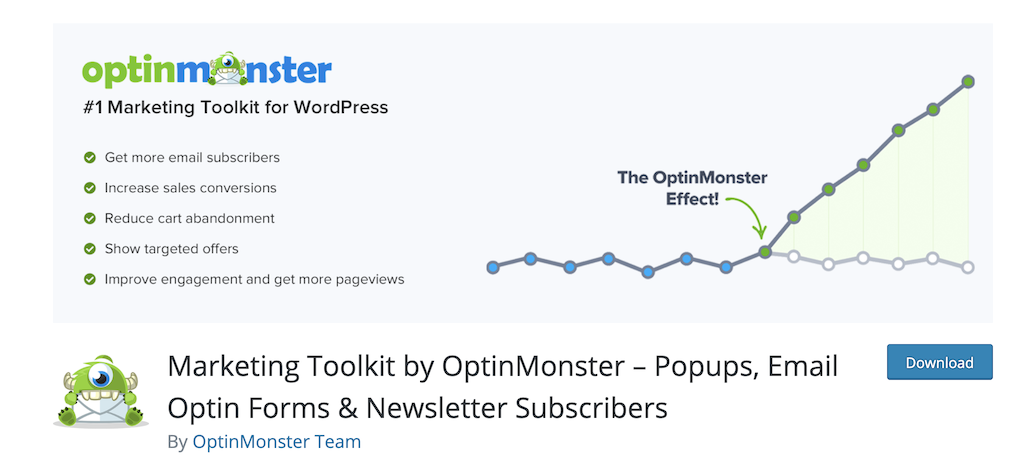 What is something you are always trying to improve on and do correctly when you are running a business? If you answered marketing, then you would be correct.
There is a lot of work that goes into putting together a good marketing campaign. Whether you are trying to leverage social media marketing or attempt to build landing pages that convert, OptinMonster can help you achieve all of your business website marketing goals.
This is one of the best WordPress plugins for business websites around. Rightfully so, as it helps you create all sorts of targeted marketing material.
From dynamic popups built to generate more email subscribers to other specialized email forms, this marketing plugin has it all.
You can build sticky bars and announcements and other landing page marketing options as well. All forms and build options are mobile responsive and ready to roll right out of the box.
Make sure your business website takes advantage of the marketing tools that OptinMonster provides.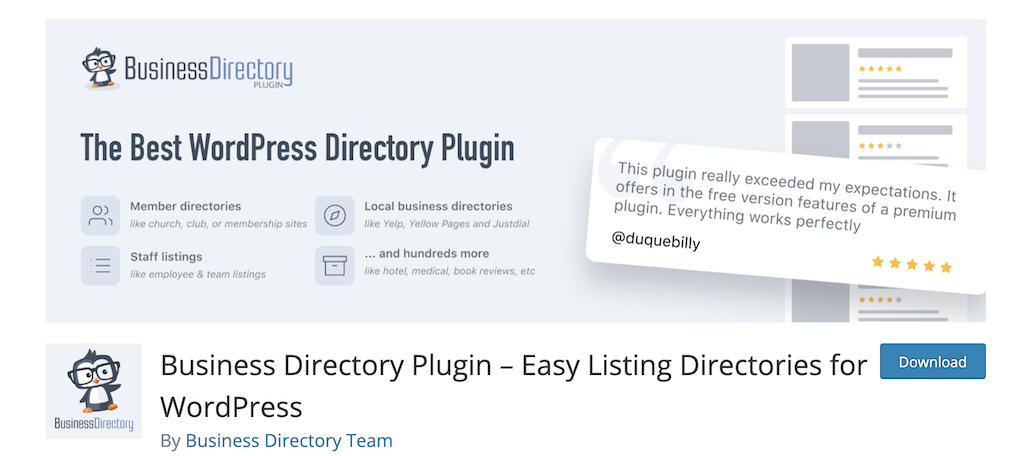 The Business Directory plugin can do two very important things for your business website. It can help with SEO, which we have talked about already several times above, and it can increase user interaction on your website if handled properly.
The plugin allows you to build and maintain a simple yet powerful business directory directly on your website.
For example, maybe you want to list all the relevant churches or libraries around your area. You can easily do this with the Business Directory Plugin.
You can even think bigger and build and maintain an entire business directory of all sorts of businesses and properties around your city. This brings more users to your website, creating interactions and clickthroughs that may not have been there before.
Easily monetize the plugin if you so choose or you can allow other businesses to request being listed on your site. This is definitely a WordPress plugin for business that you will want to take a long look at.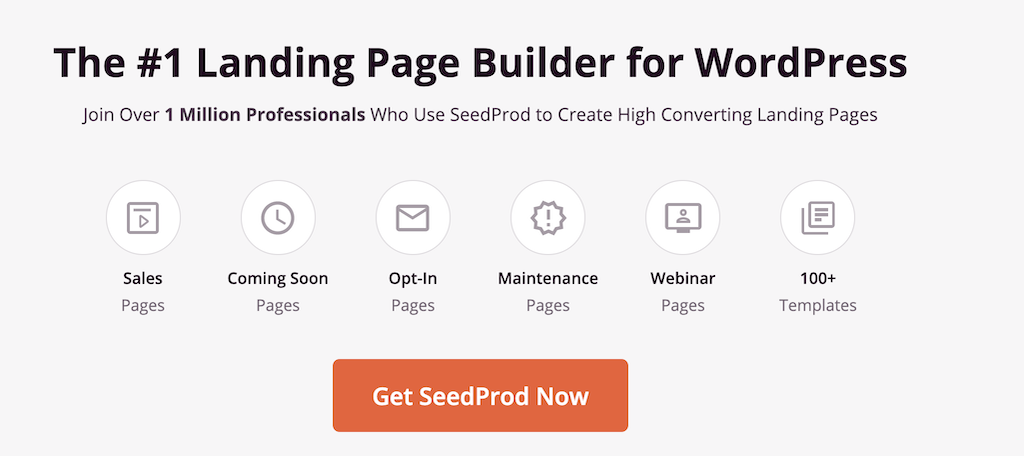 Landing pages. They are a very important aspect of marketing and a very important aspect of business website design.
While we touched on it a little above with OptinMonster, SeedProd is actually a fully functioning landing page builder that will allow you or your marketing team to build any type of landing page imaginable on your WordPress website.
When I say any type of landing page can be created, I mean it.
Once installed, the plugin will give you the ability to drag and drop your way to any number of WordPress landing pages. This means the ability to build sales, coming soon, opt-in, maintenance, and webinar landing pages.
The SeedProd plugin also comes with over 100 pre-built templates, making it even easier to build beautiful landing pages that get conversions and are also mobile-ready.
This is the very best WordPress landing page builder plugin around, so take advantage of it now for increased conversions.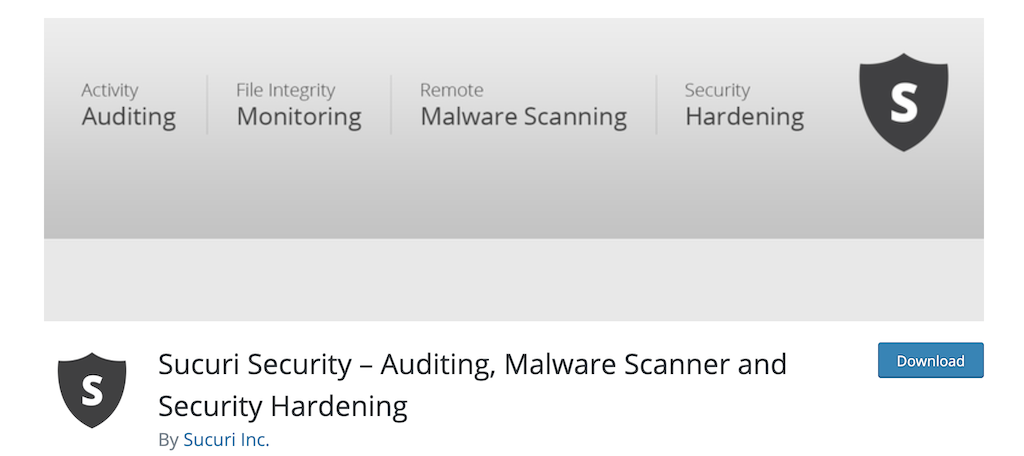 We have reached the section of our list where we need to talk about website security. You have what you need so far for SEO, Analytics, conversions, and user interaction. Let's tie all that together by making sure your business website is safe and secure.
Now, there are several steps you can take to make sure your WordPress website is secure. This includes getting an SSL and a few other things.
However, installing Sucuri Security on your site will give you access to a wide range of extra security features that you can use to help secure the entire business website platform.
You don't want to build and design a top-notch business site only to have something go wrong because it was not secured properly.
From activity auditing to integrity monitoring and remote malware scanning, this plugin has it all. The list of security features provided by Sucuri Security is second-to-none and should be installed on every WordPress business website.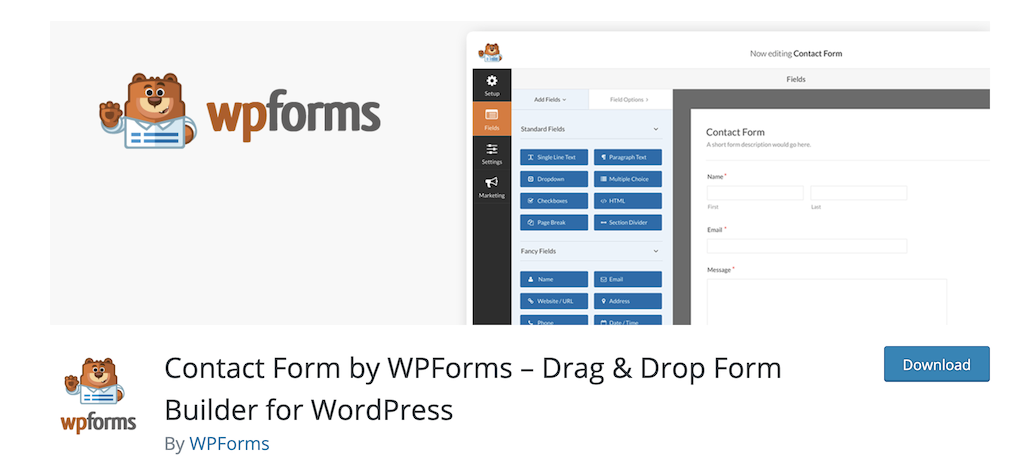 WP Forms provides a beautiful drag and drop form builder that you can use to build and displays an assortment of contact forms on your website. This is a form system that has been around for some time and is very easy to learn how to use.
Now, you may want to look into the pro (paid) version of this plugin, simply because of all the things you can do and the features you can unlock.
However, even if you stick with the free (lite) version of WP Forms, there are plenty of options to build solid contact forms that you can make visible on different parts of your business site.
You don't need to search for another form builder. WP Forms has you covered and will allow you to build contact forms, feedback forms, subscription forms, payment forms, and other types for your site in minutes.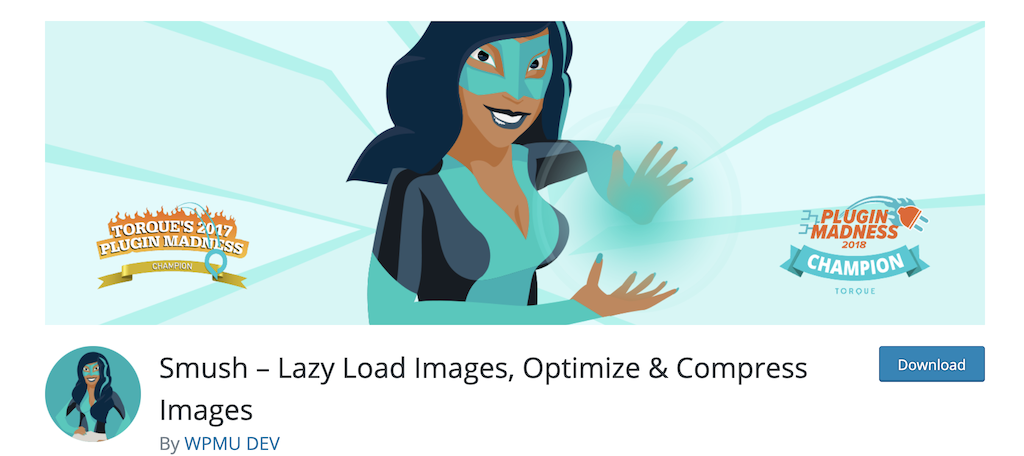 Images are a big part of websites and SEO. This is especially true for business sites that have galleries and portfolios on them. Smush is a very important WordPress plugin for business websites because it acts as a set-and-go image optimization plugin.
While there are several ways you can optimize your images in WordPress, Smush does the compression work for you. It strips all the data that is not needed and also compresses your huge images into a size that works perfectly on WordPress sites.
The plugin keeps all the image quality and look in place, but makes your images more suitable for both SEO and page speed purposes. Even if you don't run a WordPress business website with a lot of images, Smush can still be very valuable.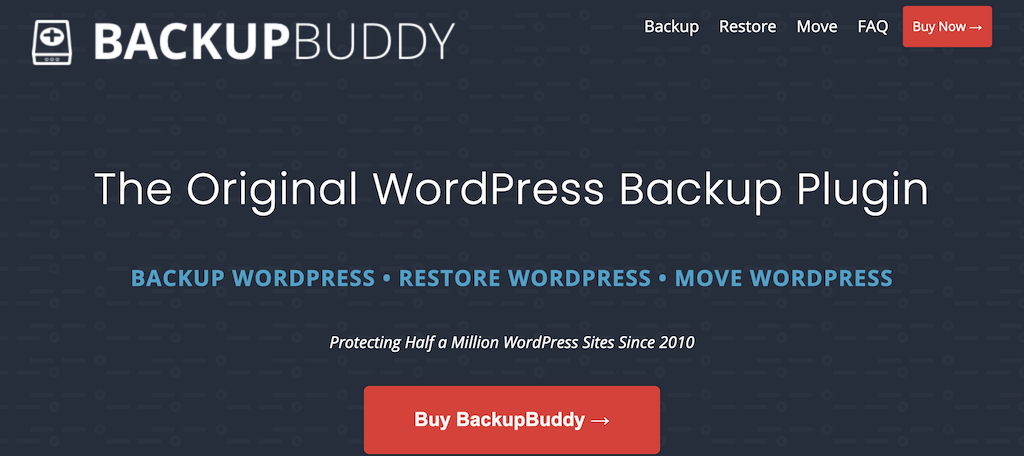 While most hosting companies provide website backups, it is never a bad idea to have your own backup plan and strategy in place. This is where BackUpBuddy comes into play.
Simply put, this plugin will backup, restore, and move WordPress sites quickly and easily.
Face it, a lot of us have trouble with backups and figuring out how to work it all. The BackUpBuddy plugin allows you to easily set up complete backups, schedule automatic backups, storage on the cloud, and restore and migrate websites when needed.
This backup plugin even goes a step further by performing malware scans to help you avoid any security issues on your site.
If you have to pick one fully functional backup plugin that gives you every tool imaginable for website backup and migration, then this is the one.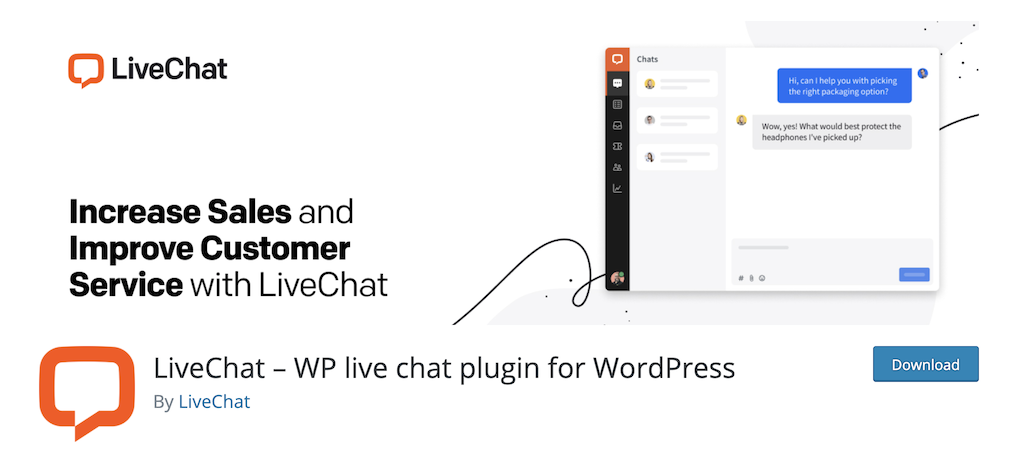 Rounding out this list of the best WordPress plugins for business websites is LiveChat. The name pretty much says it all here.
This plugin gives you the ability to chat live and in real-time with users that are visiting your website. This is important because it allows interaction right away, which can be very useful when it comes to asking questions or getting important info about pricing and services.
The plugin includes a comprehensive set of features that will help you close sales and get more conversions. Included with LiveChat is the ability to allow agents to send personalized messages automatically.
You can also set it so that a certain trigger happens when a visitor meets predefined criteria, like the number of pages or certain pages visited.
Add this to your list of business website plugins and you will have just about every plugin you need to run a successful business website.
Bonus Tools For Your Business Website
Yes, there are always other plugins that can be very beneficial to running a WordPress business website. The ones above are some of my favorites and you can't go wrong with any of them. That being said, here are a few bonus tools you can look at that will help you manage your site as well.
Conclusion
I hope this article was able to help you narrow down and see some of the best WordPress plugins for business websites out there. Yes, with 60,000 plugins available, it can be tough to narrow down which ones you should get and install on your site.
The ones above are some of my favorites, and you can't go wrong using any of them. You can use these to supercharge your site and achieve a lot of things without ever having to learn or touch any type of code. Enjoy!