Social media marketing is a very effective way to drive traffic and build an audience for your brand. However, without the right analytics, you are kind of flying blind. With that, we want to take a look at some of the best social media analytics tools available out there today.
Analytics help you figure out what you are doing right and what you are doing wrong when it comes to the audience you are trying to go after. Social media analytics tools provide a ton of detailed insights and reports on just about every stat imaginable.
Today, I am going to introduce you to some of the very best social media management analytics tools available today.
What Are Social Media Analytics Tools?
Social media analytics tools and software provide detailed reporting and data that is related to social media accounts.
These types of social media management tools are used by social media, marketing, and communication teams as a way to identify what is successful and what isn't during a marketing campaign for a business.
Some of the main identifiers, tools, and reports that these analytics tools provide include:
Successful Practices
Target Demographics
Real-Time Consumer Practices

Regional Information
Tendencies
Customer Desires
Responsiveness of Customers
Provide Tracking and Sharing Data
Aggregate Social Media Statistics
Compare Data Across Campaigns, Posts, and Pages
Evaluate Audience Size, Engagement, and Demographics
Basically, marketing teams need this type of software so that they can accurately monitor and report overall social media performance and then justify social media as a viable and well-thought-out marketing channel.
Let's take a look at some social media analytics tools you may be interested in. These are the best ones out there and will allow you to create and track social media marketing plans.
Best Social Media Analytics Tools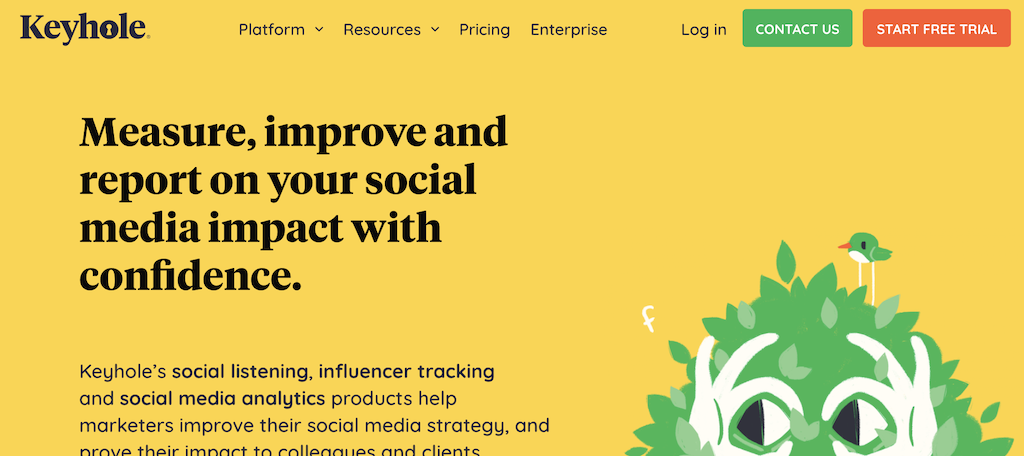 Starting off our list of the best social media analytics tools is Keyhole. The platform measures all your social media efforts inside a beautiful, comprehensive, intuitive dashboard.
Keyhole really lets you get into the minds of potential customers and engagements with its easy-to-use tool. You will also have access to detailed yet simplified reporting so that you can determine what is working best and where.
There are a ton of features that this platform provides. You will be able to see the number of impressions, reach, posts, and engagements that certain accounts or hashtags are getting.
If you need to identify key influencers who get the highest engagement rates and number of followers, then Keyhole has you covered there as well. All in all, you will be hard-pressed to find a better social media analytics platform than this one.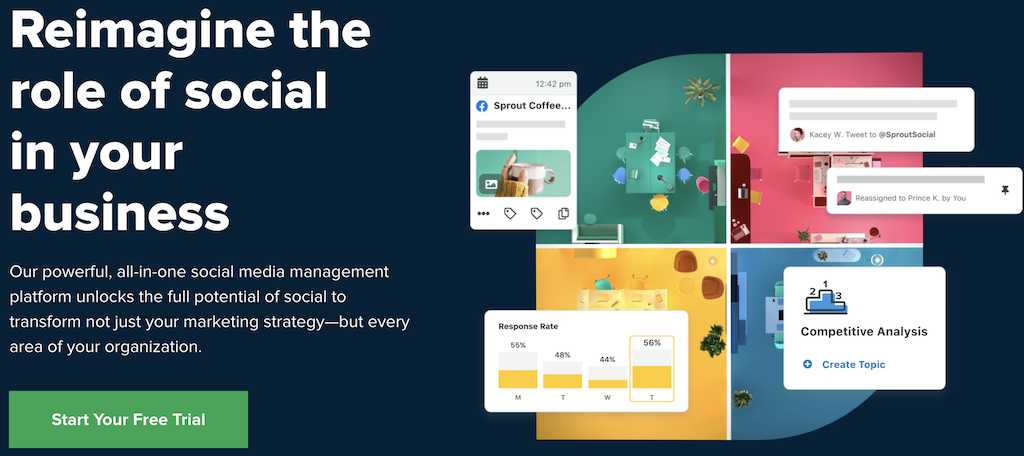 The ability to track and report on cross-channel social media analytics is a specialty for Sprout Social, and this is exactly what put it high on this list. This platform gives you the ability to deep dive into the reports and analytics of a single network, or compare all results across multiple networks at once.
Sprout Social also gives you access to multiple features and tools that allow you to track everything from Facebook impressions to Twitter link clicks. That being said, we all know social media platforms are quickly expanding, so tracking analytics for platforms like LinkedIn and Pinterest is also built-in.
The platform has you covered with both templated and customized reporting options. What this means is that you will have multiple ways to both gather and understand important social metrics.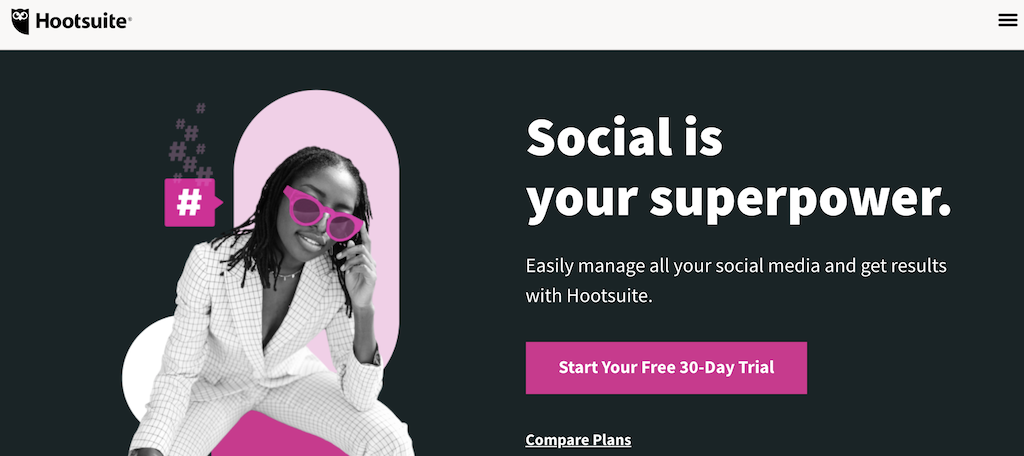 Another one of the best social media analytics tools out there today is Hootsuite. This platform is a very recognizable name in this arena and has been providing solid social engagement services for a long time.
Hootsuite can help you fully manage posts, collaborations, scheduling, and analytics. With all the tools that it provides, your social media management team will be able to automate posts, schedule accordingly, view tons of reports and insights, and gauge key performance metrics from all the marketing content.
Another one of the stand-out things about Hootsuite is that it integrates quickly and easily into all social platforms, including Facebook and Instagram. This means that you don't have to hop around from platform to platform to view analytics. Instead, you can view everything from one dedicated dashboard.
With the ability to monitor multiple social streams and easy team collaborations, Hootsuite is definitely a platform to look at.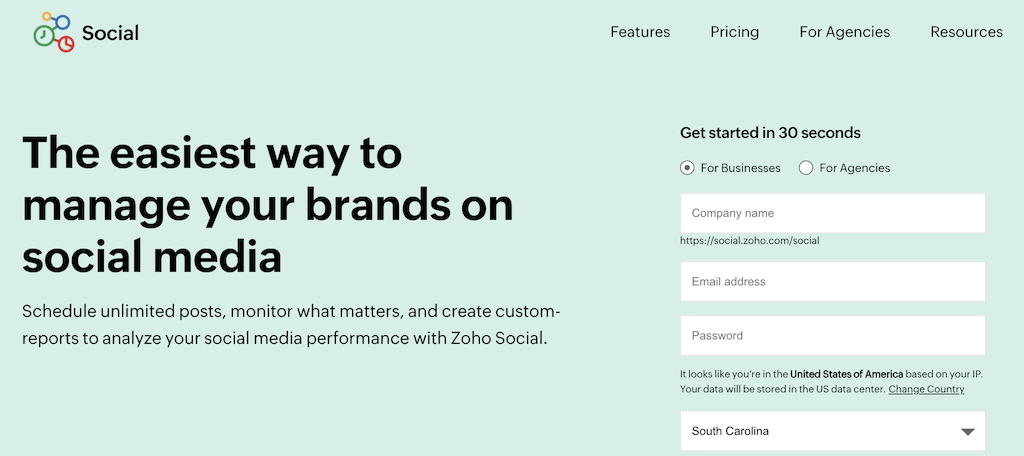 We all know that Zoho has a ton of amazing tools, including their CRM software, which is considered one of the best. However, they also come to the table with a strong social media outreach and management platform with their Zoho Social addition.
The platform gives you the ability to schedule out and publish posts easily through their intuitive publishing calendar tool. You can also easily monitor all campaigns and create custom reports that are easy to understand and follow.
Respond in real-time with your social audience and engage followers on a high level all from the comfort of the Zoho Social dashboard. Give Zoho a look, especially if you are already using their platform for other things.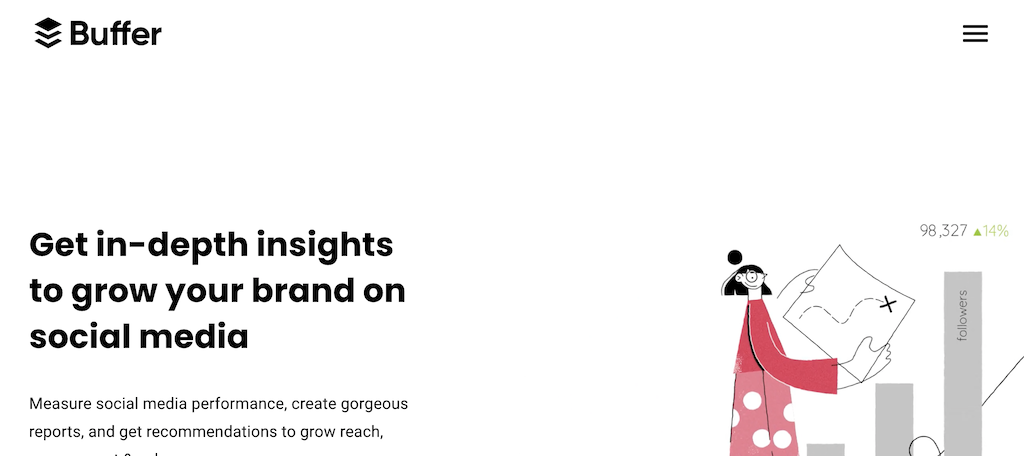 Another name you may be pretty familiar with is Buffer. They also have very simple yet powerful social media analytics tools with their Buffer Analyze software platform. It includes all the features and tools you will ever need to properly manage and track your social media streams.
Like many other tools on this list, you can manage multiple social accounts at once and also easily schedule post times. All of this allows you to really dial in when it comes to customer engagement.
With the built-in social media analytics tools that allow you to expand reach, engagement, and sales, Buffer Analyze is definitely a platform you will want to consider.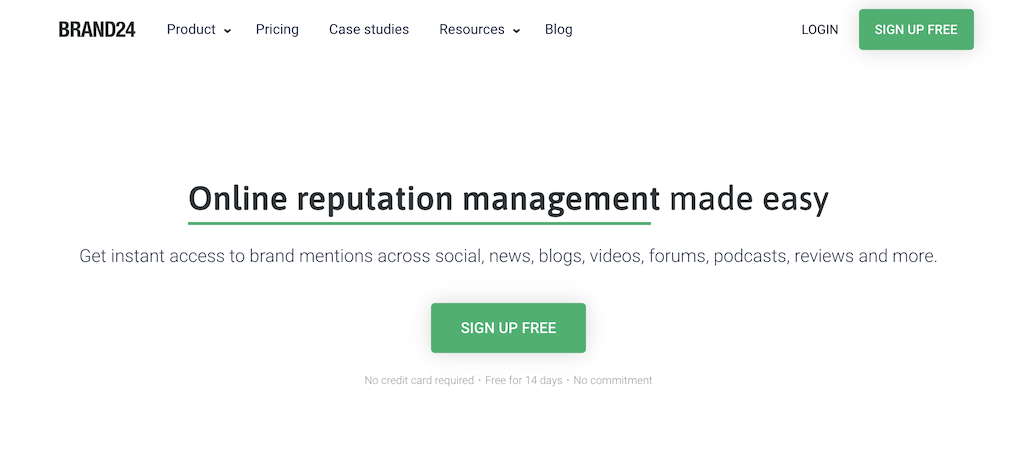 Brand24 is a company you may not have heard of, and that's too bad because they have one of the best social media monitoring tools around.
This is a paid tool (like all the rest on this list) that allows for a 2-week free trial. This means you can get your feet wet and explore the platform closely before making a final decision.
Among the main features that include social analytics monitoring, you will also be able to get tons of social analytics from multiple platforms, view metrics of engagement, view metrics of influence, find trending hashtags, and view all sorts of important hashtag analytics.
Brand24 is a platform you don't want to miss, so make sure you give them a look. With their ease of use and intuitive dashboard, they are going to be a top choice for many.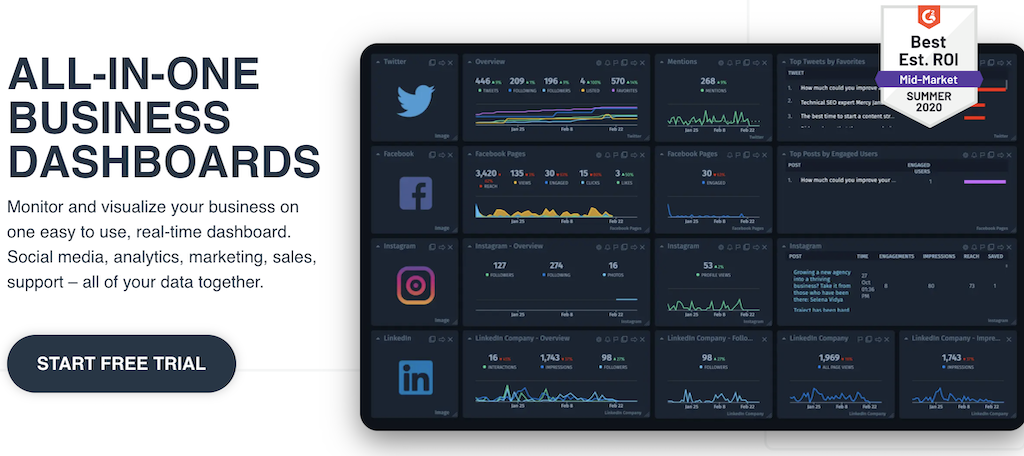 Cyfe is a business dashboard tool that is also one of the very best social media management analytics tools. It can sync all your data from all your marketing tools and platforms in one place.
Not only does it cover social media analytics, but also things like advertising, email, monitoring, sales, SEO, and website analytics.
Cyfe really stands out because of the sheer number of integrations that can be added to a single dashboard. The platform allows you to integrate and sync data and reports from 19 social and other types of accounts.
This allows you to leverage data and make solid social media engagement choices from the comfort of a single panel, no matter how many accounts you have running at once.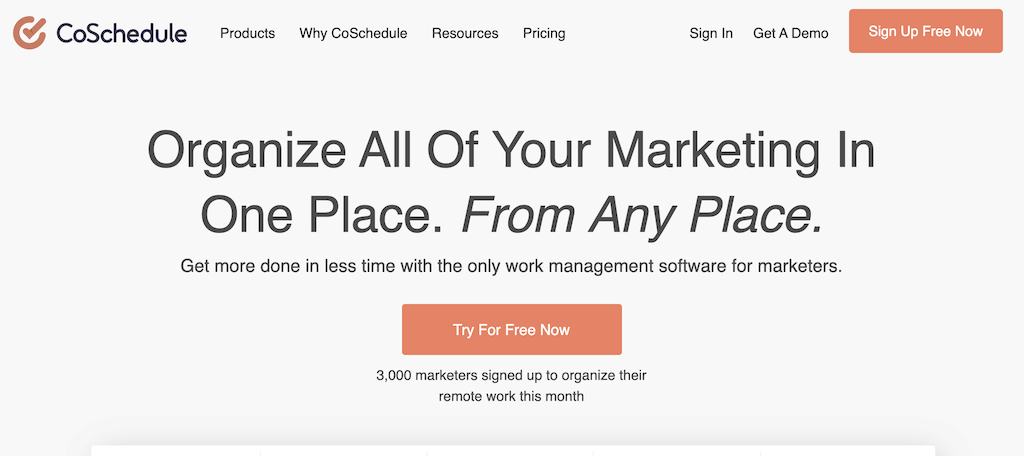 CoSchedule is not only a fantastic social media analytics tool, but it is arguably the best social editorial calendar on the market. This is where it excels, as it allows you to analyze the performance of your social media posts.
Using this data, CoSchedule will suggest improvements and recommendations to you across all channels.
Not only this, but the calendar also gives you data on the best time to post, the best day to post, and the best type of content to post.
From social engagement analytics to social share analytics, and everything in-between, CoSchedule is a platform you will want to take a good look at when it comes to your social media analytics needs.
Rounding out our list of the best social media analytics tools is Brandwatch. The platform does things a little differently than the other tools on this list. It collects mentions from all over the web from places like social media, discussion forums, blogs, news sites, and other publicly available sources.
It then takes all these mentions, adds them to other analytic tools that are already built-in, and provides detailed reports in an easy-to-read HTML or PDF format.
The platform also works to provide data on demographics, image analysis, influences, locations, and much more.
Give Brandwatch a look if you want to include mentions in your reporting.
Why You Should Use Social Media Management Tools?
There are actually a number of reasons why you should be using social media management tools.
Aside from the obvious tracking and indicator performances for marketing, you can also leverage the ability to track the performance of all social media posts on all channels.
With this leverage, social media marketing teams and social media managers can more accurately tell which posts and/or paid campaigns are generating the most interaction and engagement.
With this understanding and insight, teams can work toward building strategies they know will perform well in the future.
What Features Should You Look For?
When it comes to social media scheduling tools and software, one size probably doesn't fit all. A lot of the final choices you make will be based on what your company actually needs as well as a lot of personal preference.
That being said, there are still certain features you should make sure you have access to no matter which platform you decide to go with in the end. Here are some main features to look for.
Competitor Analysis
Face it, you want to be able to track your own social media analytics as well as the analytics of competitor campaigns. For this reason, it is important that the social media analytics tool you decide to go with has this functionality built in.
This will help you gain insights into what is and isn't working with your competitors.
Follower Analysis
Yes, the ability to see how your followers interact with your posts is important. However, you want to make sure that you are able to take it a step further and gain more insights into your followers' demographics and location.
What works with one demographic and location may not work with another one. Better knowledge of engagement types is key, here.
Content Engagement Analysis
This is a lot like follower analysis. Knowing not only how much engagement a post is getting, but who is actually engaging is very important.
This allows for further targeting of personalized posts and strategies, allowing your business to really hit a homer with certain groups.
Attribution
When followers are identified more clearly, then you can tap into them more specifically for things like influencers and potential brand advocates to promote company content or posts.
Remember, the ability to identify which followers have the largest networks will also come into play.
Reporting
Custom reports and the ability to provide clear and concise reporting standards have always been a challenge in this arena.
Social media analytics tools will help improve the reporting process by giving you access to a dedicated reporting tool instead of just the typical spreadsheets and other notes. All of this is particularly useful when it comes to key metrics across the board.
Conclusion
There are a lot of different software solutions that are associated with tracking social media analytics and all that comes with it. The key to all this is finding one that is right for your business, intuitive, easy to manage, and gives you the type of results and reports you are looking for.
All of the social media management tools on the list above are solid. You really can't go wrong with any of those choices. Check them out, give them a try, see how they work for you.
This is the fastest way to narrow down which one you might want to go with.