The eCommerce industry continues to grow at a wildly rapid pace. There is nothing to suggest it is slowing down either. A recent study from Statista actually predicts that over 2 billion people will be shopping online in 2023. This is one of the many reasons it is a good idea to look into free WooCommerce themes.
These days, WooCommerce makes it incredibly easy to start an online store. Within minutes you can have the plugin set up in WordPress and start selling physical and digital goods online.
Why Choose a Free WooCommerce Theme?
There are all sorts of great WordPress and WooCommerce themes available out there. Oftentimes, though, money can be tight when you are first trying to start your online store. For this reason alone, it is a great idea to look into what types of free WooCommerce themes are really available.
Finding WooCommerce themes for free doesn't have to be challenging. As a matter of fact, there are quite a few really great WooCommerce templates that can be found without spending a single dime.
Sure, you always have the high-end theme available, but what if you simply don't have the money to get an expensive theme to use right now? Fortunately, a lot of the free WooCommerce themes available have all the functionality and tools you need to launch and keep a smooth, clean, professional online store.
Just in case you are having trouble finding some, here are 11 of the best free WooCommerce themes available today. Simply download them and start building.
The Best Free WooCommerce Themes
Blossom Shop is a fantastic free WooCommerce theme that is fully responsive, comes with a built-in slider, and several places to add sold call-to-actions banners. Furthermore, the theme is already very SEO friendly and allows for even more optimizations across the board to help with search results.
There are added layout options, color possibilities, and over 900 Google Fonts already built-in. Upload a custom background, build, design, and personalize your online store exactly how you want it to be.
There is also a dynamic homepage that offers 9 different sections that you can use to layout and build the site of your dreams. The blossom Shop theme provides an elegant look that will keep visitors happy and coming back.
There is also a built-in testimonials section, so no extra plugin is needed. All-in-all, Blossom shop is one of the very best free WooCommerce themes available today.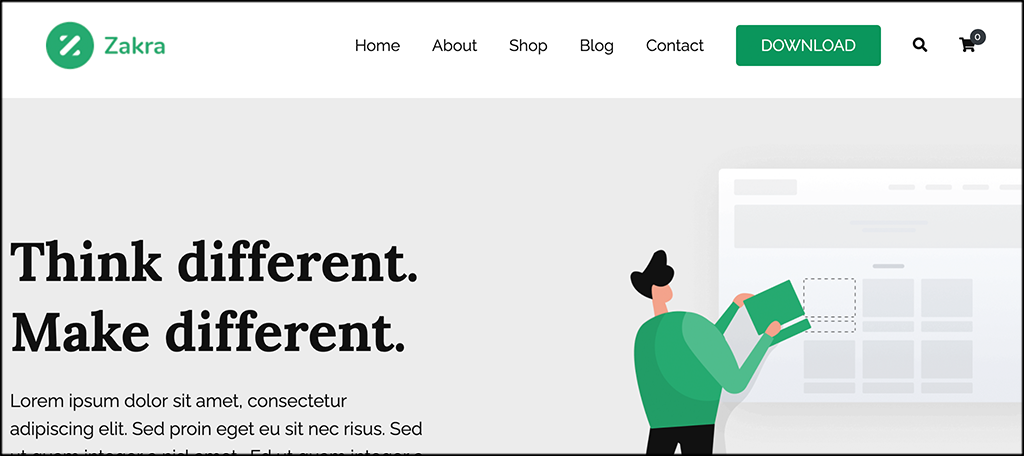 Another one of the best free WooCommerce themes you will find out there is Zakra Shop. The Zakra theme itself comes equipped with over 100 different website templates. Within their templates, you will find a fantastic shop theme that provides a ton of features and options.
The theme is built on Gutenberg and allows you to easily integrate any third-party plugins you need for more shop functionality. There are a lot of different typography options, as well as a selection of Google Fonts that will work well with the smooth, clean, mobile-friendly theme.
There are several layout and page options, along with extensive menu styling selections. All of this works together to help you build a solid and reputable online store.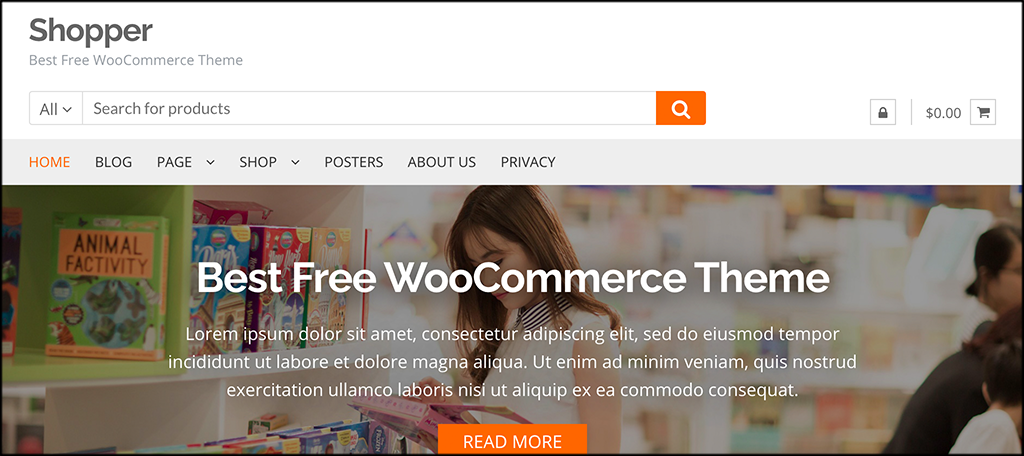 With over 180,000 downloads and 6,000 active installs, Shopper is one of the more popular free WooCommerce themes out there today. The theme is built for a business that wants to easily integrate a full shop on their website.
With a clean, smooth., professional look, the Shopper theme will be hard to beat.
The theme is fully responsive and translation ready. It is also SEO friendly with structured data integrated that subsequently helps in increasing the traffic on your site. It shows products in a clean, smooth, easy to understand way that attracts and keeps visitors on your website.
Built-in pricing charts and dropdown functionality add to the already packed set of features you'll enjoy with this theme. With a built-in, easy to use product search bar, increasing the chances of conversion is right there to be had.
The rating system also shines. Definitely give Shopper a look.
Pasal eCommerce is actually a premium theme that can be used to showcase a fully operational online store. The theme is very versatile and comes with a ton of built-in features that can be used to build a fantastic eCommerce website.
The theme comes complete with the Elementor page builder. It allows you to build, design, and manage pages without knowing any sort of code. Create dozens and dozens of page layouts, homepage styles, and sidebars, all while using the easy drag-and-drop functionality that the site editor provides.
Finally, take advantage of the amazing full-page banner with a slider option along with the CTA background option on the page. All-in-all, this theme gives you everything you need and much more to create a fantastic online store layout.
Flash is another one of the best free WooCommerce themes out there. This is actually a multipurpose WordPress theme that includes an excellent store theme built-in. The theme is flexible, full of features, SEO friendly, and responsive on all devices.
It comes complete with advanced typography that allows you to design and build your store to fit your brand perfectly. While it doesn't come with a page builder, it is fully compatible with the most popular WordPress page builders out there, including Elementor and Beaver Builder.
Perhaps one of the more unique things about this free WooCommerce theme is that comes with a cart button attached to the menu. This means that customers can take a quick look at the items they have selected for purchase from anywhere on the site without having to go to their cart page.
If you are looking for a solid, free WooCommerce solution that can help you set up an eCommerce shop, then look no further than VW eCommerce Store. The theme comes with multiple homepage sections built-in. You can use these to try and drive traffic and create a unique design for your website.
This theme does not have quite as much as some of the other themes on this list. However, it is mobile-ready, SEO-friendly, and provides you all the tools you need. There is one unique option that VW eCommerce store does have though, and that is the product categories section.
The theme allows you to present product categories in a carousel. Your website users can scroll through all your product categories on the fly without having to click through to other pages.
Trusted is another one of the best free WooCommerce themes you will find. It is a compact and viewer-friendly theme that comes ready to build and optimize toward any vision you have. It is another multipurpose theme that has really good built-in store functionality.
With a full-page banner design on the main homepage area that provides several different animations, this theme gives you a solid framework to build an online store for free.
The theme beautifully displays products and categories on the front-page in a smooth, grid-like style. You also get a lot of color options and typography built-in. This will allow you to build the store to look exactly like your brand. Give Trusted a quick look to see if it is right for you.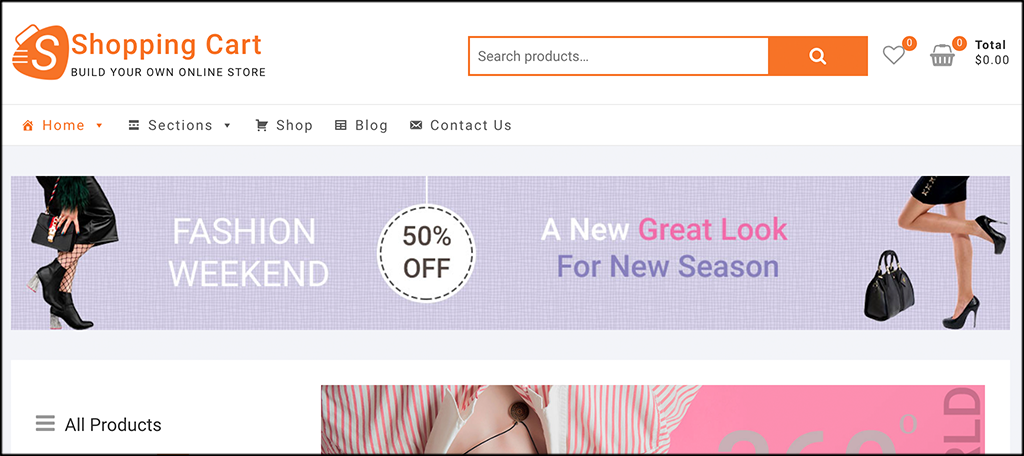 Rounding out our list of the best free WooCommerce themes is Shopping Cart. This is a simple, straightforward theme that focuses on your products and product pages. Don't let the word "simple" fool you though, as the theme is still very powerful and does come with quite a few nice little features.
There is a search tab built into the theme so that customers can find exactly what they are looking for right away. Build-out category sections and allow for multiple drops into subcategories that are all well within the reach and view of the site user.
Finally, where other themes may be missing, it also works fully compatible with the biggest third-party plugins, including bbPress. Build a complete forum right on your shop website for people to talk and connect.
Finally, integrating a wishlist functionality feature can also be done fairly quickly when using the free Shopping Cart theme. If you want a theme that focuses on products and is straightforward and powerful, then give this one a long look.
What to Look for in a Free WooCommerce Theme
The list above will give you a great place to start looking for free WooCommerce themes. However, there are certain things you want to make sure you look for when you are deciding which theme to go with.
Search Engine Optimization (SEO)
A good SEO strategy for an online store happens at a lot of different levels. That being said, you want to make sure the free theme you choose to run WooCommerce on is SEO friendly.
The code should be solid, it should be easy to set up on-page SEO, and the template itself should offer ways for you to better your ranking.
Customization Options
Having the ability to customize a theme is never something you want to take for granted. Each of the themes in our list above gives you the ability to customize a lot of different features. This keeps your website fresh and looking unique.
Make sure the theme you choose comes complete with a ton of different customization features.
Checkout Process
This can't be stressed enough. A checkout process on any online store needs to be easy. Think about it. At some point, you have bought something online and the checkout process was slow, confusing, and took too much time.
How badly did you really want to stay around and complete the purchase? Make sure you have a smooth and easy checkout process with your theme.
Testimonials
Granted, a lot of free WooCommerce themes will not comes with a built-in testimonials section. However, the WooCommerce plugin has that built-in, so when it is set up, people can leave reviews and testimonials about your products.
This is a great way to build brand trust and website traffic.
Call-to-Action (CTA) Sections
A solid and well-placed call to action can mean the difference between people staying on your site and exploring your products, or leaving because they aren't interested enough.
A good call-to-action should be placed in a way that helps drive website traffic to a particular product.
You have to walk a thin line between annoying and interesting. However, if done right, a CTA can definitely help with sales and all free WooCommerce themes should have them.
Promotions and Offers
Promotions and offers are always an attractive feature for customers. You should definitely be running them on your website for certain products. Whether it is a buy-one-get-one deal, free shipping, or any other sort of offer, using your free WooCommerce theme to run them is a must when you are trying to increase sales.
Conclusion
Some of the best free WooCommerce themes are hidden away in places that may make it difficult to find. The list above should be a great place to start, as it is filled with high-quality WooCommerce WordPress themes that come with a ton of functionality and features built-in.
The one you choose will be based on the information above, as well as what exactly you are looking for.
Each online shop is different. However, you can't go wrong with any of the themes listed above. Using these themes properly, and then adding the right plugins to drive sales, will ensure that you have a successful website store over time.
This should be a great starting point for your journey toward finding a free WooCommerce theme to use. Take a look at all the themes listed above, dig into them, and see which ones may be right for you.
You may like more than one of them.
If that is the case, then do a test run using both themes and see which one actually gives you what you want. At least then you know you tried multiple themes.
Good luck and happy hunting!