Every storefront needs a point of sale system to conduct business. However, it's gotten extremely difficult to choose the right one as the market has expanded. And not only is there more competition, but the number of features they include has increased significantly.
What Is A Point of Sale System?
A point of sale system, or POS, is what a customer uses to make a purchase from your store or website. The point of sale system adds up the cost of the products in the cart, calculates tax, creates a receipt, and most importantly, accepts the payment.
In it's simplest form, you can think of a traditional cash register.
However, as we all know, everything has gotten more complicated over the years. And a simple POS just won't cut it for many small businesses in 2020. Thus, every small business needs to find a POS system that matches their needs.
For example, if you are in retail, you need to find retail point of sale software. Each business type is different, and as you would expect, so are the solutions each one uses.
The Best Point of Sale (POS) Systems of 2020
1. Vend
Vend is the perfect retail software for a small business because it comes with everything you need. This includes everything from inventory management to accepting credit card payments and so much more.
And it's entirely cloud-based, which means no on-site server installation.
It has a long list of features that include creating quick keys to help make finding popular items faster, store credit tracking, layaway support, gift card support, and refund processing.
One of the coolest features the software includes is being able to use your iPhone to complete transactions. You can use the camera to scan barcodes and the phone screen will display and calculate the cost of the order.
Benefits of Vend
Swift refund processing to make returns a breeze
A variety of shortcuts like quick keys
iPhone barcode scanning
Price of Vend
The Lite plan begins at $99 dollars a month
The Pro plan starts at $129 dollars a month
An Enterprise plan is available upon request
2. TouchBistro
TouchBistro was a POS system built specifically for restaurants, and as a result, it's one of the best ones you can pick. Restaurants have different needs from a retail store, thus they need a different solution.
However, there is a fair share of overlap with traditional POS systems.
In the past, restaurants have taken orders with pen and paper. And many still do to this day. But more and more kitchens are switching to iPads (tablets). This is because the moment you take the order, it is sent directly to the kitchen. So it shouldn't be a surprise that this offers some of the best iPad support.
On top of this, there are a variety of features that include telling waiters which items are out of stock, inventory management, credit card processing, in-app messaging to keep communication between the kitchen and staff, and much more.
Benefits of TouchBistro
Amazing iPad and tablet support
In-app messaging to help improve employee communication
Track tables and manage seating from any iPad
Price of TouchBistro
POS License starts at $69 dollars a month
Add Gift Card support for $25 dollars a month
Add Online Ordering for $50 dollars a month
Reservation support starts at $229 dollars a month
3. Square Point of Sale
Square Point of Sale is one best POS systems on this list because it has multiple options for different businesses. These include options for retail, restaurants, and professional services like hairstylists, repair shops, and health care.
Thus, regardless of your business type, this POS supports it.
As you can expect, each business type will find features that are specifically made for them to make doing business a breeze. For instance, hairstylists have access to an excellent interface to keep track of appointments.
One of the biggest advantages of Square Point of Sale is the way they handle pricing. Unlike other POS systems, you don't pay for the software on a monthly or annual basis. Instead, you pay a small fee for every time you make a sale, which can help cut the initial costs from traditional POS plans.
Benefits of Square Point of Sale
Supports a variety of business types
No upfront costs for the software
Excellent online store support
Price of Square Point of Sale
The software is free to use and only collects payments when you make a sale
The processing rate is currently 2.6% + ¢10 per tap or swipe
4. Quickbooks Point of Sale
Quickbooks Point of Sale is an excellent choice for any business that uses Intuit Quickbooks for accounting. They connect seamlessly, which can help save time managing your business's finances.
However, that's only one advantage of using this POS.
Some of the key features include gift card support, automatic inventory updates to prevent selling more than you have, manage inventory across multiple stores, accept payments on mobile phones and tablets, and much more.
Something quite unique to Quickbooks Point of Sale is that it comes with customer relationship management tools that help you identify trends to improve sales. After all, knowing what your customer likes can help you make good recommendations or help entice future consumers.
Benefits of Quickbooks Point of Sale
Fully integrates with Intuit Quickbooks accounting
Automatic inventory updates
Supports a variety of business types and multiple store locations
Price of Quickbooks Point of Sale
POS Basic is available for a one-time payment of $1,200
POS Pro is available for a one-time payment of $1,700
The POS Multi-Store package is a one-time payment starting at $1,900
5. ShopKeep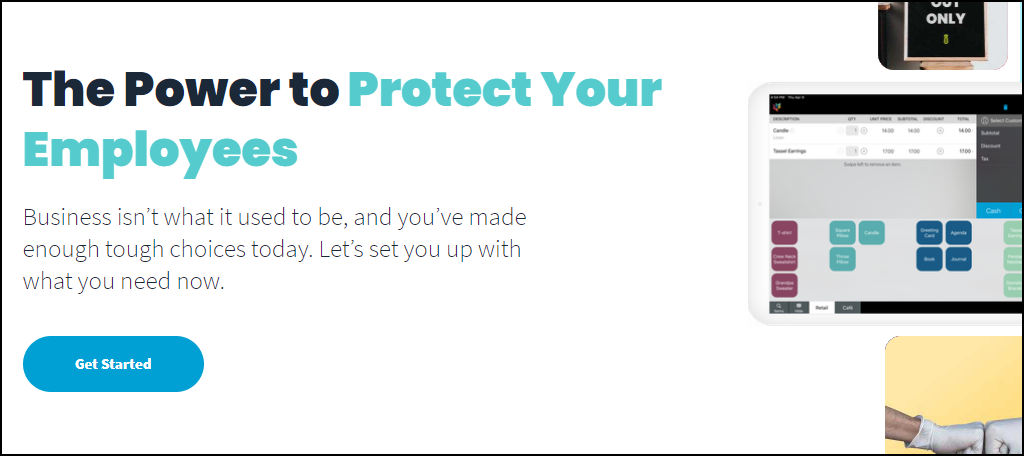 ShopKeep is a tablet-based POS system intended for retail, quick service, and full-service restaurants. It has an especially easy interface to use, which makes it great for businesses with part-time employees who won't spend a lot of time getting familiar with it.
It also has a variety of features tailored to these business types.
Some of the key features include accepting all types of payments including contactless, inventory management, mobile app to keep track of business on the go, delivery options for restaurants, and easy syncing for stores with online shops.
ShopKeep offers the best support options out of any point of sale system on this list. This includes a collection of detailed user guides to help understand any of the software and most important live chat and phone support are available 24/7.
Benefits of ShopKeep
Live chat and phone support available 24/7
An awesome mobile app for when you're on the go
Contactless payment support
Price of ShopKeep
The Basic plan starts at $49 dollars a month
An Essential plan starts at $79 dollars a month
The Advanced plan starts at $179 dollars a month
6. Lightspeed
Lightspeed is another excellent tablet-based POS system that supports both retail and restaurant business types. It has a variety of plans and add-ons to help businesses purchase what they need like the eCommerce add-on for those who plan to have an online shop.
The name, Lightspeed, isn't just for show either. This is because the developers add new features fast.
Unfortunately, the way business is being conducted has changed significantly as a result of Covid-19. And to help businesses with the transition, in October 2020, Lightspeed launched Order Ahead.
This service provides additional options to help restaurants offer more pickup and delivery options.
It has a plethora of features that businesses can take advantage of including contactless payments, customer loyalty programs (reward point systems), stock import options, help with seating arrangement including social distancing changes.
Benefits of Lightspeed
The newly launched Order Ahead helps restaurants cope with Covid-19
Create customer loyalty programs to boost customer retention
Easily update seating arrangments in your restaurant
Price of Lightspeed
Basic starts at $69 a month
Starter starts at $99 a month
Standard starts at $119 a month
Advanced starts at $169 a month
Pro starts at $229 a month
7. Erply
Erply is one of the most customizable point of sale systems on this list. It works excellently in both an online and in-store environment, which makes it a great choice for any retail store or restaurant.
And you can expect a lot of features to use.
Some of the key ones include cloud-based storage and encryption to protect your data, training demos to help you get started, import tools for other POS systems, loyalty program support, and plenty of more useful features.
One of the most interesting highlights Erply offers, through add-ons, is the self-checkout option. That's right, you can let your customers check themselves out if it fits your business model. This works great for quick service restaurants like sandwich shops or pizza parlors.
Benefits of Erply
Supports a self-checkout option
Data encryption and backups included
Import tools make it easy to switch
Price of Erply
POS without inventory costs $39 a month
Inventory + POS costs $99 a month
An Enterprise plan is available upon request
8. Bindo POS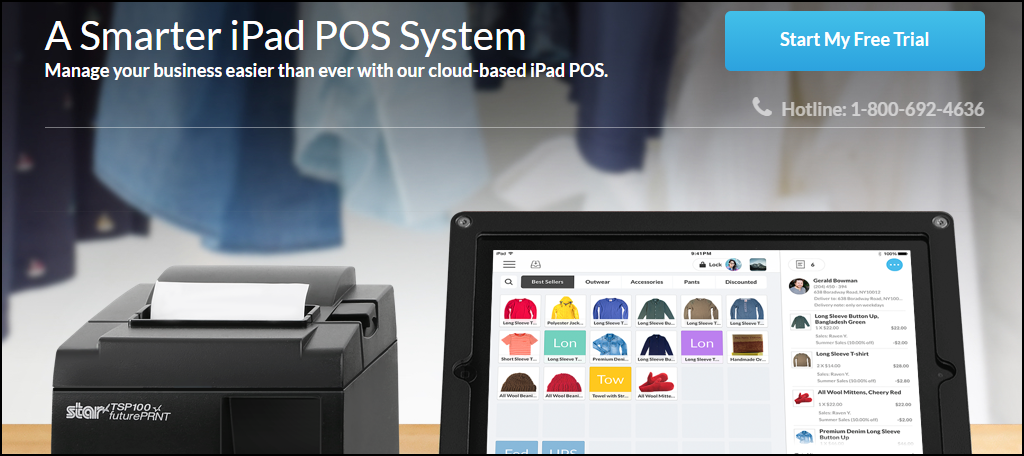 And closing out the list of the top point of sale systems is the excellent Bindo POS. It has solutions for both retail stores and restaurants, so it's perfect for most small business structures.
And it has one of the best user interfaces available.
The software is feature-rich and some of the more noteworthy ones include the ability to apply discounts at any time during a transaction, gift card support, detailed analytic reports to help keep track of what's selling well, and inventory management.
Bindo POS offers customer relationship management (CRM) tools as well. These help you keep data about your customers which improves their experience and helps you suggest products they are interested in.
Benefits of Bindo POS
Includes CRM tools to help you improve customer relations
Discounts can be applied at any time during a transaction
Inventory management helps keep your store and online shop linked
Price of Bindo POS
Prices are available upon request
When Does My Business Need A Point of Sale System?
The moment you open your doors to customers and plan to make a sale is the moment you need a POS system. This allows you to enter the price information, update your inventory when a sale is made, ensure a quick checkout, and so much more.
It is not possible to open a business without one.
Match Your Business Type
Every business is unique, and the solution you use will also be unique. As such, the POS software you choose needs to meet your needs.
Thus, carefully analyze how you will conduct business and choose the most appropriate software.
Which point of sale system did you choose? How did the type of business you run influence the choice?