When it comes to eCommerce, WordPress has a secret weapon. Well, maybe it's not a secret, but WooCommerce is hands down the best option and works on most themes. In seconds, your website will go from blog to storefront.
While just about every WordPress theme is compatible, there are many themes that were built specifically for WooCommerce. Using them can offer your website several advantages that enhance your experience, as well as the customers.
Of course, like most things in WordPress, there are a ton of options to choose from. WooCommerce themes are no exception, in fact, they might be one of the hardest things to pick because of how many options are available.
Today, we will be taking a look at some of the best WooCommerce themes for your website.
Note: Themes are very subjective to personal taste. Therefore, be sure to check out a wide variety of themes to find one that matches your style. The list is in no particular order.
Picking the Best WooCommerce Themes Available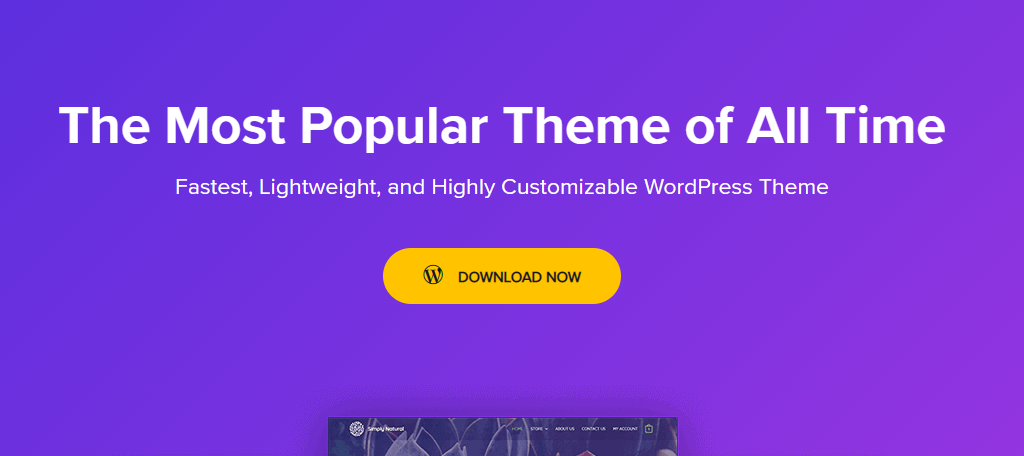 Astra is a multipurpose theme for WordPress with a variety of features and functions that are perfect for WooCommerce. It also supports just about every other plugin including page builders, like Elementor.
What this means is it is ideal for just about every type of website.
Astra comes with over 180 Starter Templates that can be installed in seconds. They include some specifically designed for online stores. Template designs are modern, colorful, and include some great features and can be installed in seconds.
When it comes to WooCommerce-specific features, you'll gain access to unique styles for your eCommerce products. This allows you to customize the container (the area that holds your products) in a variety of ways.
Benefits of Using Astra
Choose from over 700 Google fonts
Add infinite loading to pages so visitors scroll through blogs or products forever
Offers a variety of mobile design options
Includes a variety of support options from videos to live support
Includes ready-to-use custom pages
Ensuring that your online shop is easy to navigate has a direct impact on sales, thus a good theme is essential. Online Shop Pro is a premium theme that users can utilize to create a stunning online store that is intuitive to navigate.
It accomplishes this by using a multi-column design that is highly customizable.
The end result is an amazing-looking storefront that can be customized in any manner. As you probably already suspect, this theme was built with WooCommerce in mind, thus it is fully compatible.
It comes with a variety of features and functions that every eCommerce website should include.
For instance, it already has a wish list function built in. This allows customers to keep an eye out for certain products and know when they go on sale.
Benefits of Using Online Shop Pro
Choose from multiple cart options
Import the site demo in seconds
Includes over 9 custom widgets
Utilize the live WordPress editor to make changes in real-time
Add an unlimited number of sliders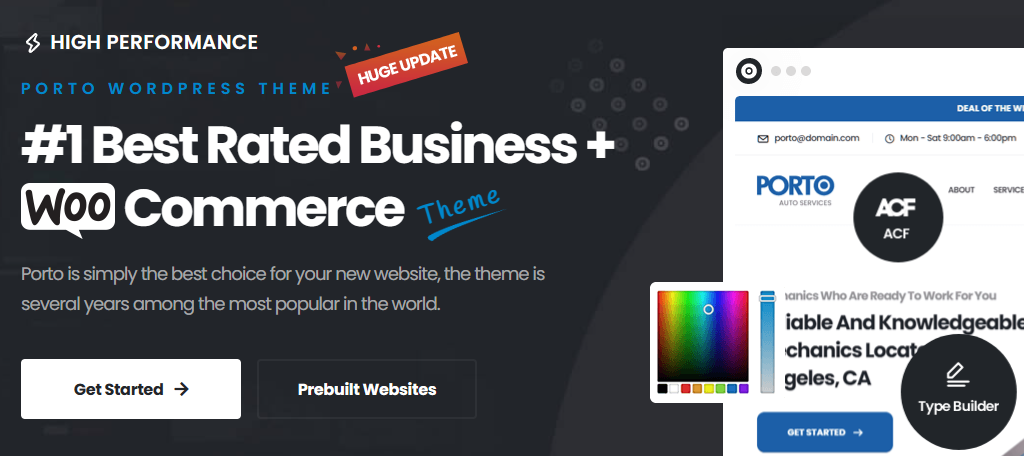 Porto is a multipurpose WordPress theme that is fully compatible with WooCommerce. The theme can be used universally with just about any plugin and gives users the ability to build a fantastic online store.
There are over 134 demo sites included in the package, which can save you a tremendous amount of time when starting out.
There is also a built-in studio function along with the ability to build as many different layouts as you want. As a result, you'll have no limitations when it comes to designing your website from scratch.
Combine that with the added customizations you will find for WooCommerce, and you have yourself one of the best WooCommerce themes available on the Internet.
Benefits of Using Porto
Incorporate infinite scroll to your product pages
Add color and size selections to products
Add login options for customers using their favorite social media platform
Gain access to a footer and header builder
Patcher functionality allows you to install bug fixes immediately as they become available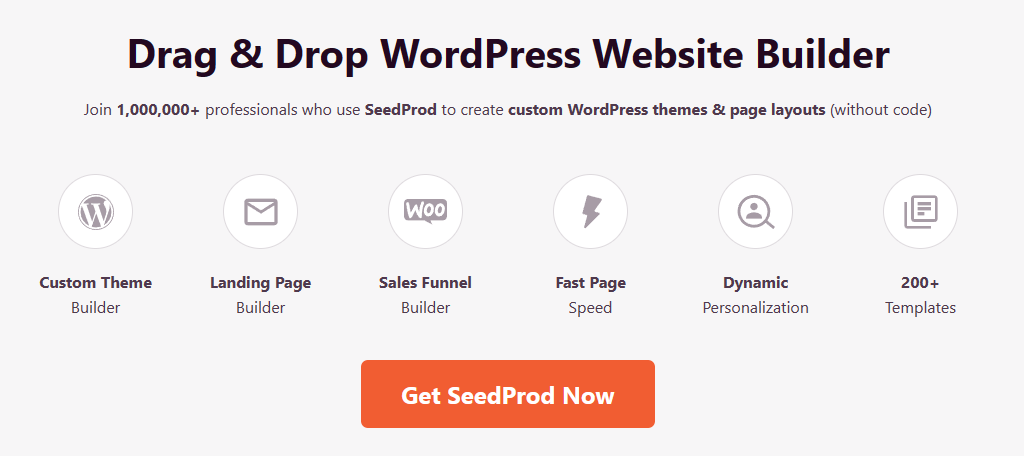 Are you looking for a WooCommerce theme that comes with an amazing amount of customization? If so, look no further than the SeedProd theme. This theme comes with a drag-and-drop editor that allows you to build anything.
Not only that, but you'll also gain access to a variety of templates to use as a base for your website.
While the theme is multi-purpose in nature, it also has a variety of useful eCommerce features that your website can take advantage of. For instance, you'll gain access to custom WooCommerce blocks.
For instance, you can use the aptly named "Add to Cart" block to give users the ability to add products to their cart. Each block is customizable, so there are really no limitations.
Benefits of Using SeedProd
Gain access to a variety of pre-built pages
Compatible with popular email services
Includes spam protection to guard your website
Works well on mobile devices
Rank higher on search engines
The Retailer is one of those must-have (or at least must-try) WordPress themes that is perfectly compatible with WooCommerce. It has built-in color swatches for WooCommerce and offers several different page layout options for your store.
That said, it is worth noting that it is a multi-purpose theme, so it can do a lot more than just WooCommerce.
The theme handles WooCommerce plugins perfectly and also comes with an easy setup process. It has tons of WooCommerce-related options to go along with the color swatches.
With flexible layouts and mobile-friendly designs, the Retailer theme gives you the ability to sell any type of item online in a number of different ways. And with excellent design options, you can do it in a stylish fashion.
Benefits of The Retailer
The theme is easy to use and designed for beginners
Create horizontal or vertical sliders
Dual footer widget areas give you plenty of room to work with
Compatible with most page builders
Choose from multiple header options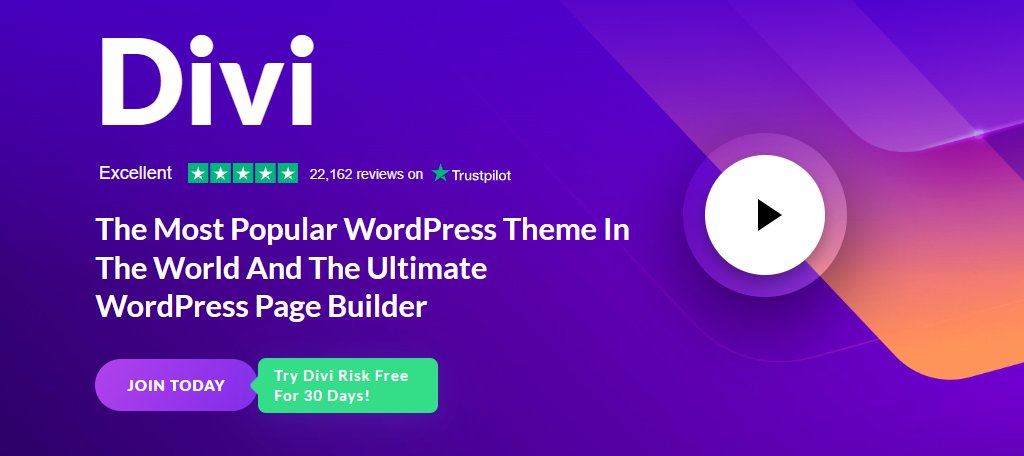 Divi is perhaps one of the most popular themes on this list as it excels at creating websites of any kind. It utilizes a drag-and-drop editor that allows you to build any type of website with ease.
That said, it has a variety of features that focus exclusively on WooCommerce compatibility.
These are known as Divi WooCommerce modules. They allow you to edit just about anything in your WooCommerce store to an insane level that other page builders cannot match.
All of these modules can be moved to any location and customized to any extent. And don't worry, most of the modules are ready to go and don't actually require much editing, to begin with.
Benefits of Using Divi
Easily insert your own custom CSS into your store design
Seamlessly switch between WordPress and the Divi editor
Easily add background images to any page
Add custom product filters to help customers find what they are looking for
The Divi editor is very intuitive for new web developers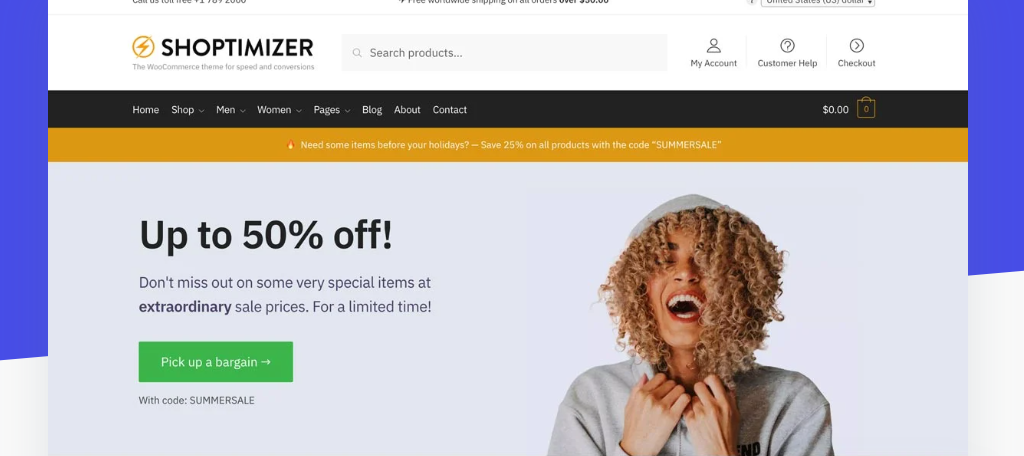 Are you looking for one of the fastest eCommerce themes available? If so, be sure to check out the incredible Shoptimizer theme for WordPress. It gets some of the best page speed rankings among eCommerce themes.
This has a direct impact on sales as the quicker customers can find and get through checkout, the more likely a sale is to occur.
One of the most useful design aspects of this theme would definitely be its distraction-free checkout. This means users won't see any headers, footers, or sidebar areas during checkout. This prevents them from being distracted and going somewhere else on your site.
The theme was built with WooCommerce in mind and optimized to get the best performance out of it. Overall, the theme is highly customizable, has an amazing level of performance, and offers a variety of lead and conversion options.
Benefits of Using Shoptimizer
Add your own hooks and filters anywhere in the theme
The theme is translation ready
Easily change your color scheme to match your logo colors
The theme follows the best SEO practices
Includes a Request a Callback feature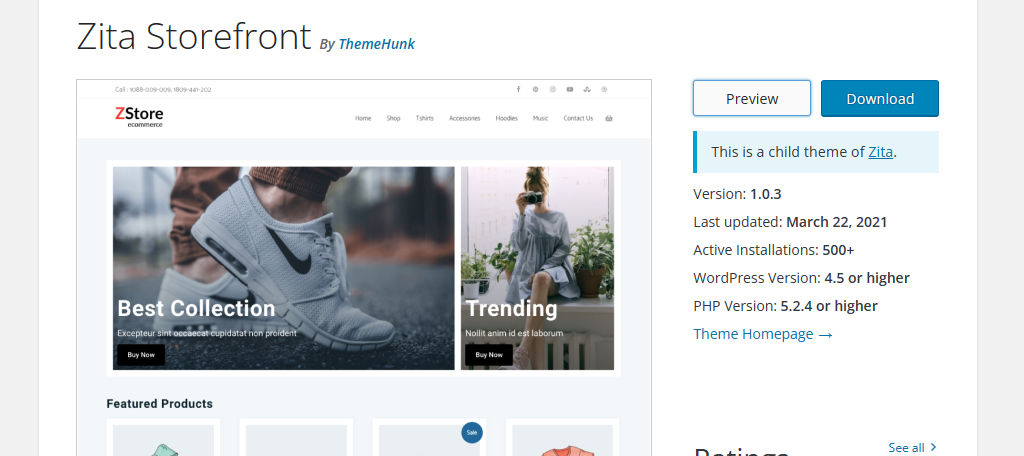 Zita Storefront is actually a free WooCommerce theme that you can download whenever you want. It provides a ready-to-use front page for a store and is fully compatible with WooCommerce.
Zita Storefront is a child theme of the popular Zita theme. It is compatible with most major plugins in WordPress.
Set the front page up how you want while using your favorite page builder. Then go ahead and use WooCommerce to build product pages, categories, display types, and so much more.
The Zita theme is one of the best free ways to get a store online using all of the plugins described in this article. Give it a look if you are starting from scratch and looking to save some money early in the setup process.
Benefits of Using Zita Storefront
Includes 8 unique header and footer widget layouts
Utilizes the best SEO practices
Fully responsive design ensures your website looks great on any device
Includes both a top and bottom header area
Works with most popular page-builders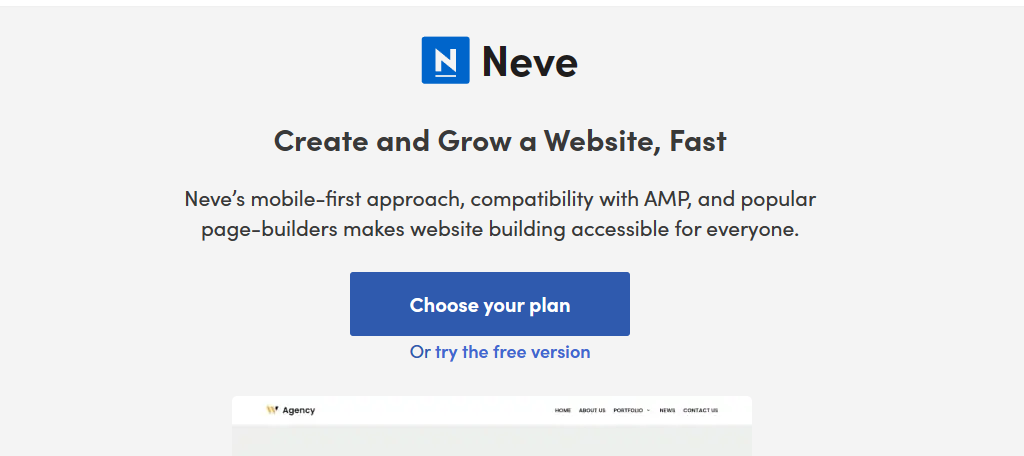 Neve uses a mobile-first approach in its theme and combines that with AMP. Then, it allows WooCommerce integration so that you can build a high-end, mobile-first online shop that people can easily access from anywhere on any device.
The theme is fast and lightweight, easy to use, has a lot of built-in page designs and layouts, always has new features being added, and perhaps the most attractive feature, it is free.
The Neve theme is well-known for its amazingly fast load time. The site usually loads within a second if it has been built and optimized correctly. You can then add WooCommerce and really drive up the functionality and layout options of the site.
However, even with lots of plugins added in, the site remains fast and keeps its load time intact. Give Neve a look if you need something fast, mobile-first, and free to use.
Benefits of Using Neve
Gain access to a huge library of website templates
This theme is translation ready
AMP compatible for the best mobile performance
Includes a white-label option
Offers fast loading times
If you are looking to save some money by using a free eCommerce theme to launch your store, one of the best options to consider is the Botiga theme. It is feature rich and made with WooCommerce in mind.
It offers users a sleek design that is perfect for a modern online store.
The design is perfect for online stores and the optimized code ensures that runs well on any device thanks to its mobile-first approach to theme design. This not only improves the customer experience but also improves search rankings.
In terms of WooCommerce features, one of the most useful from a design perspective is the ability to customize product card styles. You'll have several options that allow you to better match the design of your website.
Benefits of Using Botiga
Adds related products search to your store
Includes Wishlist functionality
Create your own footer and header with the footer and header builder
Choose from multiple cart layouts
Includes multiple checkout styles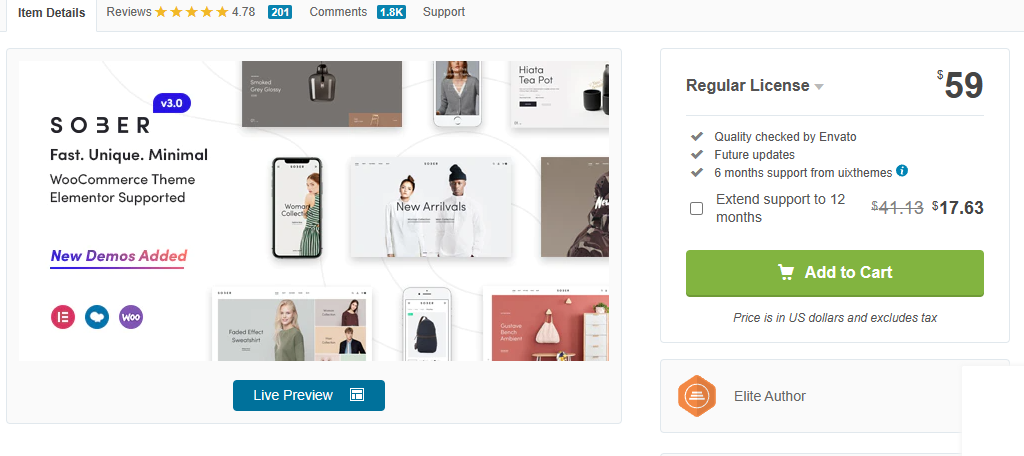 Sober is another one of the best WooCommerce themes available. The theme makes it easy for you to sell just about anything online using WooCommerce and a variety of other plugins.
This includes everything from your favorite page builder to email services like MailChimp.
It has tons of plugin features and widget areas, a mini cart, unlimited color schemes, a built-in slider with smooth effects, and multiple-column styles with advanced widgets.
With minimal design options for the minimalist in you, this is a great choice. It has a mobile-ready layout and design with over 16 pre-built demos you can use.
The Sober theme is definitely one you want to check out on your journey toward finding the right theme.
Benefits of Using Sober
Gain access to over 16 pre-built templates
Choose from 7 different product page layouts
Create custom product quick views
Supports multiple currencies
Gain full control over your website's typography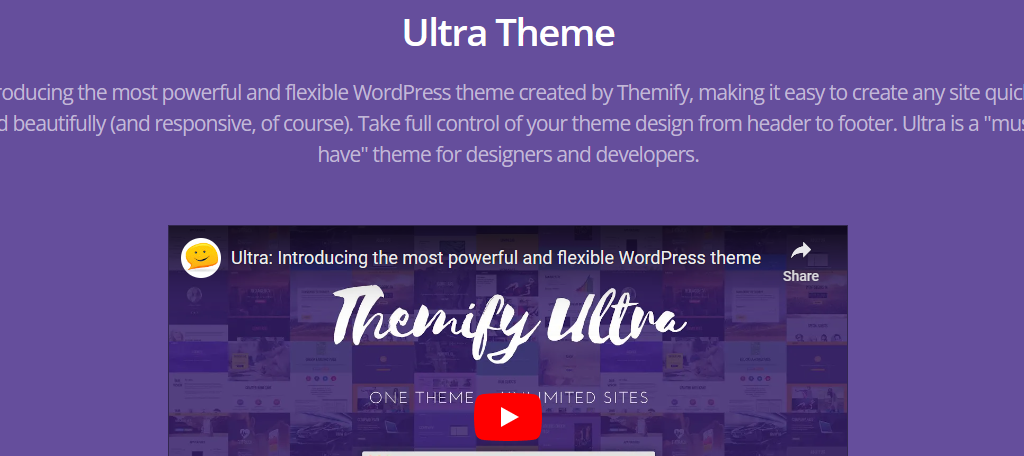 Ultra is another amazing multipurpose theme that has a great selection of features built for WooCommerce to take advantage of. In fact, it even has its own WooCommerce Builder add-on you can purchase for more options.
That said, you will be able to create a great website for WooCommerce without purchasing the add-on.
That's because you'll gain access to a great selection of pre-built sample sites that you can use as the basis of your website. Each demo site can be customized to fit your needs.
In terms of general design, you'll gain access to a variety of customization options that are ideal for any kind of website. This includes things like different header options, styling options, typography choices, and much more.
Benefits of Using Ultra
Choose from over 600 Google Fonts
Utilize a megamenu to show popular posts and products
Add infinite scrolling to your product pages
Easily place your store logo throughout the website
Choose from multiple preset color schemes or create your own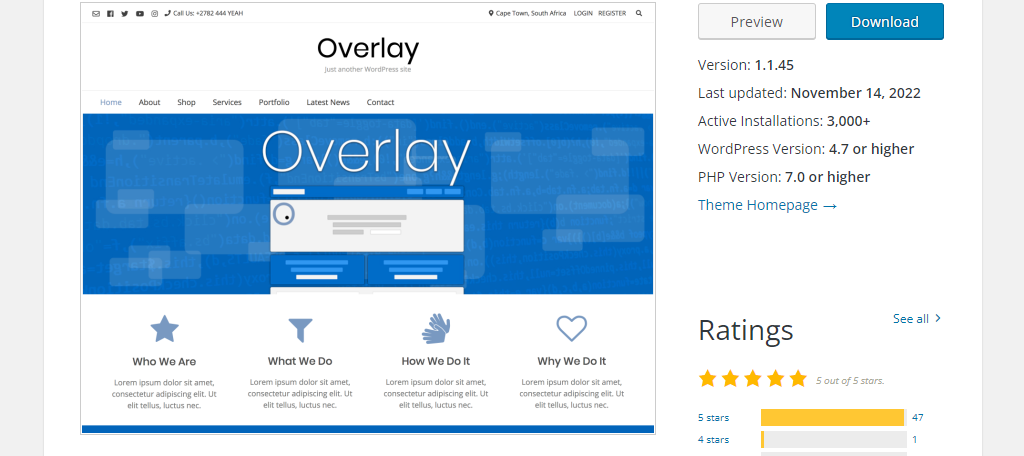 One of the best free WooCommerce themes you can install for your small business is Overlay. This theme sports a professional look and its default appearance is perfect for small business online stores.
And thanks to its lightweight design, your website will be loading very fast.
It utilizes a column-based design that gives developers a lot of room to work with. While it was built with online stores in mind, you'll also be able to add a blog, which can really help give your SEO a boost.
Overall, this theme is easy to understand, free to use, and offers simple, but professional-looking design options. It's definitely worth looking at if you are trying to save a few bucks building your first site.
Benefits of Using Overlay
Offers multiple widget areas to customize
Customize the color scheme to match your brand
Compatible with popular page-builders like Elementor
Offers a responsive design that looks great on any device
Offers multilingual support
Are you looking for a theme that can do just about anything well? If so, look no further than the OceanWP theme. It's a multi-purpose theme that excels at most things, with WooCommerce among them.
It actually has several features that are built specifically for eCommerce sites, which makes it a great choice.
For instance, you can add a floating "Add to Cart" bar that makes it easy for customers to add any products they see to the cart. And that's just a single feature. Another available function is the single product quick view display.
It's also worth noting that the premium version of this theme includes access to its demo sites. You can use these as a basis for your website and import them in a minute. Overall, it's a great theme to consider.
Benefits of Using OceanWP
Integrates with most page-builder plugins
Follows the best SEO practices
RTL and translation ready
Access global site settings to make bulk changes when needed
Choose from 7 unique header customization options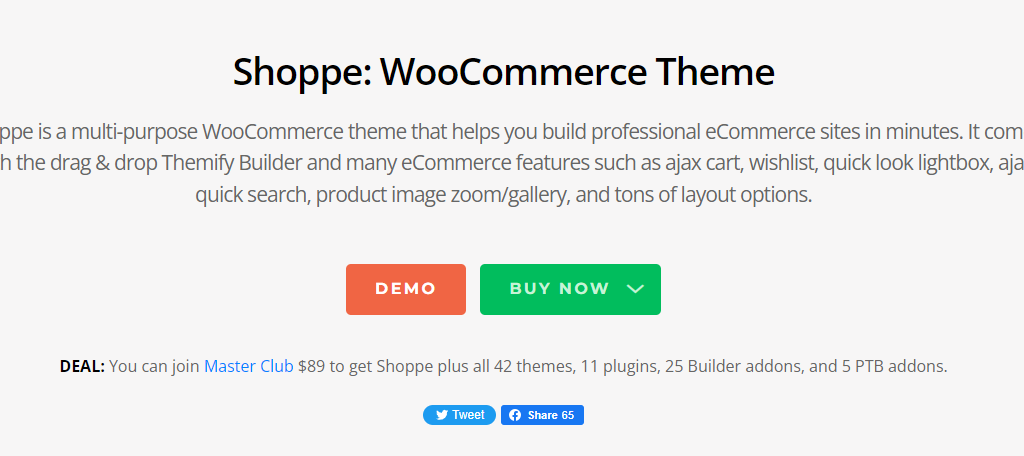 As you might have guessed by the name, Shoppe is an eCommerce-focused theme that includes a drag-and-drop page builder. This makes it the perfect choice for beginners looking for an easy-to-use theme.
It comes with a great selection of eCommerce features that most online stores utilize.
One such example would be the product image zoom option. As the name suggests, customers will be able to zoom in on products to see the finer details of the image. This can help ensure they know what they are purchasing.
In terms of styling, the world is your oyster. With the theme editor, you build any kind of page, but you don't even need to. You see, you'll gain access to a variety of theme skins that can make your store look unique and work out of the box with minimal changes needed.
Benefits of Using Shoppe
Add hover-over gallery sliders for products
Allow customers to share your products on social media
Gain access to Ajax quick search to help customers find products
Utilize a mega menu to properly display multiple product types
Supports Wishlist functionality
When it comes to the best free WordPress themes for WooCommerce, it's hard to compete with Storefront. This theme is easily among the most popular options available, with over 200,000 active installs.
What makes this theme so good? Well, it was developed by the same team that made WooCommerce itself.
As you probably already expect, this theme was built to fully utilize WooCommerce and gets amazing results. Everything about it is compatible with the plugin and even enhances it to a certain extent.
While the theme offers a lot where WooCommerce is concerned, it's worth mentioning that it is a bit more limited than the other themes on this list in terms of design.
That said, there are plenty of features and options to play around with.
Benefits of Using Storefront
Offers a clean and simple theme design
Offers accessibility options to ensure your store is accessible by everyone
Create a homepage that was made specifically for eCommerce
Never worry about your theme and WooCommerce having compatibility issues
Follows the best SEO practices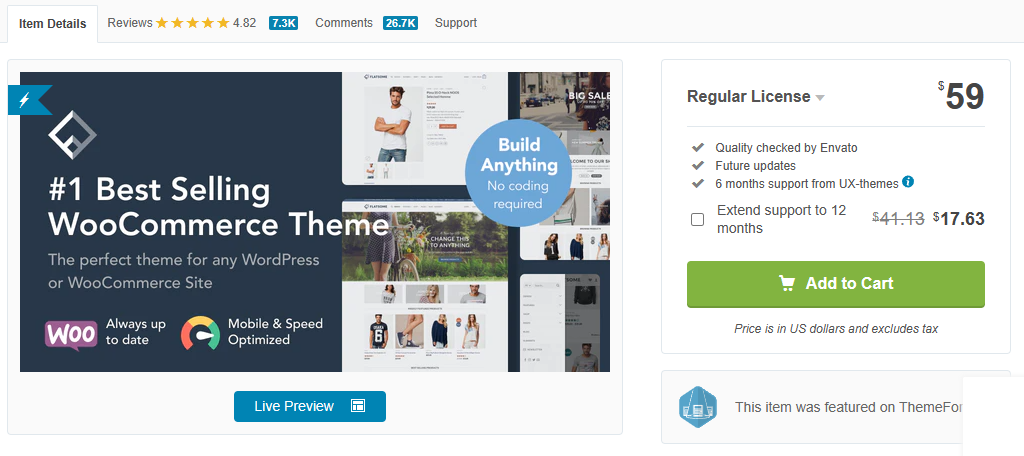 Flatsome is a multi-purpose theme with a great number of customization options available. It is also fully compatible with WooCommerce and even includes access to unique features that any storefront would be lucky to have.
One of its signature features would be the iconic drag-and-drop editor, which allows you to build your website however you want.
This editor gives you a lot of freedom in terms of design, and it's incredibly easy to use at any skill level. That said, you can also take advantage of the WooCommerce templates that are essentially ready-to-use pre-made websites.
All that you really need to do with them is add your own info and products and these are ready to go. That said, you should always customize a template. Otherwise, you risk being identical to another store that did the same.
Benefits of Using Flatsome
Display different product variations (different colors, sizes, etc)
View a theme status page that shows you if everything is working smoothly
Offers some of the fastest page speeds of any WooCommerce theme
Create menus for mobile users with the overlay menu
Gain access to over 300 layouts and sections
18. Extra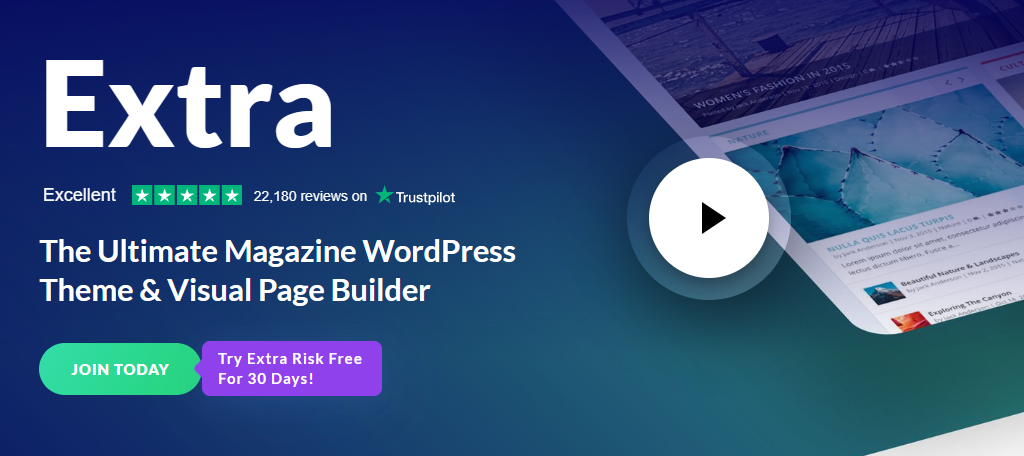 Extra is a premium theme that was built for magazines but has really made a name for itself where WooCommerce is concerned. It offers users an amazing editing experience as a result of its built-in page builder.
The theme itself was built with WooCommerce in mind and offers several features for it.
One of the more useful features it offers storefronts is the ability to share products on social media networks. It even has the icons for all of the popular platforms ready for your use, and yes, you can choose which ones to display.
There is also room for customer reviews, which can really help you move products, especially when they are positive. In fact, many customers are hesitant to make a purchase if they cannot find a review, to begin with.
Benefits of Using Extra
Customization options are nearly endless
Offers mega menus that can be customized to meet your needs
Add an additional navigation area in your footer area
Includes a back-to-top option to help customers navigate your site
Easily promote your presence on multiple social media platforms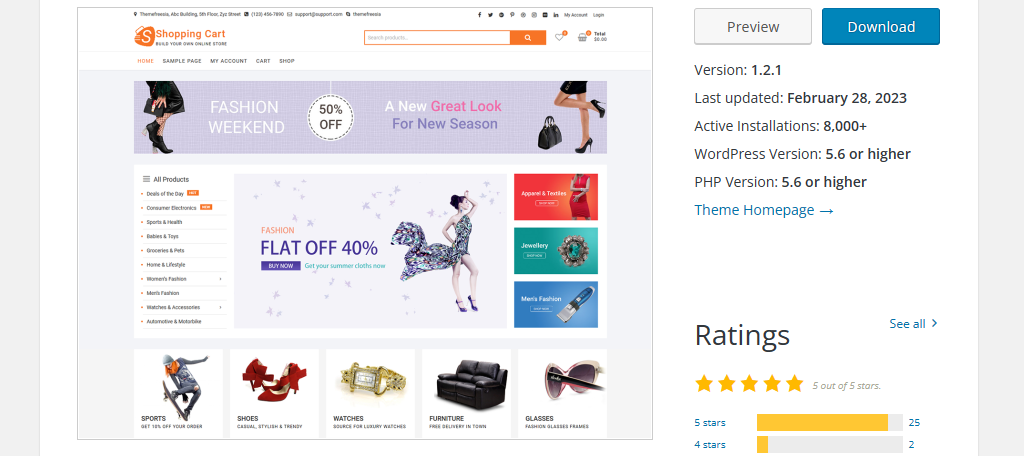 ShoppingCart is another theme built specifically for eCommerce with WooCommerce in mind. As a result, you'll find all of the staples that make online stores great in a single package. What's even better is that the theme is free.
There are even free support options if you run into a problem, which is pretty rare for free themes.
One of its strongest areas is homepage creation. You'll be able to add multiple sections to the homepage to show off products and deals in an easy-to-navigate manner. It also has a lot of widget areas to customize.
You'll also gain access to some basic templates that you can use for your website.
All in all, it's a great theme if you want to make an online store. But if you are looking to add other elements to the website, this theme might not be for you.
Benefits of Using ShoppingCart
The theme is translation ready
Supports many popular plugins and integration options
Offers multiple social network integration options and placements
Modern design options ensure your website looks great
Follows the best SEO practices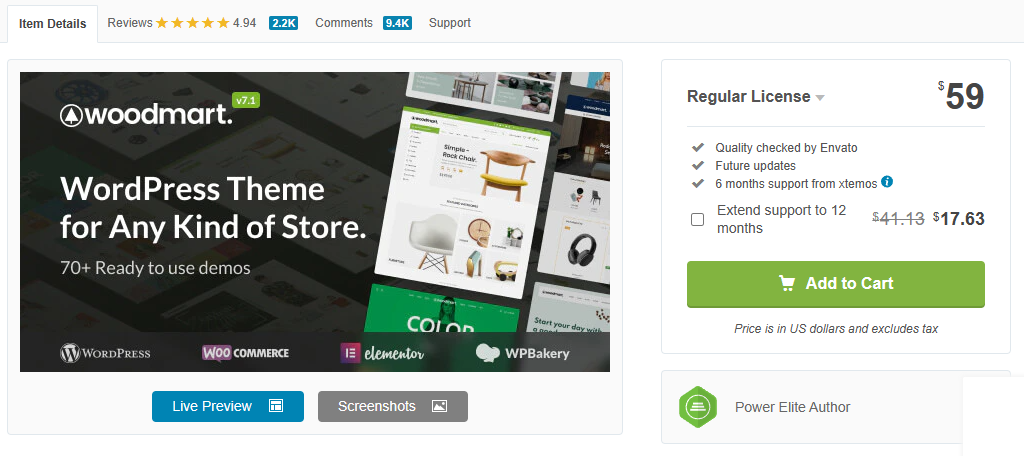 WoodMart may just be one of the best WordPress themes for WooCommerce when your store deals with furniture and outdoor goods. It comes with a variety of useful eCommerce features that every store needs.
And as you might have guessed, WoodMart includes its own page builder for even more customization options.
It also boasts a large demo site collection consisting of over 60 demos. With these, you can easily put together a website with a professional feel for a fraction of the cost.
One of the key features that shouldn't be underestimated is the user reviews. It has a great interface for customers to leave and view product reviews. This can really help boost sales as customers trust what other customers write.
Benefits of Using WoodMart
Gain access to a vertical sticky menu to improve site navigation
Get nearly perfect scores on Google Page Speed
Includes an excellent mobile design for easy navigation on any device
Choose from over 370 different templates to quickly build your site
The step-by-step installation wizard helps get things started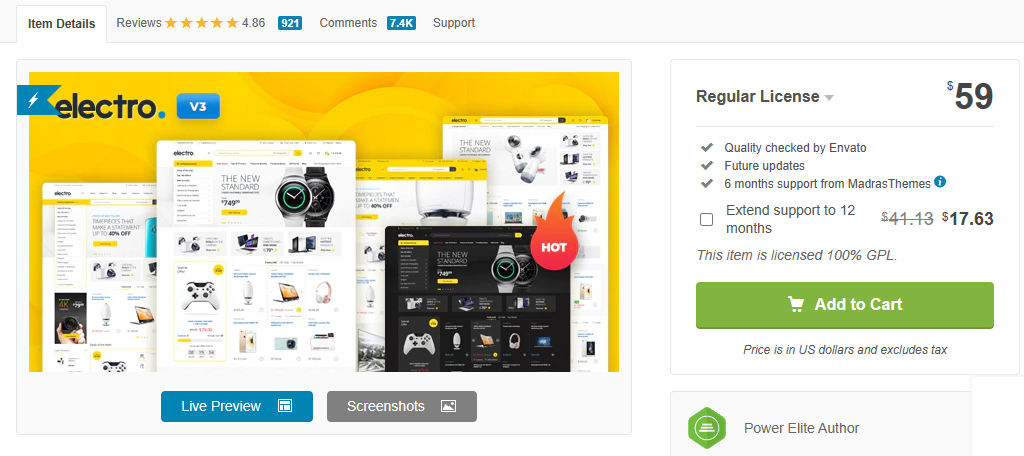 Are you looking for the best WordPress eCommerce theme for running an online electronics store? If so, look no further than the fabulous Electro Electronics Store theme. As the name suggests, it's perfect for electronics of all types.
And since electronics come from so many different suppliers, you can be sure it supports a multivendor environment.
This allows you to sell electronics from multiple sources in the same manner that platforms like Amazon do.
In terms of design, this theme has a lot to offer like supporting a Light and Dark mode natively.
It is also widescreen-ready and has excellent mobile UI options. As a result, no matter what device your customers are using, your website is sure to look great and be fully functional.
It's a terrific theme, and yes, you can sell products outside of electronics.
Benefits of Using Electro Electronics Store
Includes 11 complete and ready-to-use website demos
Gain access to a detailed video guide to show you how to fully utilize the theme
Choose to display products using one column or up to six
Gives customers the ability to add products to their Wishlist
Easily insert your own custom CSS into the theme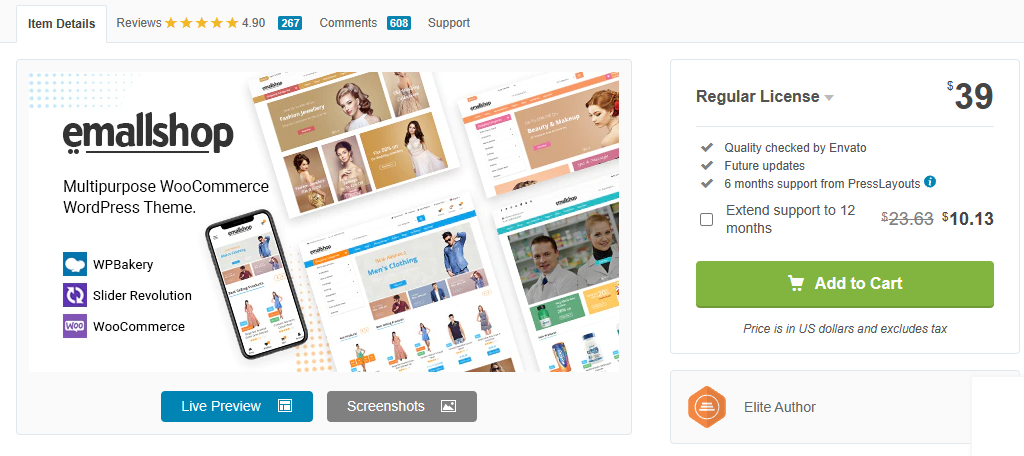 EmallShop is a general-purpose premium eCommerce theme for WordPress. It comes with all of the bells and whistles you would expect including the WPBakery page builder. And it comes in as one of the cheapest premium themes on this list.
But don't let that price tag fool you, as it is still easily one of the best eCommerce themes to use in WordPress.
While the theme is mainly for eCommerce, you will still be able to create a blog to accompany your store and boost your SEO efforts. When it comes to design, besides having an awesome page builder included, you'll also gain access to demo sites.
More unique features include interactive cart icons that can add a little more life to any page. And who knows? That little touch may be all you need to make customers excited to add items to the cart.
Benefits of Using EmallShop
Gain access to 15 unique home pages
Utilizes fully responsive design to look great on any device
Products can be added to the shopping cart without having to reload the page
Allows customers to easily select between different sizes and colors
Includes access to the Slider Revolution plugin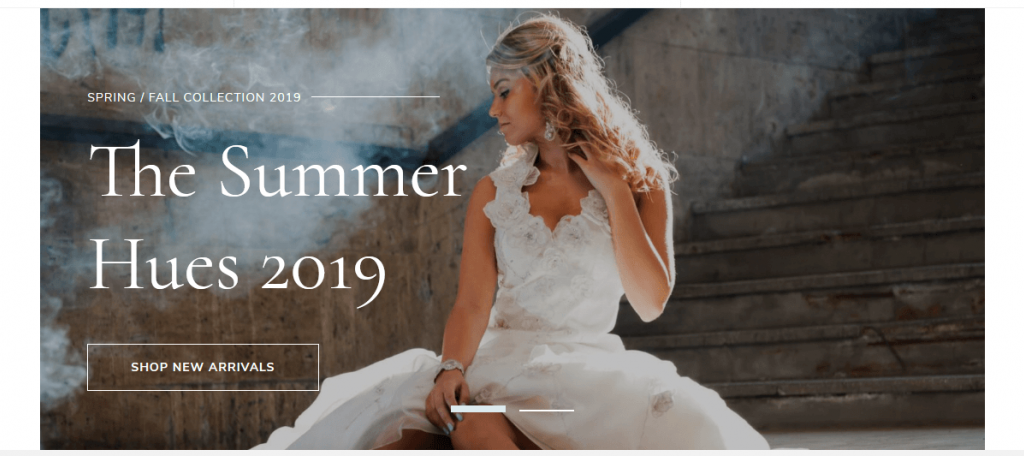 When it comes to picking the best WooCommerce themes, Blossom Shop Pro is easily one of the best options you can choose. This is because it is feature rich when compared to many other themes that support WooCommerce.
It's also worth noting that there is a free version of this theme you can try before purchasing the Pro version.
In terms of customization, you really have a ton of options. You can easily change typography on a sitewide level, as well as the color schemes. You'll also find no shortage of header options to choose from.
The theme also follows the best SEO practices. One way it does this is by ensuring your page loads fast with lazy-loading functionality. This means that product images will only load when they are visible. This is great for infinite-scrolling product pages.
Benefits of Using Blossom Shop Pro
Add newsletter subscriptions to the top bar
Incorporate product videos on their pages
Utilize integration options for Google Analytics
Offers great support including dedicated video tutorials that cover every aspect
Easily display products based on a set of criteria (best-rated products, most purchased, etc.)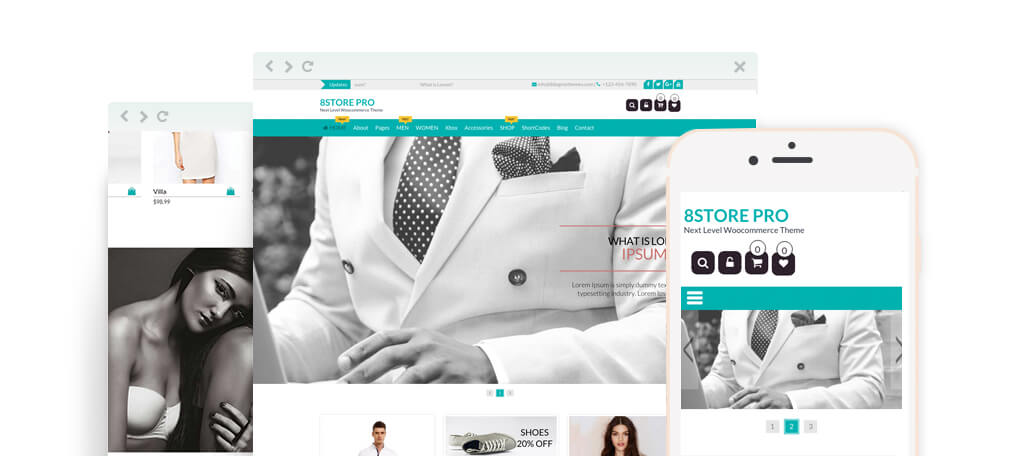 Closing out this list of the best WooCommerce themes is none other than the EightStore Pro theme. It is an incredible theme with one of the most expansive lists of theme features available.
One of its strongest aspects is the amount of dedication to marketing and call-to-action (CTA) features that are available.
This by itself can have a huge impact on sales. This can come in the form of customers being able to share their products on social media platforms, or by displaying your latest deals in eye-catching locations throughout the site.
In terms of design potential, it's close to unlimited. Seriously, just about everything from the layout to the colors you use can be changed to fit your site's needs and brand.
Overall, it is a terrific theme that is definitely worth exploring if you are building an online store.
Benefits of Using EightStore Pro
Supports both widescreen and boxed-width layouts
Tweak how the inner pages of your website behave
Display your payment partners' icons so shoppers know what they can pay with
Easily incorporate blog elements to boost SEO efforts
Multiple sidebar options allow you to have sidebars on each side of the screen
What Makes Great WooCommerce Themes?
Truth be told, there are an astonishing amount of amazing WooCommerce themes. However, the theme suggestions above go a step further by being designed specifically for WooCommerce storefronts.
Of course, you want to think about things like fast loading speeds, level of integration with WooCommerce, and conversion rate possibilities.
So, let's talk about what makes a good WooCommerce theme. All of the themes above on this list have the functionality and options you would want.
Fast Load Time
First, a good theme needs to load fast. This needs to be the case no matter what. So, even the free WooCommerce themes need to be able to load fast and perform properly.
Not only does a fast load time keep customers on your site longer, but it is also a very crucial part of overall website SEO.
Remember, it doesn't matter how good a theme looks, if it isn't optimized for performance correctly, then you are already behind the eight ball. And page speed has a direct influence on your overall sales.
You see the more time a customer has to think about if they need to buy a product, the better the odds that they will not make that purchase. Having a fast checkout that capitalizes on a customer's impulse to buy now is critical in 2023.
It's also worth mentioning that if a website is sluggish, it also makes customers hesitant to input their personal information.
As you can see, speed doesn't just benefit the customer experience, it also helps you rank higher on search engines. As such, any theme you consider should get excellent page speed scores from tools like GTMetrix.
Flexibility
The next thing you want to make sure you have when selecting a WooCommerce theme is flexibility. Being able to customize all of the demo content to match your store is a must.
If you are not able to do this, then it becomes frustrating. You end up with an online store that doesn't look right and is mismatched from the start. This leads to potential customers clicking away from your eCommerce store.
You want the correct layout, customization, and functionality to be there.
Of course, while demos are great, you can really help your store stand out from the competition by creating your own design using a page builder. And many of the themes on this list come with a built-in option.
Now, flexibility goes beyond just design options. For a long time now, many eCommerce sites are no longer 100% eCommerce. Many add a blog to help boost their SEO efforts, thus, it's important to find a theme that can support things beyond building an online store.
Integration
Last, but definitely not least, you have to make sure that there is proper WooCommerce integration.
Remember, there is actually quite a big difference between being "compatible with WooCommerce" and being able to create an amazing shopping experience for your customers.
With the right WooCommerce theme, you will be able to create an online shopping experience. Amazing features also help. Some of these include::
Trust Badges
Optimized Checkouts
Filters
Unique Product Pages

Sales Badges
Reviews
Optimized Sales Channels
Social Interaction
And this is really just focusing on the WooCommerce integration aspect. And to be honest, that is really only half of the battle. Think about it, your store is going to need a lot of other integrations.
For instance, you are going to want to create some form of a newsletter to show off your store's best deals right? Well, you're going to need a dedicated tool like MailChimp to do it. The same logic applies where social media is concerned.
All-in-all, you are looking for the eCommerce theme integration to work as one smooth, fast, steady, online shopping experience.
Are Premium Themes Worth It For WooCommerce?
The list above consists of both free and premium themes, but this raises the question, is one better than the other?
The truth is that premium themes offer more than free themes in a variety of ways and are often more than worth the cost. In fact, most themes will only set you back between $50 to $100 dollars.
When you are constructing an online store that can generate thousands in revenue on a monthly basis, it's not really a big cost.
So what actually makes premium themes better than free options? While there are many reasons, it really comes down to two.
The first is the level of customization premium themes offer. To begin with, many of these themes come with a page builder included, which immediately puts them ahead of free themes in terms of customizations.
Even without the page builder, most premium themes offer far more customization options and even unique blocks and modules to take advantage of. To get the same results on a free theme you'll need to either hard code them in or add plugins to get the same features.
The second main advantage premium themes offer is support. Most premium themes offer direct lines to experts that can answer questions immediately. This is an extremely useful feature for beginners.
Normally, you'll only have the documentation and what you can find on Google when it comes to free themes. This can save you hours of headaches and get your website set up much quicker. Or fix a problem that may have your website down.
In any case, while free themes can get the job done, a premium theme will typically outperform a free one in most regards.
Find the Best Themes For Your WooCommerce Store
WordPress has continued to grow and grow over the years. It is now the most popular website platform in the world. And by a wide margin might I add. One of the reasons it has seen such success is thanks to WooCommerce.
WooCommerce has become one of the most popular eCommerce platforms around the world. Thus, many themes have been designed to decapitalize its popularity. And this even extends to add-on plugins.
Thanks to this, developers can create a fantastic online shopping experience that is unique and fun for your customers.
I hope this article points you in the right direction to finding the best WooCommerce themes. You can't go wrong with any of the suggestions on the list above.
Now, you can start building the online store of your dreams.
Good luck!