Without a doubt, the biggest question people have when starting a website is how much does it cost? The website cost can vary greatly depending on a variety of factors like what CMS you pick, the web host you choose, if you use premium or free tools, and more.
Today, I will show you the true cost of building a WordPress website from scratch.
Let's Set Up Some Ground Rules
There are a lot of moving parts that could cost money when building a website, so we need to start by clarifying exactly what we are going to be covering.
This will focus on two different scenarios using WordPress.org sites. The first will be creating a site using every free tool available, whereas the second will be using common premium tools for starting a website.
WordPress.org is self-hosted, which means you need a web host. That said, the price of web hosting varies greatly depending on the type of plan you choose and the host you select. We will cover the most common plans using our own prices.
Neither method will consider hiring a web developer to build it for you. This, by itself, would cost several thousand dollars. And frankly, it's completely unnecessary in WordPress. The platform is easy enough for a child to build a website.
With that out of the way, let's begin.
Web Hosting
The true cost of building a website is web hosting.
A web hosting company is responsible for operating and maintaining your web server. Whenever a visitor connects to your website, they are really connecting to that server, thus it is critical that to have a competent web host.
GreenGeeks is one of the top hosting companies in the world for WordPress websites. And we can achieve this while keeping our commitment to the environment.
However, web hosting presents a challenge in putting a price tag on a website.
Web hosts offer multiple plans to fit your website's needs. Each of these has different amounts of server space and different environments. For instance, the cheapest plans are shared hosting plans, and they are a great choice for a new website on a budget.
Monthly, they are cheaper than your daily coffee.
On the flip side, you can also have your own private server with unlimited resources for a higher price. This is intended for larger websites that have an established revenue stream. That said, in both cases, they are pretty affordable.
Domain Name
The domain name is actually a pretty tricky factor to consider.
While you absolutely need a domain name, there's a good chance you won't have to pay for one, at least initially. Here at GreenGeeks, we actually provide you a domain name for the first year, thus, this won't contribute to the initial cost of building a website.
With that said, not every web host does this.
Your domain registration could easily add another $20 to your yearly costs, but again, it's not overly expensive. Since we offer a free domain name, this will not be a factor in the initial price for either scenario.
Plugins
Plugins are a big part of why WordPress is so accessible, but they can have a huge impact on the price, at least if you use premium ones. The truth is that just about every plugin has a free alternative that developers can use. So that raises the question:
What's the difference between a free and premium plugin?
Well, it really boils down to two factors: features and support. Most free plugins only have limited support through an FAQ section. Premium versions typically offer some form of email, live chat, or phone support. Again, it really depends on the tool and price.
Now the features are a different story.
The extra feature you get really depends on the plugin itself. In some cases, you will only have a certain number of uses in the free version and unlimited in the premium. In other cases, some of these may be unique features.
It's also important to distinguish extensions (add-ons) from premium versions. These add unique one-off features that may help a specific website archetype or business. These are not exclusively paid either, as many free add-ons exist.
Let's go over two of the major plugins most sites have.
Yoast SEO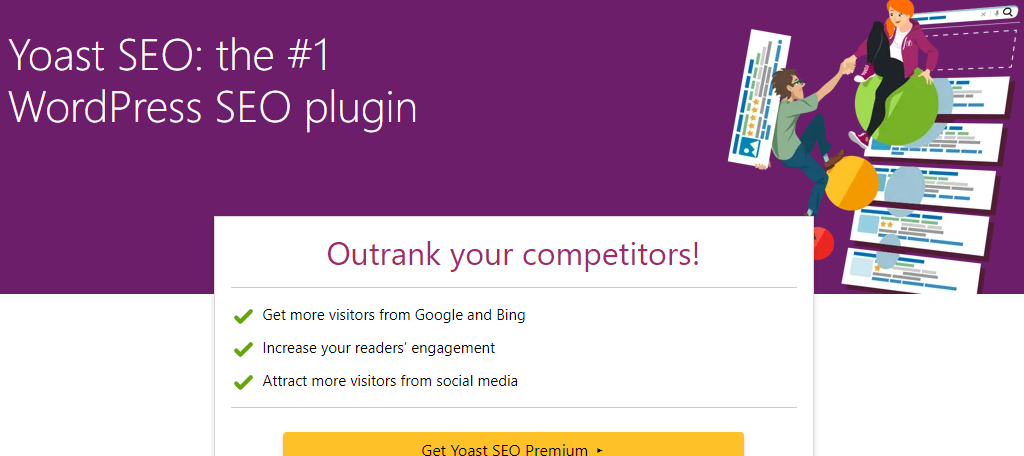 Yoast SEO is a terrific plugin that every website owner should be using. It specializes in improving your website's SEO and offers both a free and premium option to developers. It also includes a variety of add-ons for even more flexibility.
The free version is extremely robust and honestly, many website owners will only need it. with the free version, they can monitor multiple SEO variables on their websites, and more importantly, they can view SEO and Readability recommendations as they write.
Thus, it not only helps improve the search engine's experience but also the visitor's.
The premium version improves every functionality that the free version offers while also providing a host of new features like internal link suggestions, a redirect manager, and access to support 24/7. One year will only set you back $89.
Some extensions specialize in local SEO, Video SEO, and WooCommerce SEO. Each is an additional $69 and requires you have premium Yoast SEO.
WooCommerce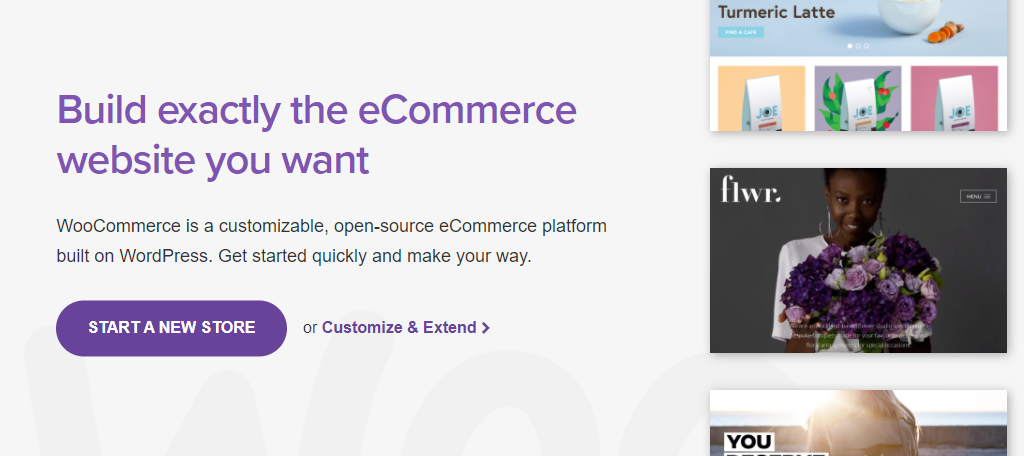 If you're building an eCommerce site, there is no better plugin than WooCommerce. In fact, many people refer to it as WordPress's secret weapon. It currently powers over 5 million shops and offers a variety of free and premium features.
The free version can help you create a fully functioning storefront with the ability to display products, accept payments, and so much more. And most importantly, it can scale with your store as it grows in size.
However, instead of offering a premium version, it fully utilizes premium add-ons. In fact, it might just have the most add-ons of any other plugin in WordPress.
Each of these add-ons adds a specific feature or set of features to Woocommerce. For instance, you can add the WooCommerce Product Search as an amazing add-on that adds full search functionality for your store. This helps visitors find products.
It starts at $49, like many other premium add-ons.
Themes
Themes make designing a website in WordPress simple. At its core, a theme is a collection of templates and stylesheets that allow you to customize the various aspects of your website. And just like plugins, you have some that are free and some that are not.
So what separates these themes?
One of the main differences between free and premium is that premium themes are often bundles with premium plugins. And these are not just throw-away plugins either. Some of these are awesome, and on their own, could cost as much as the theme itself.
Although, many of these examples are part of plan structures.
Free themes are often simple in design and require more fine-tuning, customization to get the most out of them. Whereas premium themes often have templates to help get you started. In some cases, just editing the template slightly can result in a ready-to-use design.
There's also the support side of things. Free themes only offer users simple FAQs for helping many cases. Whereas premium theme support is fantastic, which is why many beginners choose to start with a premium theme.
The extra help is well worth the increase in the final website design cost.
Unlike plugins, you typically won't find any add-ons for themes. They're usually the whole package from the very beginning.
Cost of Building A WordPress Site With Free Tools
In this section, we will only be using free tools whenever possible. And in WordPress's case, that's almost always an option. In truth, the only cost to build a website in WordPress is your hosting plan.
Without further ado, let's look at the pricing:
WordPress Feature
Required?
Price
Details
WordPress Software
✔️
$0
WordPress software is completely free to use on its own.
Web Hosting
✔️
$2.49 – $8.95 per month
or
$106.20 -$322.20 for three years

Web hosting is a necessary part of all WordPress.org websites. While most offer a monthly breakdown of the cost, very few actually accept monthly payments. Thus, you are going to pay for one to five years upfront.

In GreenGeek's case, you are paying for 3 years of web hosting.

Plugins
✔️
$0
Plugins are like apps for your smartphone, they add features to WordPress. While there are both free and premium options, we are only going to use free ones.
Themes
✔️
$0
Themes dictate the appearance of your website and once again, there are free and premium options to choose from. This section will only look at free ones.
Total

$106.20 -$322.20

Really, the price is just dependent on the web hosting plan you choose. And in this case, it covers the cost for three years.
As you can see, you really can just build a WordPress website for the cost of web hosting. In most cases, this is the recommended approach because it can take some time for websites to start seeing some steady income.
Cost of Building A WordPress Site With Premium Tools
In this section, we will now be introducing premium tools. The only problem here is the number of tools you use or how expensive they are. We will assume the website is purchasing one premium theme and three premium plugins.
Just keep in mind that the price can increase exponentially with more tools.
Here's a breakdown of the pricing:
WordPress Feature
Required?
Price
Details
WordPress Software
✔️
$0
WordPress software will remain free to use.
Web Hosting
✔️
$2.49 – $8.95 per month
or
$106.20 -$322.20 for three years

The cost of quality web hosting services will remain the same.

Plugins
✔️
$100-300
Premium plugin prices can vary wildly, but many of them start in the $49-$79 range. Assuming you purchase three of them, you'll likely be in this price range. For more accurate data, add up the prices of the plugins you are interested in using.
Themes
✔️
$57.54
The average price of a premium theme is $57.54, but you could easily spend more or less. While most premium themes last forever, some are part of a yearly plan.
Total
$263.74-$679.74
This is a more realistic price of starting a website that utilizes premium plugins and themes. It can certainly be cheaper, but it can also be more expensive. Most website owners will not start with premium plugins. But, it is common to use a premium theme from the get-go.
As you can see, the price of building a website with premium tools can easily double the cost. However, this isn't a normal path. Most website owners start simple and add premium tools as they grow. This helps balance the cost of building.
That said, many do start with a premium theme to add more customization options for design purposes.
Time Is Also Worth Considering
One thing I did not cover is the amount of time you spend building your website.
Some might not consider it an expense, but designing a website from start to finish can take up a lot of time. At least for some. And that is technically time you could be spending on other projects.
In many cases, websites can be built in under ten hours assuming it's very simple, like a blog. More complex websites, especially eCommerce shops, could definitely take considerably more time to put together.
Thus, you should consider the time investment as well.
The Returns Can Be Massive
It might be easy to write off the website price as an expense, which you should totally do come tax season. But for many, it's a barrier. But as you can see, starting a website that can continuously generate income for years to come is pretty cheap.
And if you play your cards right, the return can be a thousandfold.
While you can certainly spend a lot of money to make it look or function a certain way, most websites are built with a small price tag. The only time websites cost thousands of dollars to make is when you hire someone else to do it or invest in outsourcing content.
And luckily, website design has drastically improved the pricing model. The competition between CMS is fierce. As a result, their services are forced to improve, otherwise, the competition will overtake them.
How much did you spend building a website? Do you think hiring a developer to do it for you is worth it?