How has your website been performing? It is a question you ask yourself over and over. It's not an uncommon question, as website performance is crucial to business operations. One of the best ways to track this performance is to use a website monitoring service.
While most website hosting companies can offer you a 99,99% uptime guarantee, there can still be unexpected problems that you might face. Things that can give you problems include hardware, network routers, and even carriers, as well as routine maintenance windows.
All of these have the ability to take your website offline.
Furthermore, how can you be sure that the 99.99% uptime guarantee is really meeting the standards being presented? The solution is pretty simple, you need to use real-time website monitoring and make sure that all of the above issues are being covered and dealt with properly.
If the worst happens, this can be bad news for most websites. It can lead to a loss in sales, brand damage, and even give hackers an open opportunity to mangle your website.
What is Website Monitoring?
Website monitoring is a tool that can help you track all sorts of things like latency, load balancing, site traffic, uptime, and other factors related to the health of your site. Making sure all of these things are in working order is very important for a business website.
Furthermore, the best website monitoring services will be able to determine everything from a large-scale outage to a major traffic surge on your eCommerce website.
Having a website performance monitoring tool like this can help you make critical decisions on the fly. Some of these decisions may include scaling your server capacity and/or allocating resources in a more cost-effective way.
The main takeaway from all of this? In order to manage your site properly, you definitely want to choose a website monitoring service. Here is some excellent web monitoring software you can use to secure your business site properly.
Best Website Monitoring Services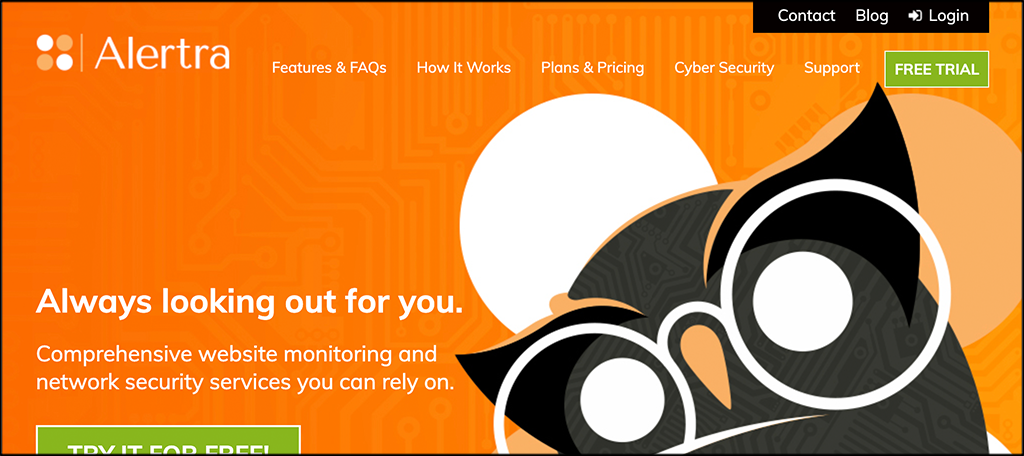 First up on our list is a website monitoring system called Alertra. This probably will be one of your first stops on the road to finding the right service. One of the main reasons for this is because Alertra allows you to perform a free spot check of access to your website from server locations around the world.
What does this mean? Simply put, if you try, and fail, to access your website, then you can use the Alertra service to see if the website in question is really offline. Perhaps it is actually a potential network and/or connection issue involving your broadband or hosting service.
Also, if you are looking for a simple monitoring solution that ensures your website functions are up and running, then this is definitely worth a look. The service will cover a bunch of functions, including HTTP, SMTP, POP3, DNS, and MySQL.
Finally, while the Alertra service is really great for general spot checks, they also offer a subscription-based model that is very fairly priced and worth a look. There is no contract to sign. You can start and stop it whenever you like.
Features
Cost-effective
You can check multiple services
Global testing
75% faster notifications
No false alerts
No DNS caching
Custom script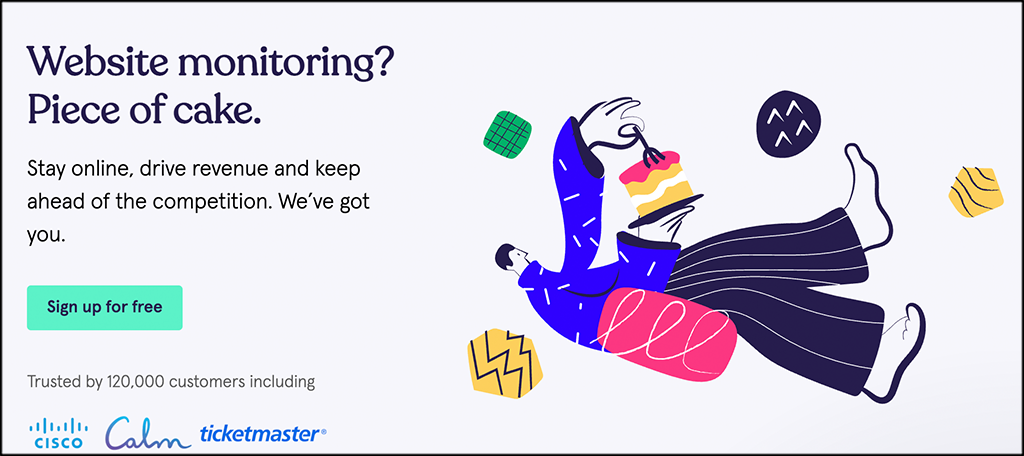 StatusCake is another one of the best website monitoring services out there today. They are trusted by some of the biggest websites around, including Microsoft, Netflix, FanDuel, and JetBrains.
The service offers just over 200 monitoring servers scattered across 43 different countries. There are monitoring servers on all but one continent.
There are a few reasons that StatusCake is ranked so high on our list. Perhaps the most recognizable reason is the fact that it has one of the fastest testing intervals on the market. While I recommend a status check once a minute, in most cases once every five minutes is good.
StatusCake gives you the option to run intervals every 30 seconds.
That being said, they are definitely for a bigger website that needs a lot of monitoring features. While the Superior Plan is affordable, the Business plan to run those 30-second intervals will set you back around $65 per month.
If you have a small website or blog, this isn't the service for you. However, if you are looking for advanced features, then take a look at StatusCake.
Features
Free plan with basic features
Page speed tests
SSL monitoring
Domain monitoring
Virus scanning
Alerts and reports
Over 300,000 websites across almost 200 countries use Monitis for their website monitoring purposes. This is another website monitoring service that has a lot of the big names attached to it. Visa, IBM, and Avis all use this platform for monitoring.
Monitis is a cloud-based platform, so you will not need to install any software or hardware to take advantage of what it has to offer. Uptime rates are closely monitored right down to the minute.
The platform also keeps your history archived for 2-years, enabling you to go back and view things when needed.
The Monitis platform runs tests using multiple protocols. These include HTTP, HTTPS, PING, and DNS to ensure accuracy. It also does VoIP, public IP, and email checks.
All-in-all, this is definitely a platform worth looking into for all your website monitoring needs.
Features
Uptime monitoring down to the minute
Synthetic transition monitoring
Full page-load monitoring
Cloud-based
Managed 24/7
Monitor all your websites, servers, networks, and applications
Intuitive interface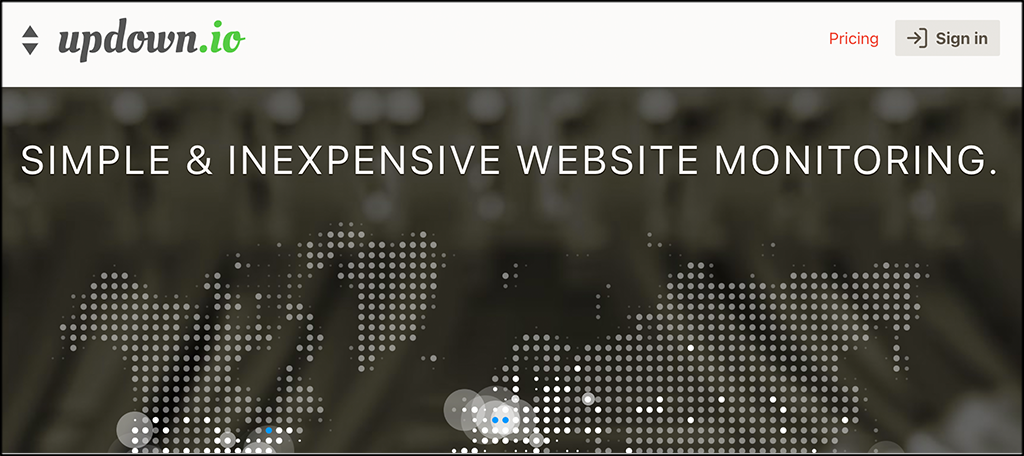 Looking for simple and inexpensive website monitoring? Well, UpDown can provide just that at a very high level. Simply put, this platform is an online uptime monitoring tool that checks website status periodically by sending an HTTP request to any URL.
If the website that is being pinged does not respond correctly, then UpDown will notify you immediately by SMS, email, or both.
Perhaps the most unique thing about this platform is the payment system. There is no monthly or subscription fee. You simply pay for what you use and that is that.
Paying per request allows you to take full control.
UpDown also accepts payments from its customers in the form of Cryptocurrency. They allow payments with BTC, LTC, ETH, and several more.
Features
Dual-stack
Fast checks
Tons of integrations
Hosted status pages
Rest API and webhooks
Text search
SSL Testing
Multilingual support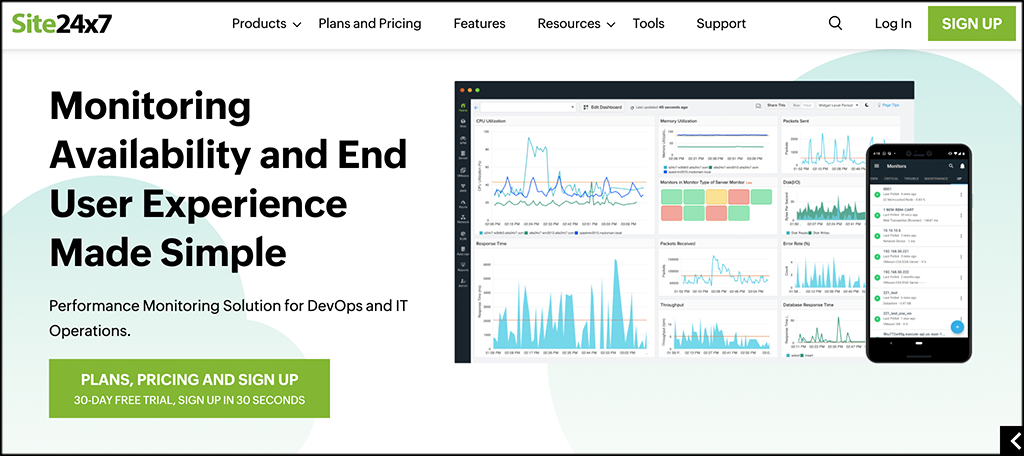 Site 24×7 brings us a SaaS-based all-in-one website monitoring solution perfect for DevOps and IT. The platform tests a website from global locations. This helps you measure a site's performance, as well as help to reduce and eliminate its downtime.
With Sure 24×7, you will be able to monitor the performance of Internet services like HTTPS, DNS server, FTP server, SSL/TLS certificate, SMTP server, POP server, URLs, REST APIs, SOAP web service, and several more.
It does this from over 110 global locations within a private network.
The platform is a complete solution from top to bottom and has just about everything else you can think of. Not only can you get the service you need, but you can also provide service to your customers when needed.
Site 24×7 offers you the ability to manage your customer's IT infrastructure with their secure, scalable, and affordable monitoring suite.
Features
Monitor the uptime performance of websites and other Internet services
Record and simulate multi-user interactions
Record load time for static resources on your website
Monitor SSL and TLS
Instant alerts via email and SMS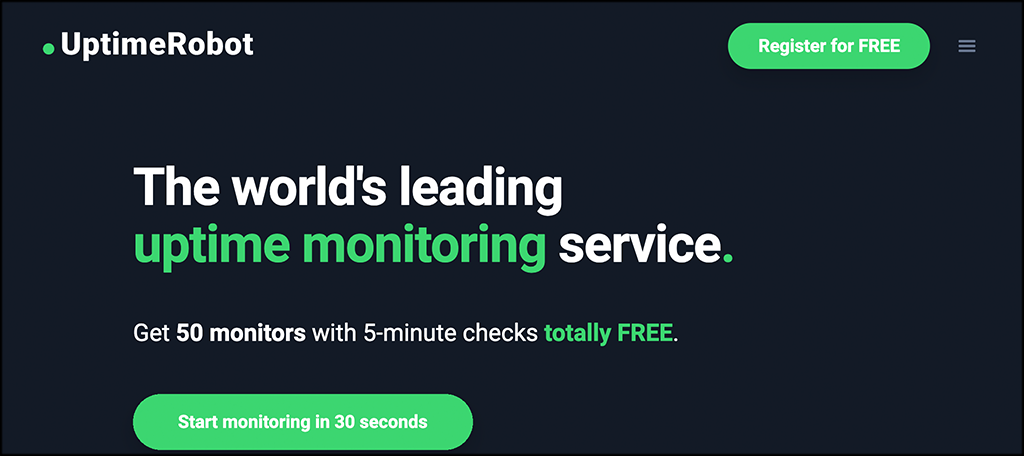 Another one of the very best website monitoring services out there is UptimeRobot. The platform makes the list because it has the very best free website monitoring solution available.
The free plan will give you 50 monitors and 2-months of log history. While your website won't be checked every minute, Uptime Robot does perform checks every 5 minutes, which is excellent for a service you don't have to pay for.
Aside from the amazing free plan that is offered, there is also a pro plan available called the "Uptime Robot Pro Plan." This plan will give you faster downtime detection and more advanced features. It also includes 1-minute monitoring intervals and 20,000 monitors.
Pricing is very fair and this is an attractive feature as well. Looking for the best free website monitoring on the market? Give UptimeRobot a look.
Features
20 SMS or voice calls
Two years of logs
SSL monitoring
Advanced alerts and notifications
HTTP style customization
Maintenance windows
Custom HTTP statuses and headers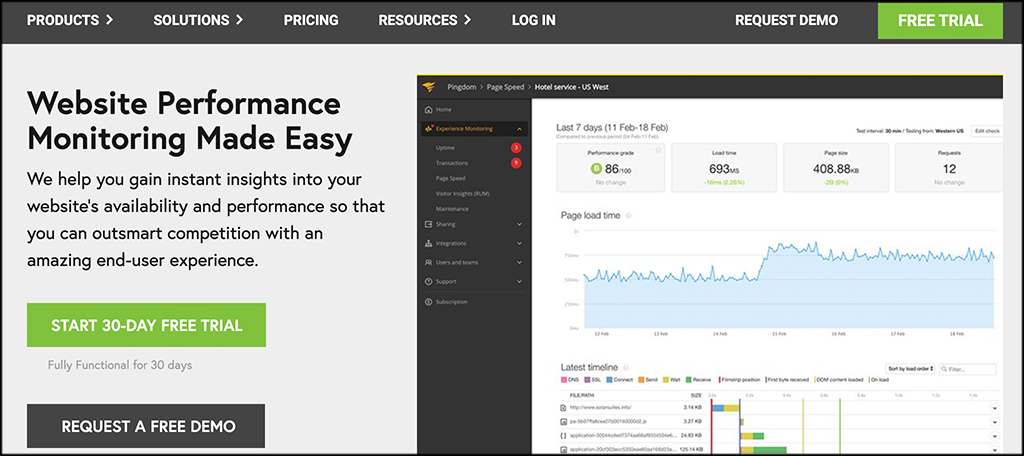 Rounding out our list of the best website monitoring services is a platform called Pingdom. They are also pretty well-known for their free platform, though it is not nearly as comprehensive as the UptimeRobot free service.
The platform also offers excellent paid website monitoring services
They have an API integration that allows you to easily automate all of your interactions. Pingdom is also one of the most popular options for teams. The service allows you to set up certain notifications so that the right team member is alerted.
What Pingdom also does that is different from the other platforms on this list is that they alert you to not only the problem but also to the root cause. This way, you can identify issues easier and get them fixed faster.
Features
Free, standard, advanced, and professional levels
Uptime monitoring
Real-user monitoring (RUM)
Synthetic interaction testing
Page speed monitoring
Root cause analysis
How to Find the Best Website Monitoring Service
As the list above shows us, not all website monitoring services are created equal. Certain platforms will have more advanced features than others. The one you choose will be based a lot on personal preferences, as well as what exactly your specific needs are.
Whatever your needs may be, here are some important things to consider when you are digging deep into real-time website monitoring.
Server Monitoring
Interestingly enough, not every website monitoring service comes with a server monitoring plan. Furthermore, this usually isn't offered for free either.
With all that said, you probably want to look into a server monitoring plan. You see, this tool will actually keep an eye on resources like memory, disk space, and CPU usage.
Using this tool as a part of the rest of the service is a fantastic way to understand how all of your server resources are being allocated. You can then use the data to make adjustments to your web hosting plan if needed.
URL Monitor Frequency
The main point of a website monitoring service is to track your uptime and notify you about any and all downtime occurrences. That being said, most website monitoring software does not track website in real-time. This means that you won't actually know the exact second that your site goes down.
For this reason, you want to find a service that has a decent URL monitoring frequency. Some of the fastest interval checks can occur every 30 seconds, while the slower ones occur about every 30 minutes.
The plan you choose should ideally check your URL status every minute at the minimum. However, if this is out of your price range, then every 5 minutes will do as well.
Real User Monitoring
Real user monitoring, also known as RUM, is a tool that gives you quick insights in regards to how users are experiencing your website. It is a more advanced monitoring system that collects valuable information on how real people interact with your website.
You can use this data to recognize all the best and worst parts of your website. The tool will also help you troubleshoot problems with performance on the user end.
Pricing
Yes, just like anything else, pricing is always a consideration. As a matter of fact, pricing oftentimes plays either the most important, or one of the most important roles in the final decision that is made on a product.
Truth be told, website monitoring services can range from free to upwards of $650 a month. If you have a very small site or a blog, then you can get away with a free website monitoring tool.
However, small and large business sites, as well as enterprise sites, will want to look at all available options and pricing to help make the best decision based on need.
Other Factors to Consider
A few other factors you might want to consider based on need and situation include:
Customer support quality

Licensing type

Is outsourcing involved?

Cost of training employees on the tool

Hardware and Software requirements of the chosen website monitoring tool

Security options

Support and update policies of the provider

Overall reviews of the company
Conclusion
So, what is the best website monitoring service around? Well, that depends on what you are looking for and what type of features and functionality you need. One website may be fine with a lower-priced or free option, while another may need advanced features and reports.
Remember, you can't go wrong with any of the options on the list above. Try them out, go over all the features each one offers, and see which one may be perfect for your situation.
Good luck on your journey!