Continuing to grow at an unrelenting pace over the last few years, eCommerce has all signs pointing for getting stronger. If you run an online store, then you want to make sure you have an excellent eCommerce fulfillment service at your disposal.
This will make fulfilling orders and tracking those orders much easier for both you and your clients. In reality, eCommerce fulfillment has come a long way. In years past, you would need to manually fill all orders yourself and get them shipped out using a selection of different services based on needs.
Now, you can find an order fulfillment service and get them to do the work for you. This makes the entire process of ordering and shipping online smoother for all parties involved.
What is an eCommerce Fulfillment Service?
All successful eCommerce businesses have one singular thing in common: a top-of-the-line eCommerce fulfillment service taking care of their needs.
You might have the very best product on the market. Your product may be in-demand and as popular as ever. However, without eCommerce fulfillment, all your hard work and setup can go right down the drain.
Simply put, eCommerce fulfillment is the part of your online operation that delivers products to your customers. If this part of the process does no go smoothly, then it can really upset both you and your customers.
Fulfilling an order properly can be tough unless you have a process that gets it done right.
This is arguably the most important part of your business. You have an amazing website, your products are excellent, all your payment gateways are set up, but you are still fulfilling orders manually.
That is not a situation you want to be in, especially if you have a lot of orders coming through.
Today, I am going to introduce you to some of the best eCommerce fulfillment services that are available. Using one of these will help you create an excellent process for your online store.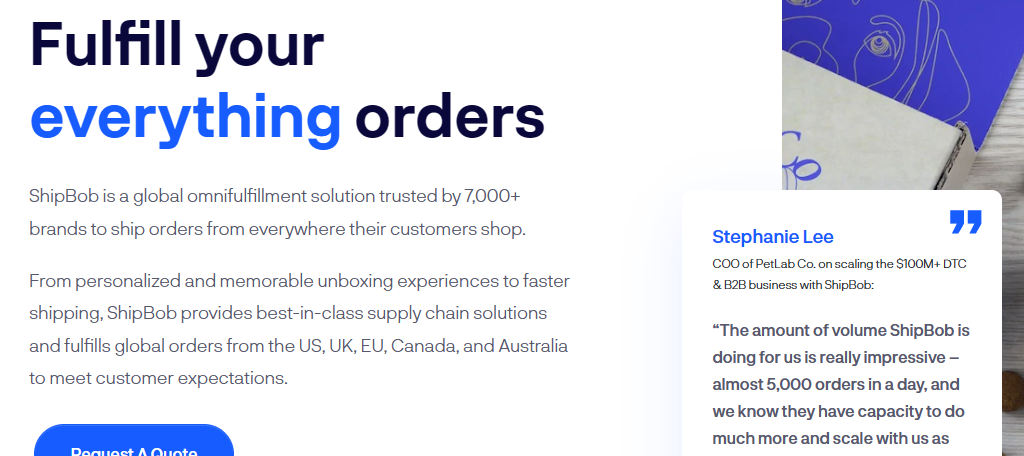 With warehouses located around the country and a direct-to-consumer shipping process, ShipBob comes in at the top of our list of the best eCommerce fulfillment services out there today. The service uses connected technology to power its network.
This helps your business improve transit times and reduces overall shipping costs. Both of these are aspects that you and your customers will be grateful for.
The system is pretty intuitive and easy to set up. Simply connect your online store, import all of your company products, and then send your inventory numbers to their network of fulfillment centers.
ShipBob stores all your inventory safely and ships it to customers as soon as they place an order. With a high satisfaction rate and an excellent standard for customer service, ShipBob is definitely an eCommerce fulfillment service you will want to take a look at.
Features
Inventory management
Order management
Advanced filters
Advanced analytics and reporting
Returns management
No pick-and-pack fees
Flat-rate receiving
Batch fulfillment
Efficient management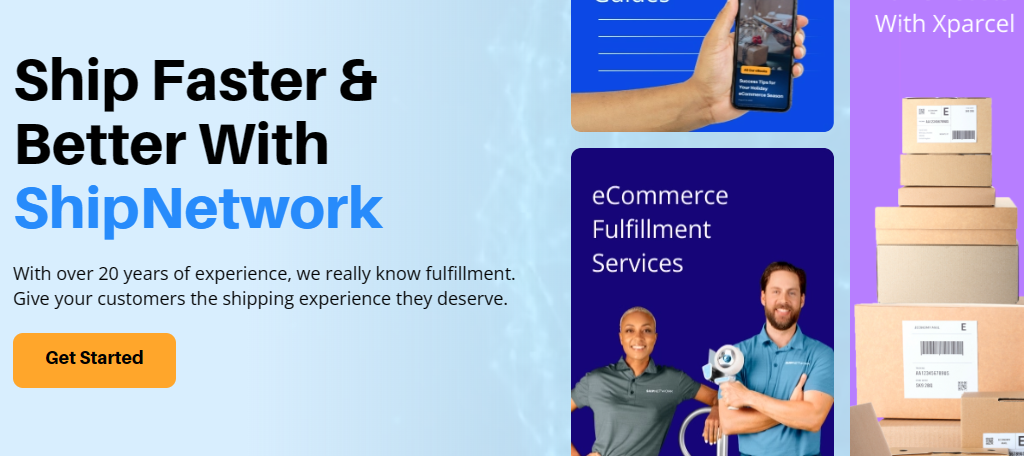 ShipNetwork is probably best suited for bigger enterprise companies. However, nothing stops you from checking it out and seeing if it suits your current setup as well. They offer shipping, packing, and marketing to all their customers.
The marketing aspect is what sets them apart, as they are one of the only eCommerce fulfillment services that integrate actual marketing into the rest of the service.
While they do not have as many service centers as some of the other choices on this list, the 12 they do have across the nation allow them to offer business shipping as fast as one day.
They also cater to shipping locally and internationally. So if you ship to international customers, then Rakuten has you covered.
Features
Technology tools
100% accuracy
1-day order fulfillment
Personalized client support
Integrated marketing services
Specialty fulfillment centers
Kitting services
Subscription box services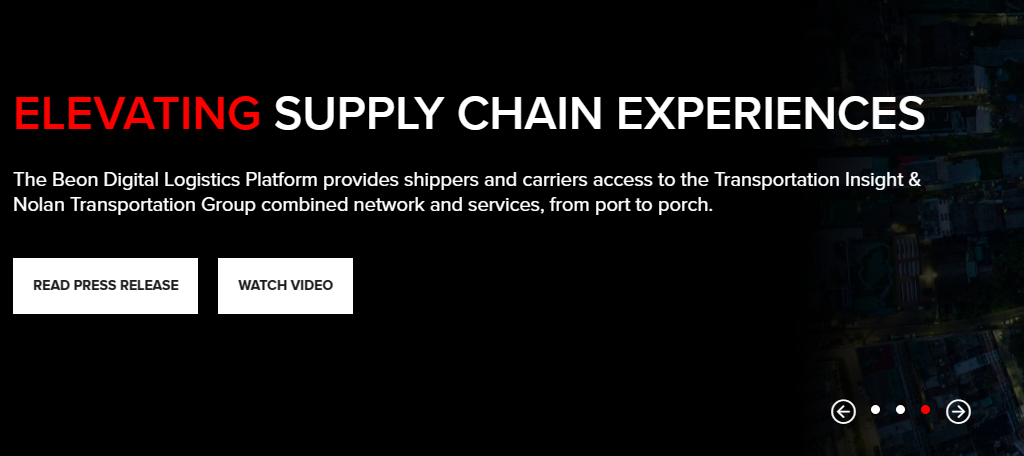 Another one of the best eCommerce fulfillment services out there today is FreightPros. They are perfectly suited for small businesses and provide very affordable prices and excellent customer service.
The service provides users with a wide variety of tools that will allow for easy user management that includes the ability to manage shipments directly and be more of a part of the process when appropriate.
Again, FreightPros is perfect for a smaller business because they give you the freedom to process very small and very large orders. For example, they will ship a single item the same way they would ship bulk and large orders.
The service provides a guarantee on how they track the shipment process as well. You will be more comfortable with the process because of the detailed tracking and updates provided from pickup to final delivery.
Features
Quickly catches delivery issues
Personalized messaging
Pricing suggestions
Handles the entire process on behalf of the client
Excellent customer service
Cost and value
Perfect for startups
Simple onboarding process
Intuitive management systems
Simpl has built its entire system based on maintaining the trust of online sellers and major online shopping services. The platform is very easy to use and provides customers with excellent logistics and order fulfillment solutions.
Whether you have a few items or a warehouse of inventory, the Simpl solutions have you covered.
Excellent when it comes to eCommerce businesses, Simpl will provide you with all the essential tools needed for the entire process. Manage inventory, orders, returns, and reports all at your fingertips in an intuitive dashboard that is easy to navigate and use.
If you are looking for a trusted solution that allows you to easily connect your stores, download details for your new products, and sync your existing ones, then the Simpl service is definitely one to look at.
Features
Automation rules
Powerful integrations
Real-time inventory processes
Robust order management
Integrations with Kickstarter, Groupon, Indiegogo
Easily manage SKUs
Track shipping, received, and returns
Connect to Shopify, Magento, eBay
Track all warehouse quantities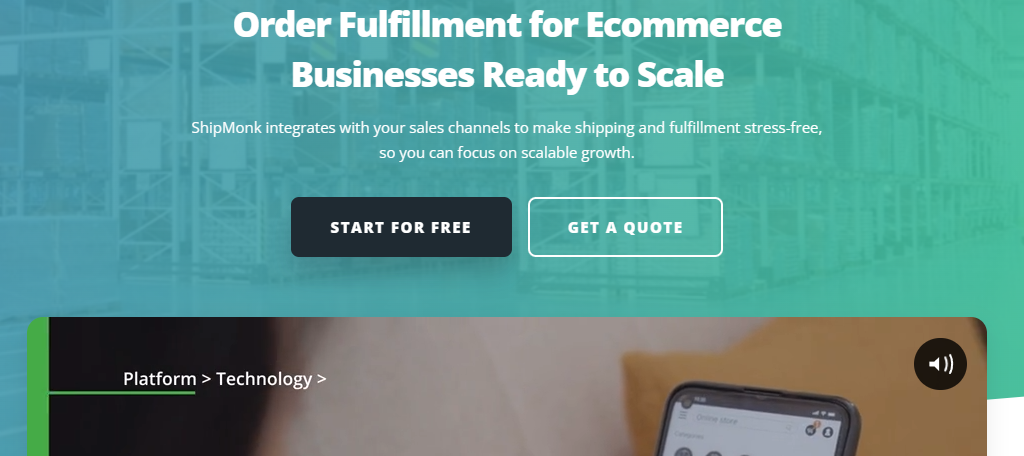 Another order fulfillment platform that is designed and tailored toward eCommerce is ShipMonk. The platform is designed to make order fulfillment as stress-free as possible. They do this by offering an intuitive system based on four main modules that are used for managing inventory, orders, shipping, and warehousing.
The service also provides a fantastic order management portal. This portal gives you a way to be more hands-on and manage the overall customer experience that is provided by ShipMonk. They also provide shipping processes that are handled by all major carriers through partnerships they have with each one.
The system also integrates with Amazon, which as we know is a major player in basically everything. You can tie it in with Fulfillment by Amazon and take advantage of Amazon Prime seller status.
Features
Inventory management
Shipping discounts
Subscription box fulfillment
Custom packing procedures
EDI compliance
Flexible shipping options
Crowdfunding fulfillment
Proactive exception handling
Shipping calculator
Automated SKU mapping and bundling
High-touch customer service
Special projects
Branded order tracking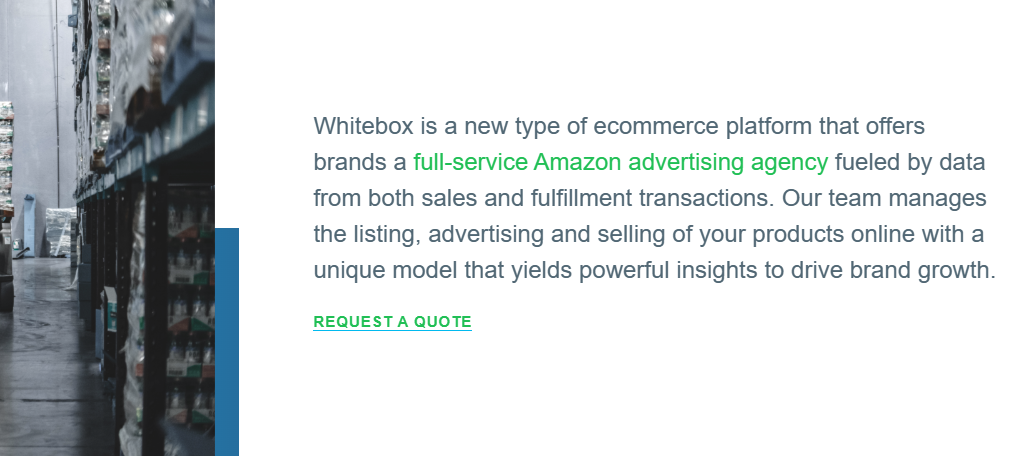 Fulfillment features, shipping solutions, and storage fees, all wrapped up into a single solution. That is exactly what WhiteBox is. Not only does this platform cater to a smaller business, but when and if you need to scale, then you can do so very easily with WhiteBox and reach more customers on a global level.
This solution does two major things a little differently than the other solutions on this list. First off, they eliminate all unnecessary costs and try to eliminate excessive fees that other platforms may charge. However, they do charge an onboarding fee of roughly $3,000 (as of this writing) and 10% of total sales.
So, you can see, little-to-no fee, but more of an upfront cost. Either way, the solution provides all the tools you would expect from a top-notch eCommerce fulfillment service. Definitely take a look at WhiteBox if you are trying to cut fees while still accessing amazing tools.
Features
Forecasting and predictions
Quality control
Kitting
Stock maintenance
SEO-friendly product listings
Ability to market products
Improve listings with built-in tools
Solid customer support
No additional fees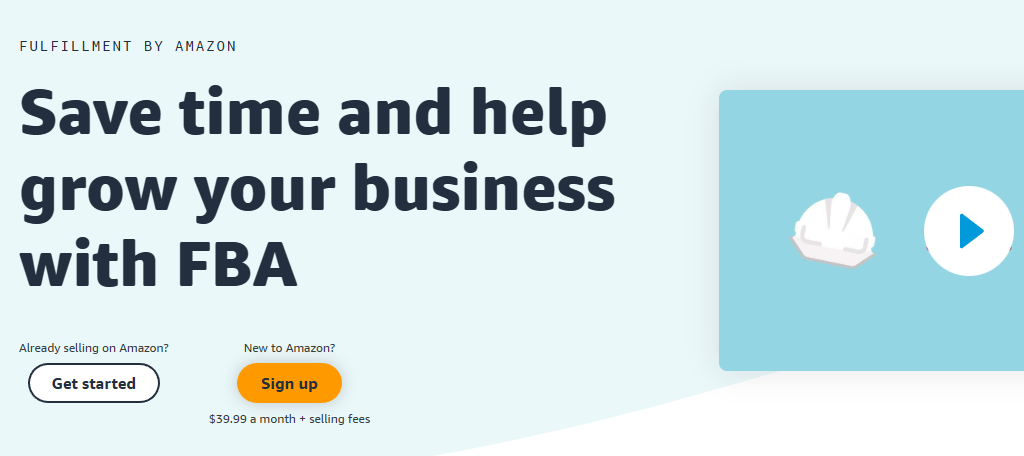 Rounding out our list of the best eCommerce fulfillment services out there today is Fulfillment by Amazon. Also known as FBA, they give anyone the ability to easily sell products across the Amazon platform.
This fulfillment service is best for businesses that sell smaller items, as fees are determined by size and weight. This service is also excellent if you sell across multiple channels.
Where Fulfillment by Amazon really excels is in the inventory area. Whether you sell few or thousands of products, you are able to gain access to Amazon's logistical capabilities and a global network of warehouses.
This is perfect for taking care of the bulk of fulfillment work needed.
With fast processing, even faster delivery and shipping times, climate-controlled warehouses, reliable returns and refunds, and world-class customer service support, FBA may be exactly what you are looking for.
Features
Multi-channel selling ability
Shipping discounts
Excellent customer service
Top-of-the-line return policy
Excellent customer experience
Huge warehouse network
Tons of productivity apps
Third-party integrations
Over 140 warehouses worldwide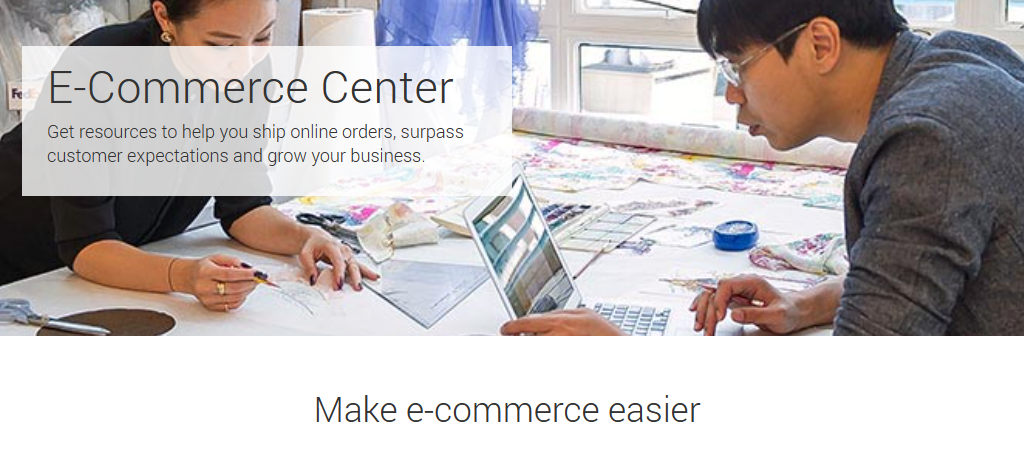 Perhaps one of the most recognizable names in the shipping industry, FedEx, is also one of the best options to consider for your business. FedEx Fulfilment is a small division of FedEx that focuses specifically on the shipping needs of businesses.
This includes both shipping to the customer, and ensuring customers have an easy time with returns.
One of the strongest reasons you will want to use FedEx Fulfillment is the customer service it provides. You'll immediately gain help from expert support that can help you get your business set up as well as deliver shipments to customers.
You'll be able to properly manage all of your inventory from a single app. This allows you to track the packages in real time and see exactly where they are so you can provide the best information to customers.
Just keep in mind that there is a 400-orders-per-month minimum. Thus, your business will have to have a steady order stream to use this service.
Features
Free account setup
Utilize over 130 warehouses
Integrates with other business tools
Returns can be started with a simple form
Compatible with eBay and Walmart (not Amazon)
9. Sprocket Express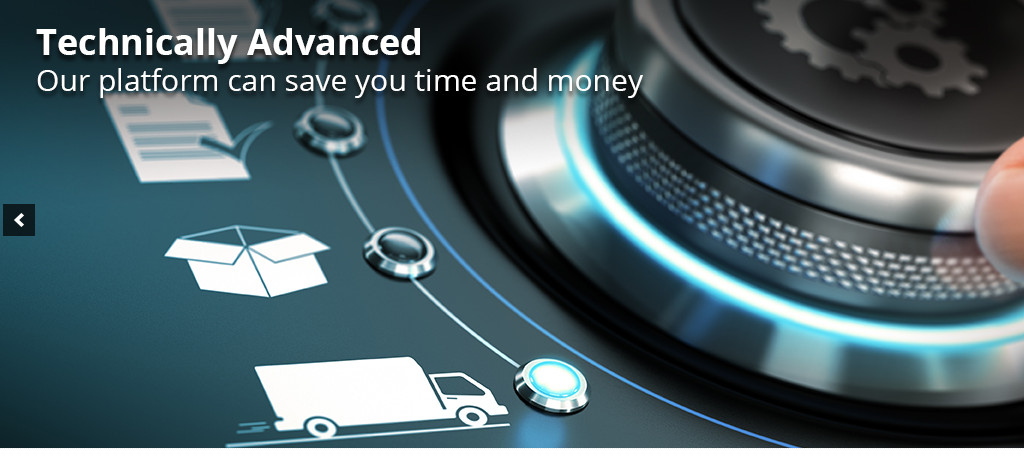 If you are looking for the best eCommerce fulfillment service for refrigerated goods, look no further than Sprocket Express. Products you ship can be sent using refrigerated trucks and you can request a specific temperature.
This makes it a great option if you are sending groceries or meal preparation kits to customers.
This service integrates nicely with most major brands around the world including Amazon, WooCommerce, Shopify, and more. Thus, it fits in nicely on any business website.
Sprocket Express goes beyond just shipping. It can also act as an inventory manager, which can help you stay on top of restocking goods and accurately forecast what you'll need to keep the orders flowing.
Features
Access detailed analytics about orders
Pack and ship in a single day
Supports multi-channel orders
View details on each product by SKU
Receive regular shipping updates to help keep customers in the loop
Closing out this list is the excellent Shipwire. It allows your business to sell directly to customers through just about any retailer. This includes giants like Walmart and Target.
As you can imagine, it specializes in drop shipping and does an excellent job at delivering goods around the world.
It accomplishes this by utilizing 120 warehouses across 45 countries. You'll be notified every step of the way to help you keep customers informed of the exact day a package will arrive.
You'll also have no issue when it comes to integrating with your storefront, or any other for that matter. That's because Shipwire supports over 200 eCommerce platforms like WooCommerce. Thus, it fits in with virtually any website.
Features
B2B fulfillment
Reverse logistics to ensure smooth returns
Ensure that the correct warehouses are being used
Provides help with international shipments
Store goods at any warehouse
What to Look For When Choosing an eCommerce Fulfillment Service
If you have a successful online store, then chances are you definitely want to have access to a fulfillment expert. That being said, you might be a little confused as to what to look for when it comes to making a decision on an eCommerce fulfillment service.
Of course, you have to account for personal preference as well as what your business needs. However, here are a few things to look for that all of the best eCommerce fulfillment services should have.
Solid Range of Services
Cost Transparency and Fair Pricing
Scalability
Start-up Friendly
An Easy Onboarding Process
Excellent Customer Service
Proper Integration and Third-Party Services
Intuitive Management Dashboard
Again, you will definitely be drawn to one platform or another based on personal preference. However, the items above are things you want to have in place no matter what eCommerce fulfillment centers you use.
Fulfillment Services FAQs
So, now that you have a solid list of services to look at, you may still have a few questions that need to be answered. Here are some very common ones and the answers to them. These should help you make your way to a final decision.
What is 3rd-Party Fulfillment?
When we talk about a 3rd-party, what we are saying is that you are outsourcing that part of the production to someone else. In this instance, you want a 3rd-party fulfillment service to take care of filling and managing all final orders that come through.
What Does a Fulfillment Center Do?
This is usually an A-Z process for shipping and fulfilling orders. These fulfillment centers basically take care of everything for you. They store products in their facilities and manage all inventory, warehousing, and shipping.
Not only does this mean that the "after-sale" process is taken care of, but it also gives store owners a place to store all their products easily.
How Does a Fulfillment Service Work?
The process is pretty simple really. When a customer places an order and pays, the chosen order fulfillment center receives all the necessary information to go through the process of fulfilling the order.
Most all fulfillment companies go through the same process when they receive an order. The process includes:
Receiving the Order
Finding the Items
Packing the Products
Shipping the Order
Notifying Customers of Order Status
Are Fulfillment Centers and Distribution Centers Different?
There are actually two main differences between the two. Distribution centers are focused more on the business aspect and less on the location of things. Fulfillment centers store all inventory and ship your products to customers everywhere, while distribution centers handle shipping and selling but don't ship to retailers.
How Does a Fulfillment Service Make Money?
There are several fees involved with this process and each fulfillment center gets a part of all of these fees. Long-term storage fees are where the bulk of their money is made. That being said, they also make money on other fees like:
Setup Fees
Weight Fees
Packaging Fees
Returns and Processing
Account Management
Customer Support
Technology
Additional one-time fees for other items may also help these centers make money. This could possibly include things like cancellations, SKU labeling, barcoding, credit card processing, marketing inserts, and assembling products.
Conclusion
Having a solid eCommerce fulfillment service will make the entire ordering and fulfillment process easier, faster, and more user-friendly for both yourself and your customers. There isn't a one-size-fits-all type of situation here.
The platform you chose will be based on business needs and personal preferences.
Any of the eCommerce fulfillment services from the list above are a solid choice and you really can't go wrong with any of them. Give them all a look, do a little research, try them out if they have free trials, and see which one works best for you.
Before you know it, you will have found a setup that is perfect for your business. Good luck on your journey!