There are several marketing techniques that can be used when trying to build brand recognition. However, of all of these, email marketing is still the king. And great email marketing software is whereit all begins.
Email marketing software acts as a solid distribution channel that drives engagement and builds customer relationships. Setting up emails and using your list properly can be a huge boost for business.
To have a successful email marketing campaign, the first thing you need to do is to get some email marketing software that can handle everything you need and more.
You see, there are quite a few email marketing solutions out there. And even something as simple as setting up a user's email list from your site can be highly effective.
It can be confusing trying to figure out which one is best for you. It always helps to have a list available and a rundown of all the possibilities at your disposal. Today, I am going to go over some of the best email marketing software that is available.
What is Email Marketing Software?
Email marketing software can help you automate the entire email process. Not only does it provide you with the tools to automate, list, and segment, but it also helps you with contact relationship management and reporting.
There are easy-to-use email builders, and there are all-inclusive email marketing services that provide the software to handle everything imaginable in your email campaign.
The service does not have to cost you an arm and a leg. You simply need to go over several email marketing platforms and see which ones offer the tools and services you are looking for.
Let's take a look at 10 of the best email marketing software that is available today.
Best Email Marketing Software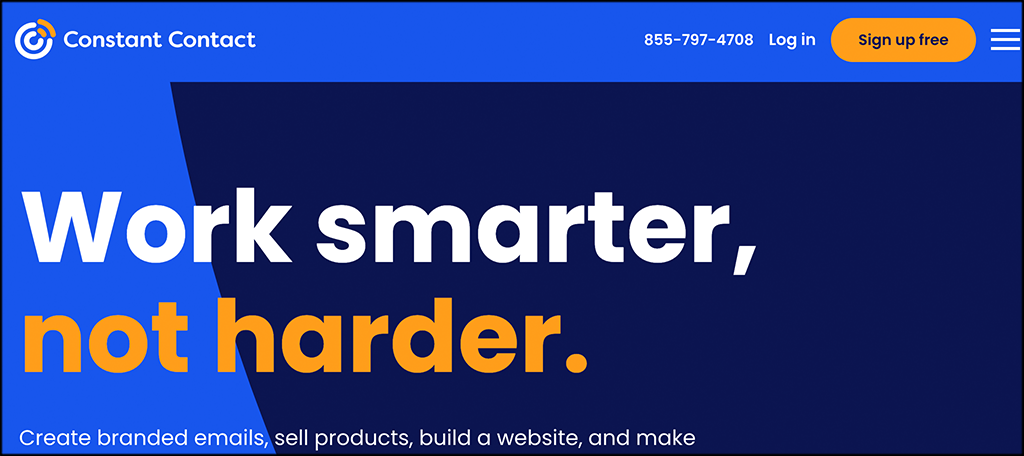 Constant Contact is a name that you have probably heard repeated several times when talking about email marketing companies. The service provides an entire suite of tools for everything related to email marketing.
They give you a smooth, easy-to-use interface that includes drag-and-drop tools to build and design. Additional features like email automation and scheduling provide you with even more to use.
The ability to add surveys, polls, and dynamic signup forms available to provide feedback is also a solid tool. You can also manage events and social media from your account.
Constant Contact provides all the analytics in your dashboard as well. This allows you to see how your email marketing software and campaigns are performing. All-in-all, this is number 1 on our list because of all the tools and simplicity of use. Give them a look today.
Pros
Drag-and-drop tools
Split testing
Automation and scheduling
Intuitive and easy to use
Social media campaign integration
Commerce and event integrations
Cons
Not a lot of flexibility in templates
Pricing really adds up once you get thousands of subscribers
HubSpot offers some of the very best email marketing software available today. They are actually considered an end-to-end marketing solution, and it is hard to beat their email portion.
They let you combine all their email marketing services with sales and CRM. The platform is a one-stop spot for all your marketing needs. The platform is considered by many to be the pioneer in this area.
They are able to fulfill the needs of small and large businesses.
The system offers email templates to help get you through the process of email creation in a capable fashion. HubSpot also has very formidable and powerful contact management and integration. They provide this along with a ton of social media tools.
You will be hard-pressed to find a more complete marketing service. Pricing is a little steep, but what they are able to offer you is very compelling and vast.
Pros
CRM integration
Social media tools and management options
Amazing automation tools
Integrates with plenty of third-party solutions
End-to-end marketing solutions
Cons
Expensive
Very steep learning curve
SEO features need improvement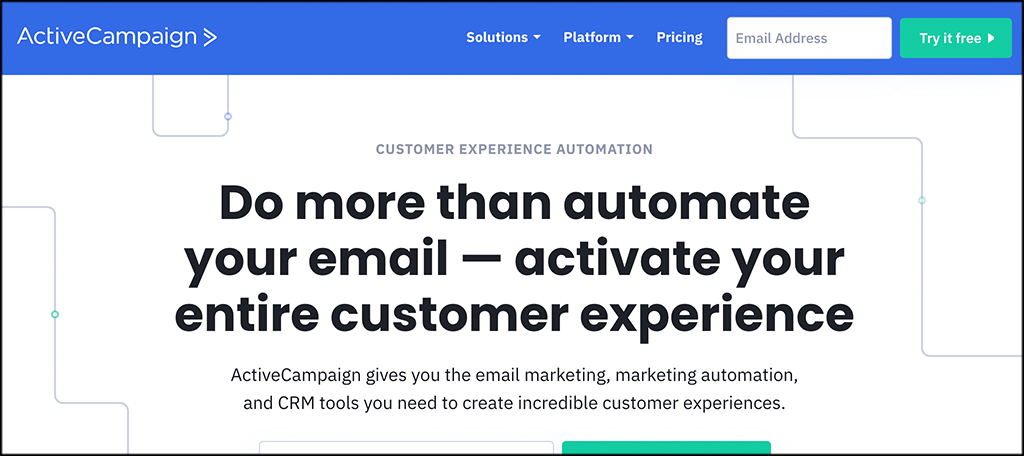 ActiveCampaign is a self-described all-in-one marketing platform. They provide some of the best email marketing tools around. The goal is to actually get you to send fewer emails with better results.
This email marketing software platform allows you to automate everything based on your website visitors' behavior. They do this using a very complex if/when/then logic. The CRM also makes it easy to manage sales directly from the backend.
The product has an excellent design, an intuitive interface, and responsive themes. Pricing is actually fairly reasonable, especially when compared to some of the other platforms you may come across.
They provide excellent customer service with email and live chat, and offer some of the best deliverability rates around.
Pros
Intuitive design
Responsive themes
Excellent deliverability rate
Some of the best automation around
Excellent customer service
Fairly priced
Cons
The system is a little complex to learn
A little pricey to start, but evens out as subscribers build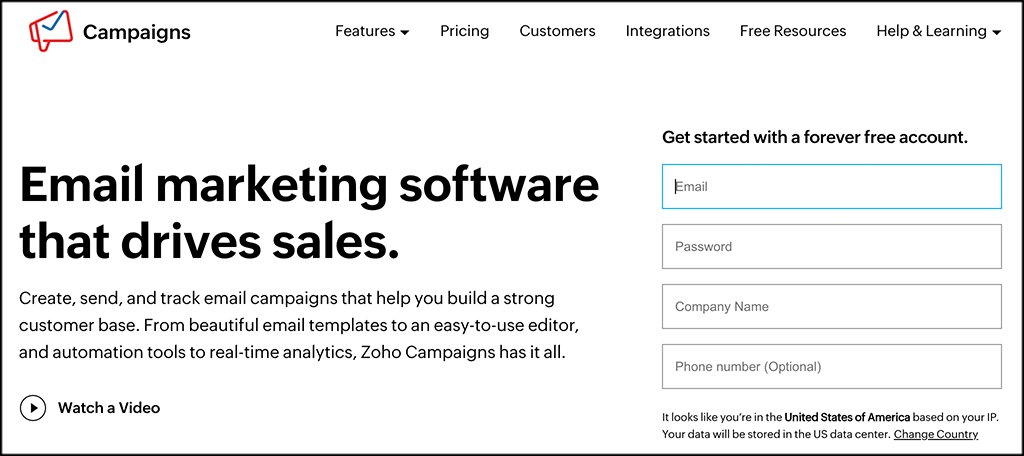 Zoho Campaigns is another one of the best email marketing software out there today. And keep in mind, Zoho offers a lot of different marketing tools. However, the email campaign service is one of the best for several reasons.
The Zoho tools and marketing suite of services specialize in email campaigns. As is the case with ActiveCampaign, the main goal that Zoho Campaigns tries to get you familiar with is to send fewer emails at a more effective rate.
They have some great tools that include email workflows for personal automation. The platform provides simple drag-and-drop tools that allow you to set up automated actions and events. This makes handling large campaigns even easier.
The system has a ton of other marketing features, and it also integrates with all the most popular third-party tools out there. These include integrations with G Suite, SurveyMonkey, Facebook, YouTube, and WordPress, just to name a few.
Pros
Plenty of third-party integrations
Workflows
Newsletter templates
Tons of campaign and marketing tools
Very good reports feature
Cons
Initial setup can take some time
A little costly when it comes down to it
Some templates are dated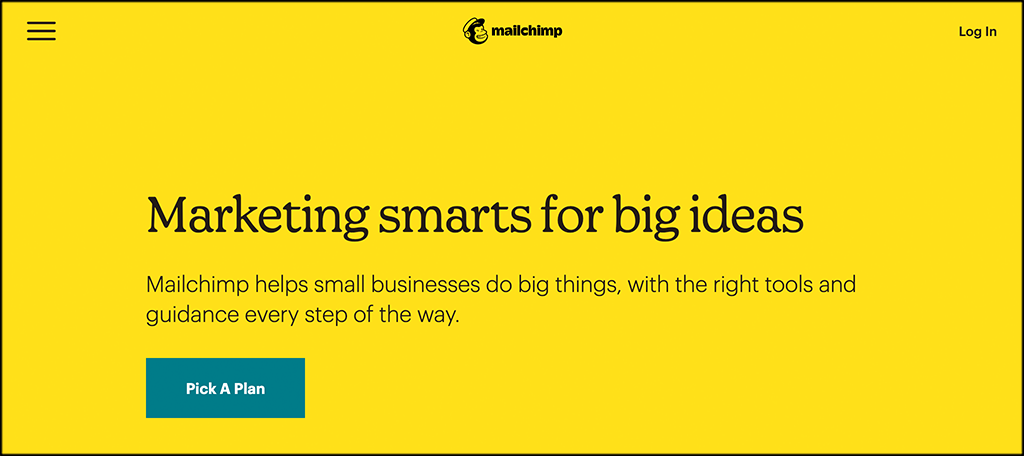 MailChimp makes it onto this list for a number of reasons. They have excellent integrations, automation, and a full suite of tools to use. However, MailChimp also offers something most of these other email marketing software platforms don't, a very robust free version.
Launched all the way back in 2001, MailChimp is a veteran in this arena. They allow users to easily create and send professional marketing emails to a database of customers. The drag-and-drop interface may take a minute to get used to, but once you understand it, you can add elements like clickable text, graphics, and logos.
There is also the option of designing your own email from scratch if you have the requisite coding skills.
Perhaps the best thing about MailChimp is the aforementioned free tier they provide. Unlike other email marketing platforms that offer a very limited free tier, MailChimp offers one that allows you 2,000 subscribers and up to 12,000 monthly emails before you have to start paying.
Even when you do start paying, the service is well-priced and affordable. Give them a look if you are getting started and you need a suite of complex tools that get the job down for free.
Pros
Mobile apps
Excellent analytics reports
Very robust free version
Drag and drop interface
Plenty of third-party integrations
Cons
Complicated UI at first
Might have to use code to expand templates
Free tier keeps MailChimp brand on emails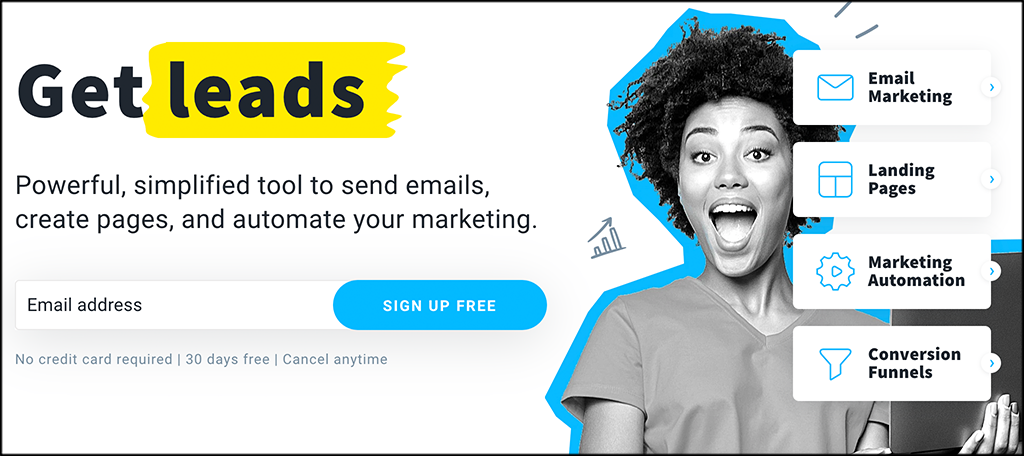 Like all of the other email marketing platforms on this list, GetResponse offers all the tools you need to run an email campaign while also offering a couple of their own unique add-ons. They allow you two unique features, a landing page editor and the ability to create webinars.
Both of these features are tucked into their very popular Conversion Funnel feature.
GetResponse also has excellent automation functions and gives you access to 100o iStock photos that you can use as part of your campaigns. If you are looking for a solid, yet versatile email marketing solution, then GetResponse is definitely one to look at.
Pros
Landing page editor
Ability to create webinars
Automation tools
Responsive templates
Fair pricing and features
Cons
Deliverability standard is lower than other platforms
Some templates are outdated
Their editor is old and can be clunky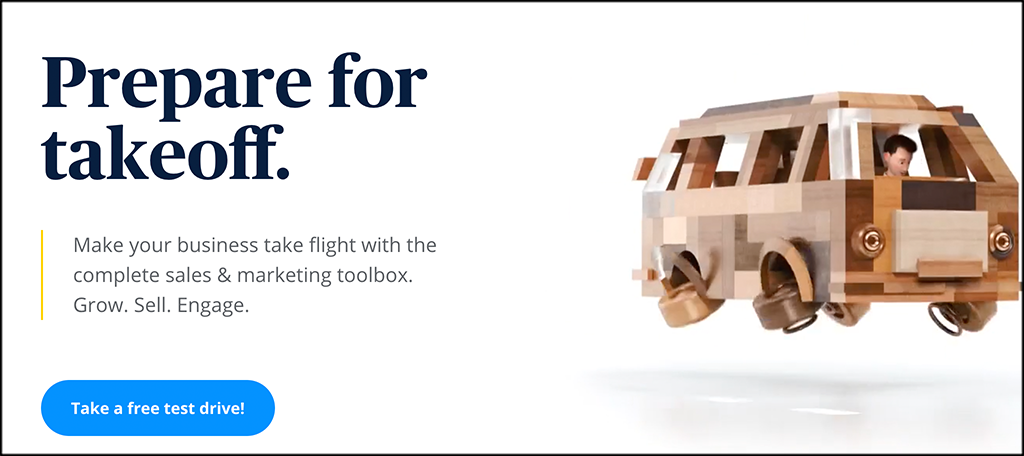 SendinBlue is a very comprehensive email marketing solution that has expanded automation and built-in CRM functionality. The system is built mostly to focus on transactional emails. However, they have since expanded and now provide mass email services with their own newsletter platform.
The platform is easy-to-use, and like MailChimp, they have a very generous free plan that you can take advantage of while getting started.
It has a very solid list management system, great automation, and reporting is very good as well. Live chat functionality and customer service put SendinBlue right in the mix of the best email marketing software available.
Pros
CRM functionality
Impressive automation range
Tons of auto-responders
Transactional email features
Generous free plan
Cons
Account set up can be difficult and time-consuming
The basic templates need improvement
Email editor could use an update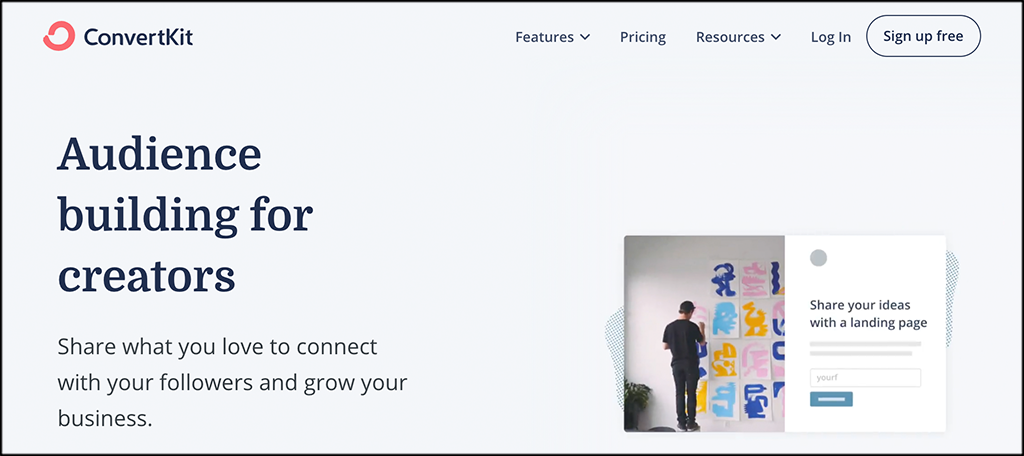 ConvertKit is a fairly young player in the world of email marketing software. However, that hasn't stopped them from becoming one of the best providers out there in a short amount of time.
ConvertKit likes to focus on the creator. In other words, if you are a YouTube content creator or another type of producer, then this is the best email marketing software for you.
You get a lot of great tools and features along with a solid landing page editor and provider. This allows you to integrate email marketing with social media even if you do not have your business website up and running quite yet.
ConvertKit provides users with excellent subscriber management features and a tag system that gives you the ability to create advanced segmentation. While they are still up and coming, and are working on new exciting features, ConvertKit is definitely a must-see because of the tools and ability they provide for their email marketing solutions.
Pros
Landing page builder
Good subscriber management features
Tag system for advanced segmentation
Decent design tools
Cons
Pricing is on the expensive side
Not a lot of design options (3 templates)
Free plan is very limited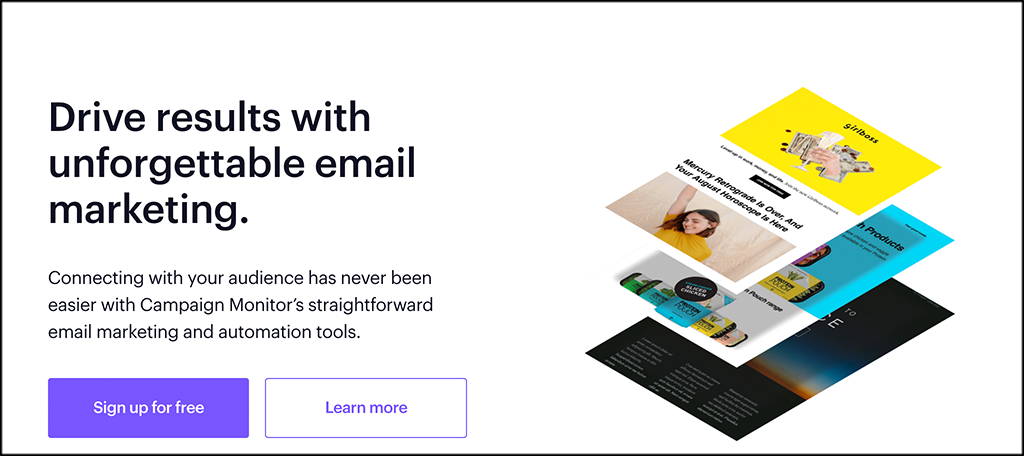 Rounding out our list of the best email marketing software available today is Campaign Monitor. They provide users with an easy-to-use platform that has beautiful templates available to go along with powerful analytics to track.
While online customer support is not as good as it should be, the fact of the matter is that Campaign Monitor does offer one of the best email marketing tools out there. Where they really excel is the aforementioned analytics area.
The platform provides incredible insights and analytics that can help business marketing strategies at every turn.
They have an easy-to-use online builder that is intuitive and provides a wide range of email and newsletter options and solutions. Campaign Monitor also provides robust templates that are easy on the eyes and easy to build around.
Pros
Excellent email templates
Easy-to-use interface
WYSIWYG (what you see is what you get) system
Great selection of auto-responders
Amazing analytics and insights
Cons
Importing and custom fields is an issue
Direct online support is very lacking
10. MailerLite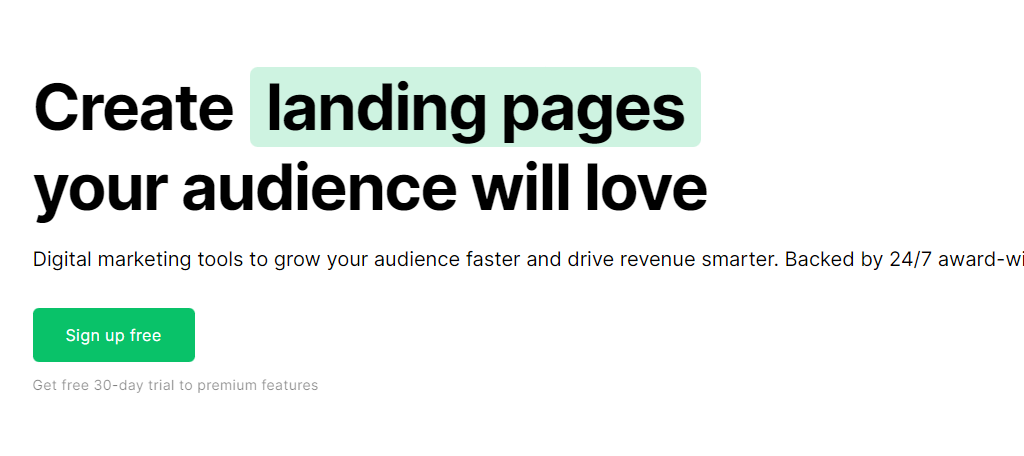 MailerLite is one of the easiest email marketing platforms to use thanks to its drag-and-drop interface. And you can even try it for free for the first 1,000 subscribers, which is perfect for new sites.
Putting together emails is not the only thing that's easy to use. Even the interface has been designed with simplicity in mind, and if you do run into trouble, the support team is ready to take on any requests.
And regardless of what plan you pick, you'll gain access to a variety of analytic reports to help grow your subscriber list.
Pros
The free plan is available forever
Offers a great selection of email templates
Everything is easy to use, which makes it ideal for beginners
Paid plans are very cheap
Tracks eCommerce sales in the analytics
Cons
The free version includes MailerLite Branding
The Integration list is lacking
11. Moosend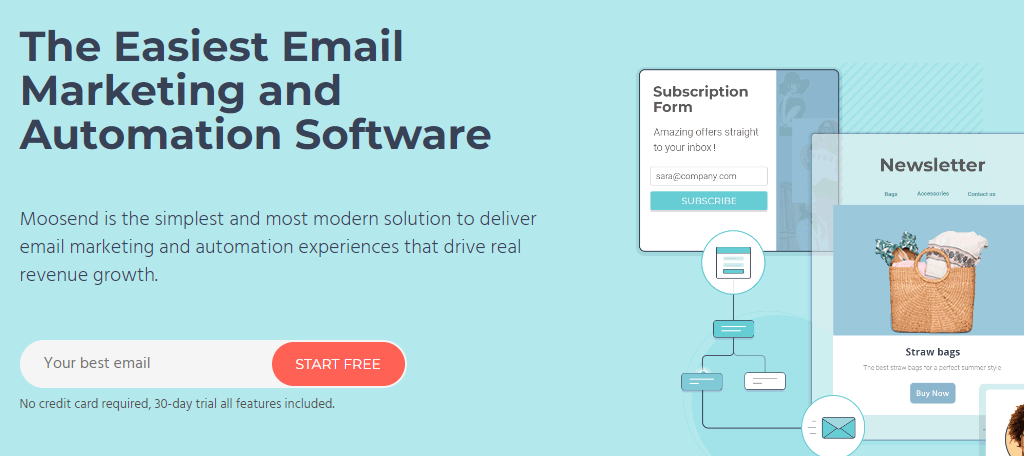 Looking for an email marketing solution that won't break the bank, but still provide a great selection of features? If so, check out the Moosend platform as it offers some of the most affordable plans that you can customize.
For example, you can choose to pay based on the number of subscribers you have or by the number of emails you send. The choice is yours, so you can pick what's cheaper for you.
Combine this with a robust selection of customization and ease of use and you have one of the best email marketing software on the market.
Pros
Plan flexibility is unmatched
Email automation options are robust
Includes a drag-and-drop landing page creator
Include gamification in your email forms
Choose from 6 form types
Cons
Does not allow you to send emails from Gmail
The user interface isn't anything to write home about
12. Drip
If your looking for an email marketing software to fit your ecommercewebsite, Drip is the perfect choice. It was built specifically for eCommerce platforms and it shows in just about every aspect ofthe software.
With it you can segment user lists to help send more effective marketing to the correct audience and even individually target users basedontheir shopping behaviors. The end result is a direct increase in sales.
You'll also have access to a great select of email templates built for ecommerce platforms. and you cantry it for free with the 14-day trial.
Pros
User segmentation is unmatched
Easily view emails on any device before you send them
View powerful analytics to see how effective your marketing is
Support is very good at helping you fix problems
Setup is pretty straight forward
Cons
Email builder does not support drag and drop
Integration options are not great
Is Email Marketing Out-Dated?
Interestingly enough, there are a lot of business owners and individuals out there who think that email marketing is outdated and no longer relevant. This could not be further from reality.
Email marketing is definitely old. However, it is wildly effective, even now. It has outlived and outperformed all sorts of come-and-go marketing tactics over the years. Since an email marketing solution can provide lifespan, data insights, flexibility, and ease of use, there is really no reason not to continue using it for marketing purposes.
It is a very sound, reliable, and effective way to get your brand out there and gain followers.
Conclusion
There is a lot of email marketing software out there today. The trick is figuring out which service is right for you and why. The final choice you make will be based on what exactly your business is looking for, as well as some personal preferences.
Hopefully, the list above gives you a good starting point. You can't go wrong with any of the email marketing platforms listed above. Take a look, contact customer service about them, and use the list the help you make a final decision for your business.