Abandoned carts, bad leads, unqualified leads? These are all reasons that you need to have excellent lead management software for your business. However, if you aren't sure where to start, then finding the right lead generation software for your business can be a hassle.
In this article, I am going to introduce you to some of the best lead management software programs that are available today. These platforms will help you capture, convert, route, and nourish those leads.
Not only that, but they will give you all of the very best, most qualified leads available. Before we dig into the list below, let's talk a little about lead management and the software you need.
What is Lead Management Software?
Simply put, lead management software is a system that combines a few different processes, allowing you to merge sales and assignments from start to finish. In other words, the software covers you in all aspects from the end quote all the way up to and through conversion.
The best lead generation software will also offer tools like reporting and comprehensive performance analysis. The platforms are designed to bring together important sales information in a matter of minutes instead of the hours it would take to do this process manually.
Not only does this type of platform allow you to perform functions in a very short period of time, but it also allows for critical data to be analyzed. In short, some of the most important data that the system analyzes include lead time, conversion rates, and win-loss ratio.
Basically, if you want to generate the best leads and close deals while at the same time being provided all the data and analytics tracking imaginable, then you need to choose a fantastic lead management software platform for your business.
Best Lead Management Software
It should be no surprise that Freshworks comes in on our list at number one. The entire system is built for sales teams that deal with tons of customers and leads.
The platform has amazing service and they have over 100,000 customers around the world. So, if you are looking for top-of-the-line, full automation at every turn, then give Freshworks a look.
Features
Contact and account management
Customization
Marketing email deliverability
Sales pipeline management
Sales sequences
Chat
Data security
Mobile apps
Sales and marketing activities
Email marketing campaigns
Data administrator
SMS integration
Reports dashboard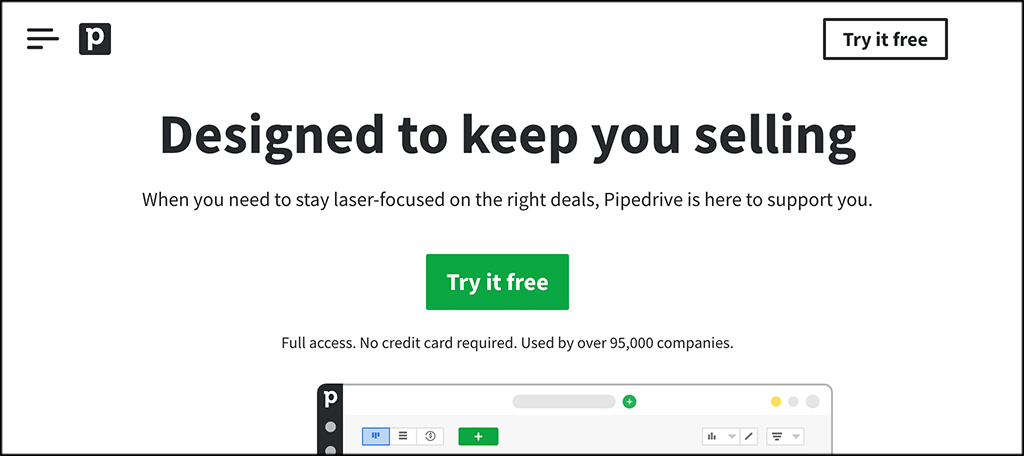 Pipedrive can act as a fully independent personal sales manager when needed. As far as lead management software goes, they provide one of the very best platforms around.
That is to say, you can view your deals and priorities in different sales stages, giving you the full outlook of what might or might not happen with a potential client.
Features
Sales pipeline view
Goal setting and reporting
Google calendar integration
Contacts integrations
Mobile apps
Roles
Google Maps integration
Multi-language
Multi-currency
Email integration
Powerful API
Timeline views
Fully customizable
Simple import and exports functions for data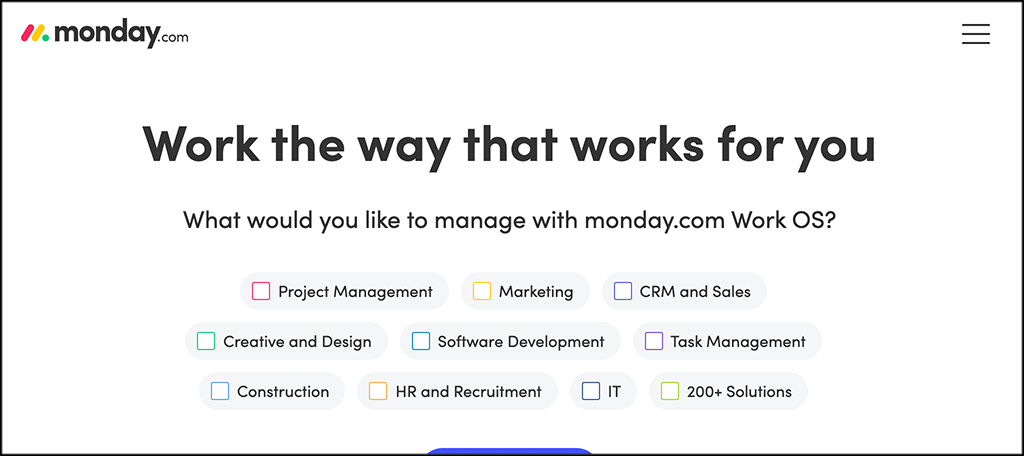 Another familiar name in the world of CRM, lead generation, customer management, and project management is Monday. They haven't been around quite as long as some of the other platforms on this list, but they give you a stunning platform.
To sum up, it has all the functionality and features you need to help your company generate and close high-quality leads.
Features
Easily collaborate with team members
Create custom notifications
Document management
Email updates
Assign tasks to team members
Easy onboarding
Upload files directly from Adobe
Reduce needed meetings and emails
Easily communicate about all tasks
Document achievements
Live comments on visuals
User permissions on certain data
Sync with Gmail and Outlook
Another one of the best lead management software platforms out there is Pipeliner. It provides a solid piece of automation software that helps boost adoption rates and ROI (return on investment).
They do this by using a combination of a highly visual interface, tons of customization options, and streamlined reporting capabilities. Most importantly, these reports can give you the data you need for informed decisions.
After that, everything may seem to click into place for customer retention.
Features
Drag and drop administration
Custom profiles and views
Template designer
Product catalog
Notifications
Activity stream
Sales process mapping
Built-in help
Performance insight views
Dynamic organization chart
Auto-calculate fields
Sales task management
Multiple pipelines and views
Offline CRM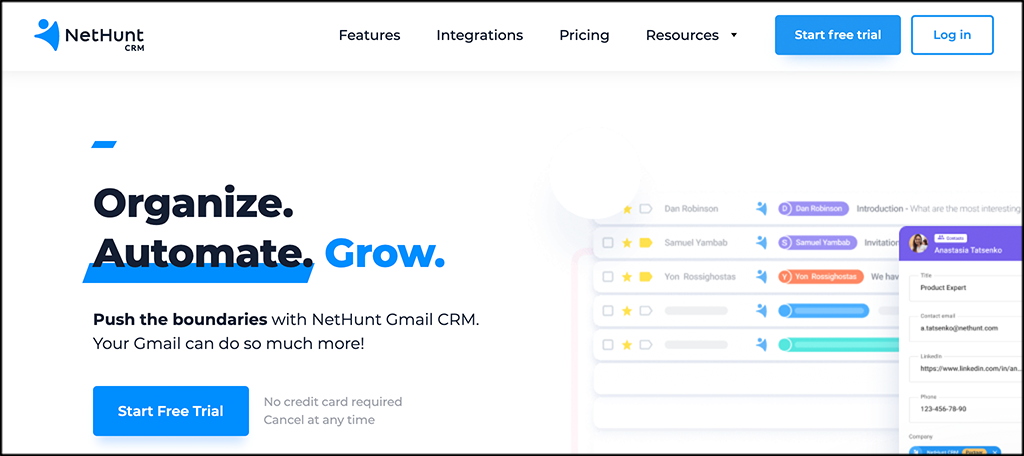 NetHunt is an affordable and powerful lead management software platform that easily attaches to your Gmail and Google apps. These integrations provide your business with essential customer relationship management.
The NetHunt platform provides amazing opportunity management modules to go along with their affordable pricing plans. So, they are definitely worth a look.
Features
Deal management
Multi-pipeline support
Call logging
Saved filters
Data import and export
Custom filter options
Email tracking
Merging contacts
Follow-up automation
Campaign analytics
Bulk updating
Template importing
Very customizable
Permissions settings
Custom user-roles
Zapier integrations
Google and Gmail integration
API capabilities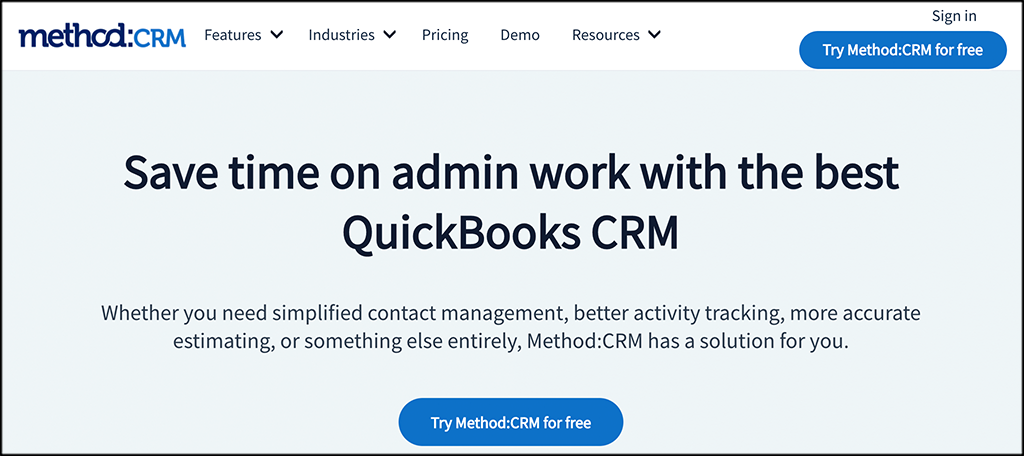 While something like NetHunt seamlessly integrates with Google, Method has its own popular integrations. It gives your business the ability to seamlessly integrate with Quickbooks.
This means you can get better more accurate estimates and faster sales processes. The platform is loaded with all sorts of customer service tools and lead management features.
Therefore, you want to take a close look at Method for all your lead management needs. Especially if you use Quickbooks.
Features
Real-time activity history
Custom reports, charts, and graphs
Custom screens
Multiple payment gateways
Quickbooks integration and synching
Time-track entries
Tons of customer data
Share docs easily
Assign roles
Customer service tickets
Ability to share calendars
Web browser access
Custom fields and tables
Customer payment portal
Method Integration Engine
Unlimited contacts per record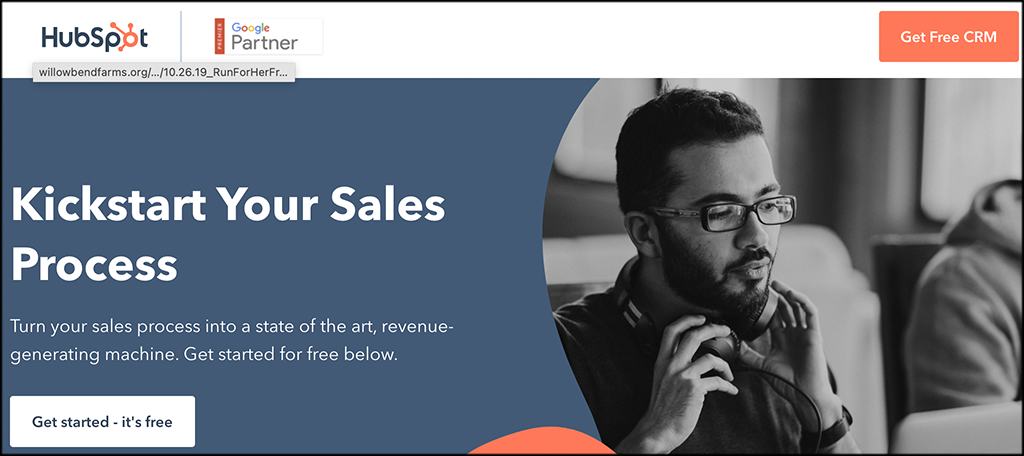 Want to sell more and make more while putting in less time? Sure, we would all like that. Well, HubSpot Sales says that they can help your business achieve exactly what you need.
With automated sales processes that are customizable and flexible, HubSpot Sales will help your business gain a lot of extra time and save money when you use their automation tools properly.
HubSpot is known for a lot of things, and lead management software is something they do very well. As a result, you'll have access to an excellent system.
Features
Sales automation
Contacts
Inbox profiles
Calling

Prospects
Custom reports
Templates

Intuitive dashboards
Lead management
Pipeline management
Documents
Sequences
Meetings
Visitor tracking
Tons of integrations
Automated and personal
Easy follow-ups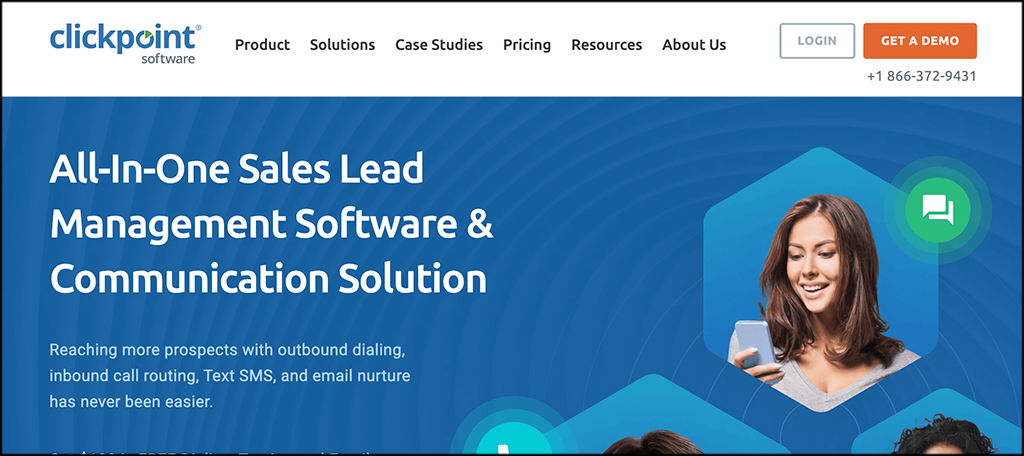 Clickpoint Software is an all-in-one sales lead management platform that says it will bring your business proven results within 30-days. The system is designed for sales teams that operate outside the office in field offices and contact centers.
The Clickpoint platform provides multiple communication channels from things like inbound call routing, email, and SMS. They have a solid system that is very popular and user-friendly, so give it a look.
Features
Power dialing
Transfer calls easily
Sales performance reports
Integration with lead providers
Email marketing
Roles and permissions
Call capture and routing
Mobile apps
Configurable sales workflow
Lead management
Detailed marketing reports
Pre-recorded voicemails
Pull lead dialing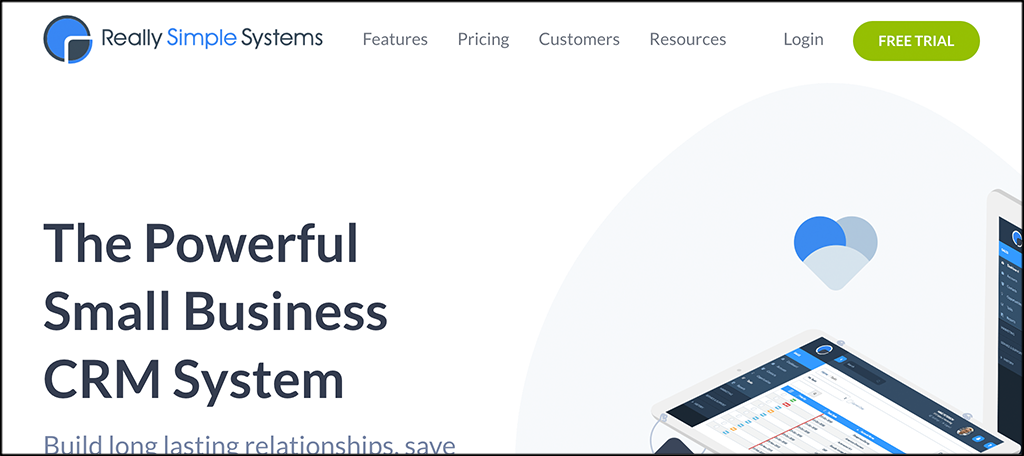 Rounding out our list of the best lead management software platforms is Really Simple Solutions. The name pretty much says it all here.
The platform is powerful and intuitive, but very easy to use for everyone involved. It provides users a full suite of sales, marketing, and customer support. It is ready to go right out of the box as well, so not much setup is needed.
Lastly, it is a scalable platform. To clarify, as your business grows, so does your system.
Features
Free customer support
Pipeline management
Web-to-lead forms
GDPR and HIPAA compliant
Self-service support hub
API
Tasks, events, and calendars
Accounting software integration
Integrated marketing module
Automated campaigns
Case management module
Two-way email integration
How to Pick the Right Lead Management System
Everyone has their own process when it comes to picking tools for a business. In the case of lead management and sales tracking software, a lot of the process will be the same as anything else. There will be a lot of personal preferences involved, and the final choice will have a lot to do with the exact things your business needs.
With all that said, there are certain features and tools that the best lead management software should always have. Make sure you look for these when you are making a final decision.
Process Optimization
Does it Have the Latest Features
Automation Standards
Is it User-Friendly
Customizable
Does it Improve Buyer Experience
Can You Scale Your Business Easily
Ability to Work Offline
Does it Integrate With Other Systems
These are some of the most important things to consider when shopping around for lead management software. If it does not have the ability to do some of the things above or comes with fewer features than you need, then you have wasted some time.
FAQs
Here are some other frequently asked questions that people ask about lead management software. Hopefully, these will also help you on your journey toward picking one.
Is Lead Management Software and CRM the Same Thing?
Lead management software and CRM are oftentimes bundled into the same grouping. Yes, they both offer a lot of the same functionality, which is why you see some of the same products listed as lead management and CRM.
That being said, there are actually some very striking differences. While both are essential tools to have for your business, they both slightly differ in the areas they specialize in.
When you are using a lead management system, you are given tools that allow your business to collect data, identify prospects, and close a deal.
On the other hand, CRM (Customer Relationship Management) software requires your business to already have an existing customer database so it can manage and sell from there.
So the main takeaway? While both have similarities, one helps you find and close deals, the other helps you manage all the customers you already have.
Is Lead Tracking Software Important?
We did touch on this a little above. Short answer, yes. If nothing else, it takes care of so many processes that are important to your business. From tracking and organizing to managing sales leads, this type of tool can be crucial for business sales processes.
What Are Lead Tracking Best Practices?
You always want to make sure you are following best practices for lead tracking. Make sure to put in place the following:
Engage with Prospects
Utilize Lead Management Software
Know the Overall Value of Each Lead
Measure Efforts Everywhere
Who Should Use Lead Tracking?
Even though you can run a business without lead tracking, it is important to utilize the tool anyway and at least give it a trial run. I recommend using lead management software for any type of business, regardless of the niche or industry.
This is because even without a full sales team, the platform can still be very useful when it comes to getting leads and driving sales.
My Company Doesn't Have a Sales Team, Can We Still Use It?
Lead management software platforms are built to work with businesses of all sizes, big and small. There are a lot of different choices out there. So, find one that works best for your particular business and size.
If you don't have a sales team, then a tracking app may be what you need.
Conclusion
Lead tracking has been around for quite some time. However, it hasn't always happened in the same way. To clarify, many businesses live and die by their ability to track, onboard, and close sales from lead generation.
Therefore, you want to make sure your business does not fall behind in this area. For this reason, having a solid lead management software platform is crucial. You can't go wrong with any of the suggestions above on this list.
Subsequently, they will give you a great place to start and provide you with a ton of different features and options.
Go through them, try them out, and see which one works best for your particular business. If you don't find one that fits what you want, then search around. You may find something more fitting.
Good luck on your journey!